Publié le par Bernard Duyck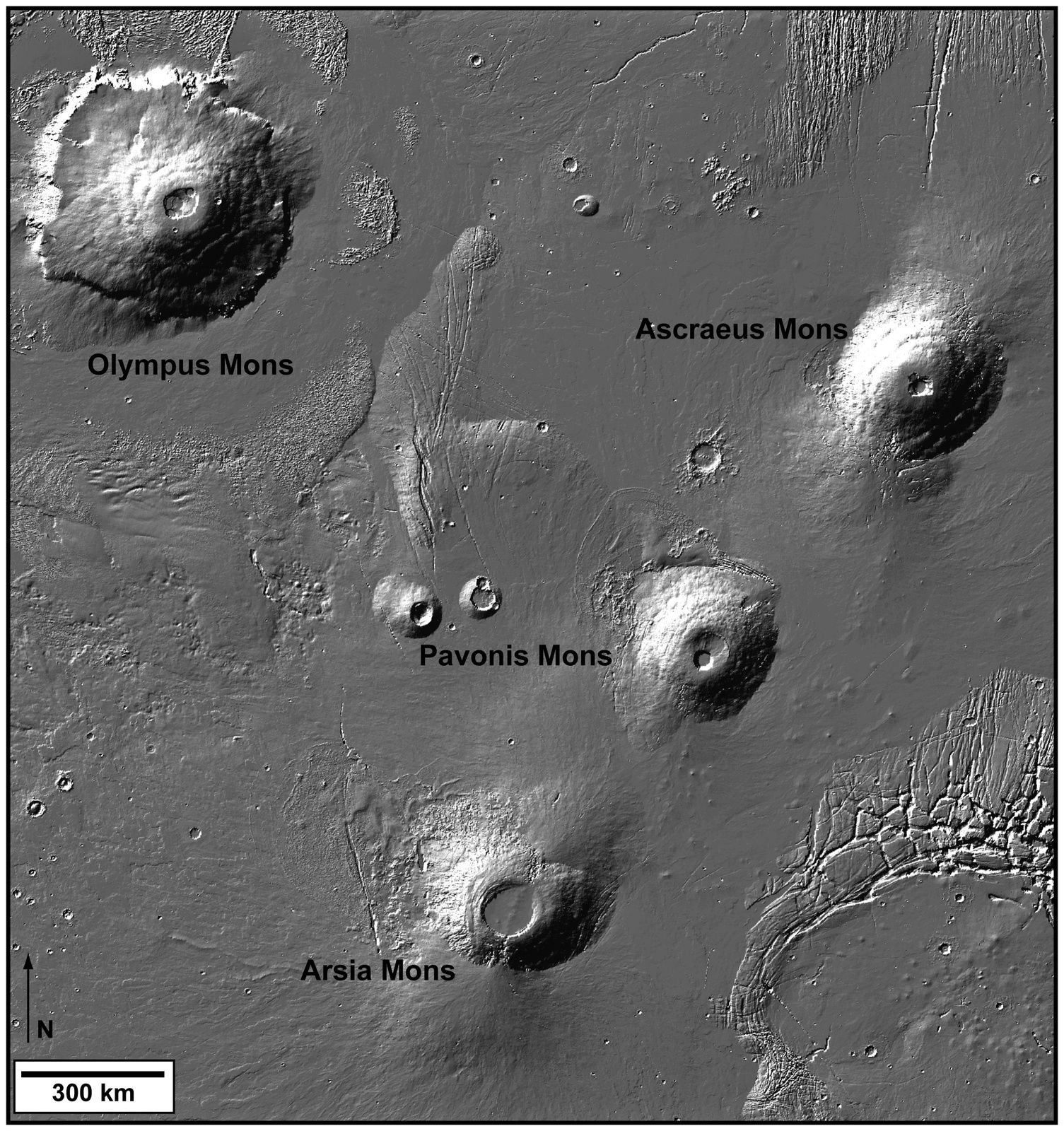 Details on the volcanic Tharsis Province : Olympus Mons and the Tharsis volcanic chain , NE-SW oriented - doc.Mars Orbiter Laser Altimeter data , on board Mars Global Surveyor. / Nasa

Pavonis Mons, " the mountain of the Peacock" , occupies a central position in the Tharsis chain. This shield volcano with gentle slopes - average inclination of 4° - is built almost exclusively of lava flows. Its large caldera is circular, with a diameter of 100 km. approximately, with a second smaller crater inside . It peaks at 14,058 meters.
These gentle slopes , his appearance in depressed dome, and what is considered as important lava tunnels , Pavonis Mons suggest that was formed by lava of low viscosity.

The southwest flank of the volcano is covered with lava tunnels drilled numerous skylights / alcoves . The longest continuous tunnel extends 59 km. and its width ranges between 280 and 1900 meters.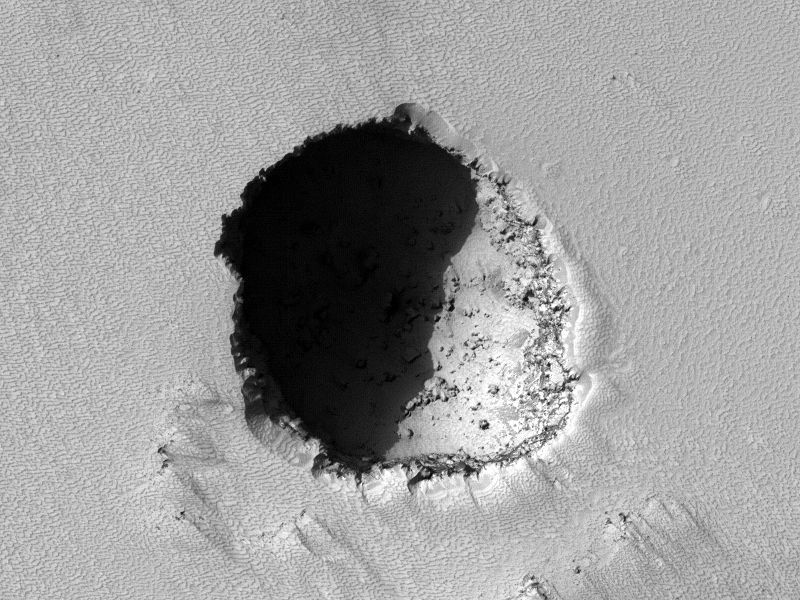 An alcove / skylight on a lava tunnel of Pavonis Mons - NASA / THEMIS image from the Mars Odyssey orbiter
This volcano is formed in the Hesperian , there are more than 3.56 Ga.
The age of the floor of his double caldera corresponds to 370 Ma for the largest and only 80 Ma for the smallest to the south, while that the most recent land on its flanks were dated around 64 Ma, the recent Amazonian .
Ascraeus Mons , discovered by Mariner 9 in 1971 , rising to 18,225 meters for ground dimensions of 375 x 870 km . Its slopes have an average angle of 7 ° . Its summit caldera is complex compared to other volcanoes of the Tharsis chain; she is formed of at least six coalescing calderas , which makes difficult the dating of his formation
The flanks of the volcano have a look " wrinkled " due to the presence of numerous structures in terraces concentric to the top. They are spaced of 30 to 50 km. , long more than 100 km, have a radial width of 30 km and a height of 3 km. They are not continuous , and may overlap.
They are considered as the expression in surface of thrust faults on the flanks, resulting from inflation cycles / deflation of the magma chamber , a gravitational sagging or a bending of the lithosphere under the weight of the volcano.
Vents located at the NE and SW of the volcano are the source of great aprons of lava that buried portions near the main structure and spread over 100 km. within the surrounding plains . The SW-NE orientation of these aprons follows the general direction of the Tharsis chain , suggesting a major crack or a responsible rift. The lava plains to the NE contain two pit craters , 180 and 310 m wide, generated by collapse of a dyke or a lava tunnel .
The formation of Ascraeus started there 3.6 Ga and its activity lasted until about 100 Ma. Some units on the flanks appear younger , between 50 and 100 Ma.
Sources :
- Evolution of the Tharsis volcanic Province - by Sean C.Solomon - MIT - link
- ESA - Space sciences - Lava flows in Daedalia Planum - link
- Volcanic activity on Mars - link