Publié le par Bernard Duyck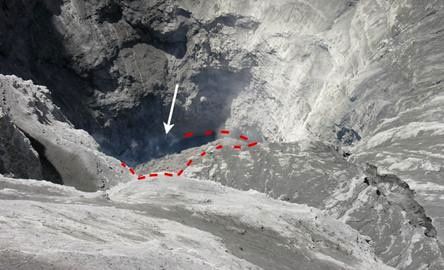 Location and extension of the body of lava in the crater of Ubinas - photo IGP / Ubicación there extensión aproximada of lava in the crater cuerpo del volcán Ubinas .
Following the crisis of the Ubinas volcano / Peru since January, and small phreatic explosions observed in early February , volcanologists of IGP have recommended to the authorities the removal of Querapi village , located on the south flank , just 4 km . of the crater, to Sacoaya a city 12 km from the volcano. The newspaper El Comercio, which recounts the event, reported that ash emissions do not affect the water quality .

In its report of March 6 , the IGP confirms that the magma reaches the surface , based on the emergence of hybrid earthquakes , the detection of hot spots by Mirova satellite system and observation of bluish gas (SO2 )
Dr. Orlando Macedo said he " noted the presence in the crater of a body of lava elongated east-west , about 30 to 40 meters ... of smaller dimensions than that observed in 2006, when he was 60 70 meters in diameter . "

The inspection of the crater is completed by the examination of the inner walls , for checking the presence or not of cracks, the location of the gas outlet points and deposits left in their output .

Volcanodiscovery news reports , information to verify, a rising plume to 9,000 meters informed by a pilot in the afternoon of March 7 , which means an eruption takes place.
The last important activity of the Ubinas back to September 2013