Publié le par Bernard Duyck

"Readers Speak", and return of the Aeolian and the " Lighthouse of the Mediterranean ", Stromboli , with recent photographs of Henri Buffetaut, on site on 19 and 20 April.

As he reports: " The activity was quite strong with a mouth that was constantly busy with small Strombolian explosions (photo 4). The other vents were more irregular but with craters northeast spitting every half hour intensive " torches " accompanied by bombs in a din of all the devils ! "
These excellent photos reflect the latest report from the INGV Catania - 17/2014 :
During the past week, the explosive activity was produced mainly by an eruptive mouth located in the north crateric area , and four mouths located in the south crateric area. All these vents are located in a depression occupied by the crateric terrace.

On thermal webcam of Pizzo , INGV divides the crateric terrace in " area north and south area ." The N1 mouth produced an average low explosive activity , with projection of bombs and lapilli to an height less than 120 meters, while the N2 mouth showed no explosive activity. The average frequency of explosions N1 ​​was 3 per hour.

Mouths S1 and S2 have witnessed sporadic explosive activity , qualified of low-intensity with gross projections amount less than 80 meters. S3 mouth, located on the cone face Sciara del Fuoco, showed a low intensity explosive activity , and S4 mouth, a discontinuous activity with emission of fine material mixed with coarse material . The average frequency of explosions in the southern zone is from 2to 11 events per hour.

Various technical problems and maintenance have failed to provide data on the deformation , the flows from the soil of CO2 and the CO2 / SO2 report. The value of volcanic tremor remained in a low to medium area .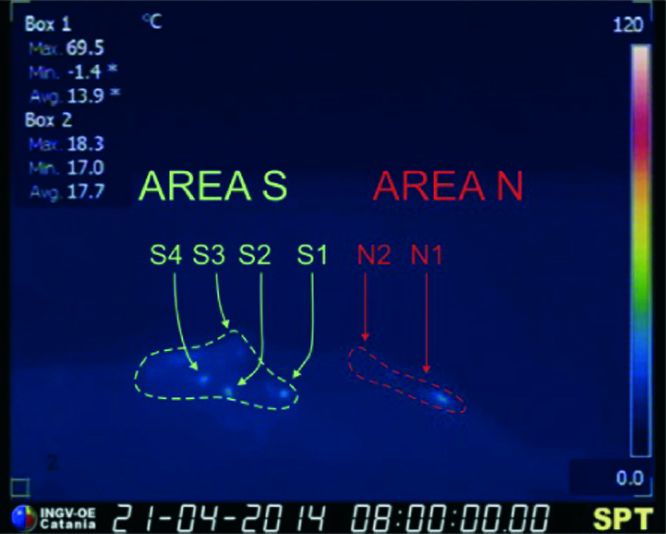 Stromboli - North and South crateric terrace views by the thermal camera Pizzo areas - and the relative position of different eruptive vents - doc . INGV Catania 21/04/2014