Publié le par Bernard Duyck
The Loihi is a submarine volcano located about thirty kilometers southeast of Big Island / Hawaii. Its name comes from the Hawaiian, meaning "long".

Dated of 400,000 years, the seamount is organized along a rift along thirty kilometers oriented NW-SE. Its summit consists of a caldera, 2800 m. of 3700 m, comprising three pit craters. The volcanic activity are available in pillow lavas and fields of hydrothermal vents, discovered in the late 80s.
Two fields of hydrothermal vents are located at the top.; vents of Pelé pit and vents Kapo, named after the goddess Pele and her sister. The waters were measured at 77 ° C in 1996 after the eruption that formed the Pelé pit.

Since 2006, investigations were conducted by the NSF / National Science Foundation, to study the local microbiology. The extensive system of the Loihi vents is characterized by high concentration of carbon dioxide and iron, and a low rate of sulphides, a favorable environment for iron-oxidizing bacteria, called FeoB (one example is given by a proteobacteria , Mariprofundus ferrooxidans).



Recently, unknown bacterial iron feeding communities were accidentally found at the base of the seamount, 5,000 meters down in an area called FeMO Deep – Fer Microbial Observatory in deep.

Between the basalt blocks, mats of bacteria revealed by their orange color, due to the oxidation of iron, were discovered in a hardened and dark layer of oxidized iron and manganese. A new expedition is underway, involving the University of Minnesota, Ifremer Brest (France) Center, and Woods Hole Oceanographic, to analyze the zone and see signs of hydrothermal circulation.


On the left, the telltale signs of orange flocculent material at the base of Loihi seamount - right, puddles bacterial materials revealed after removal of the surface layer. Credit: Woods Hole Oceanographic / Brian Glazer

This oxydatrice microbial activity of iron occurs in the oceanic carbon cycle Iron: Iron is a micronutrient that promotes the growth of phytoplankton, the main actor of the biological uptake of atmospheric carbon ... without this biological pump, the atmospheric CO2 concentration would double that of today. The iron has an impact on climate.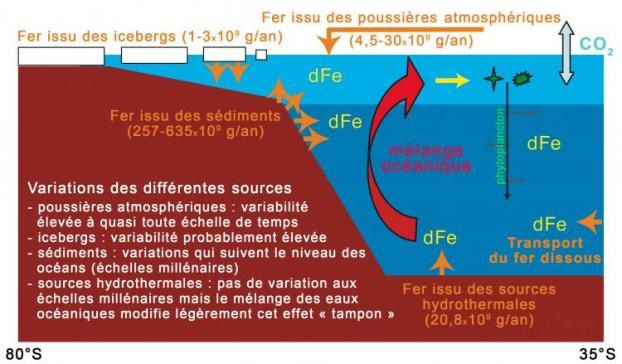 New balance for iron cycling in the Southern Ocean, giving the amounts of dissolved iron (dFe) from different sources. - CNRS