Publié le par Bernard Duyck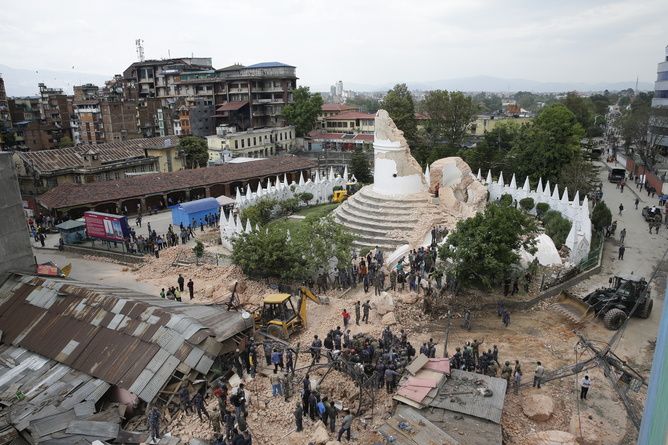 The Dharahara tower in the center of Kathmandu destroyed - photo Narendra Shrestha / EPA / 04.25.2015
The strong 7.8 magnitude earthquake that hit Nepal on April 25, and the forty major aftershocks have caused many casualties and extensive damage not only in this country but also in the neighboring countries, India and China.

Depending of the flood of information and pictures on the media, I preferred to temporize to comment the tectonic side of this human tragedy ... by decency, I do not illustrate this event by documents containing photos of the victims.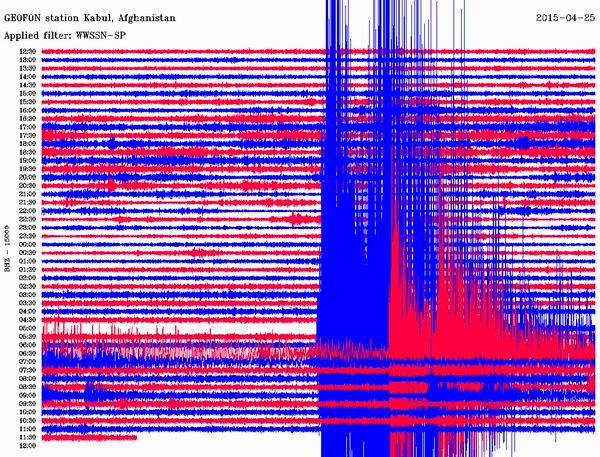 Saturated seismogram of M7,8 / 04.25.2015 earthquake - from the Kabul station (KBU) via GFZ 24-25 Apr 15.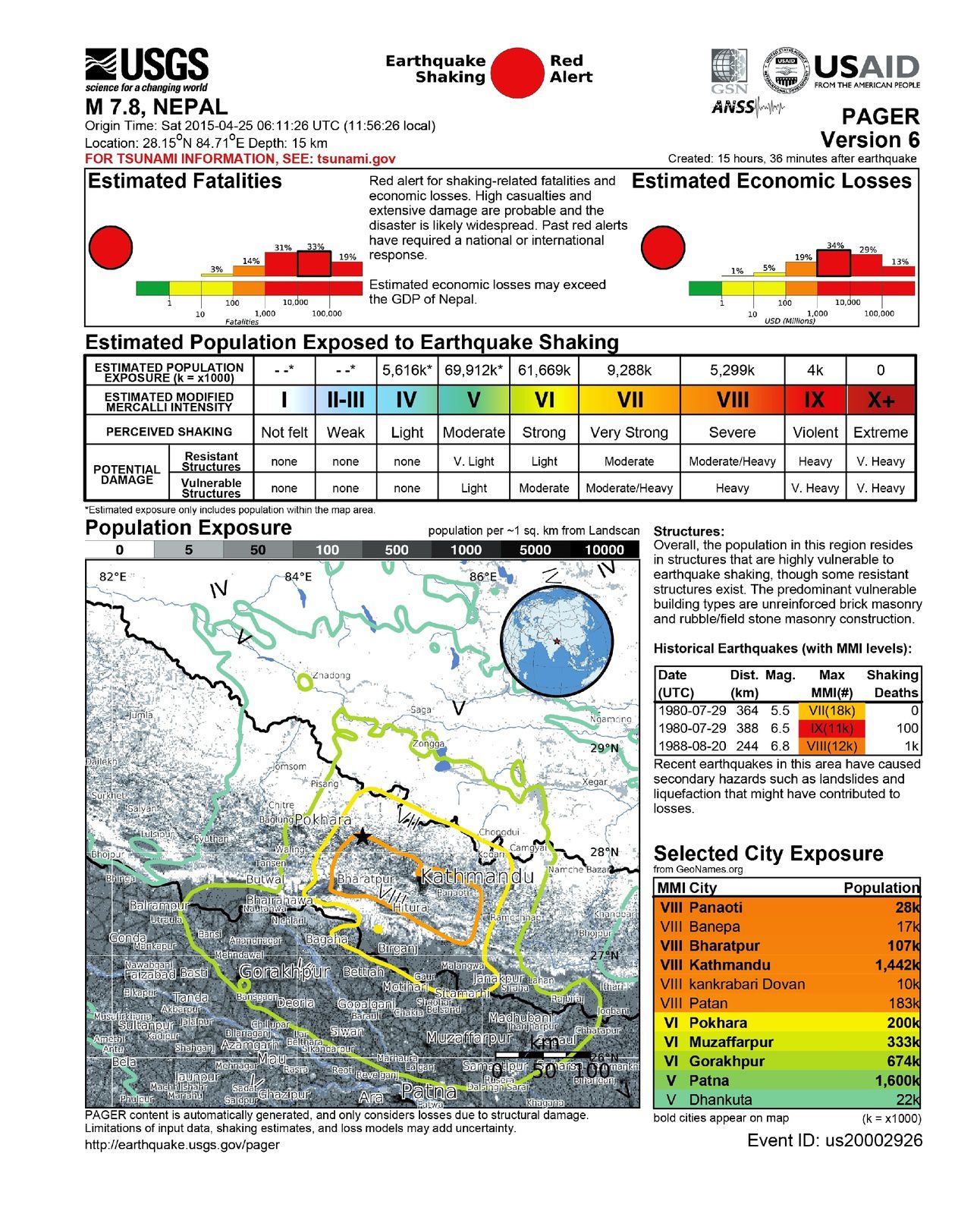 Areas where people have been affected and estmation of the number of casualties and damages - Doc. USGS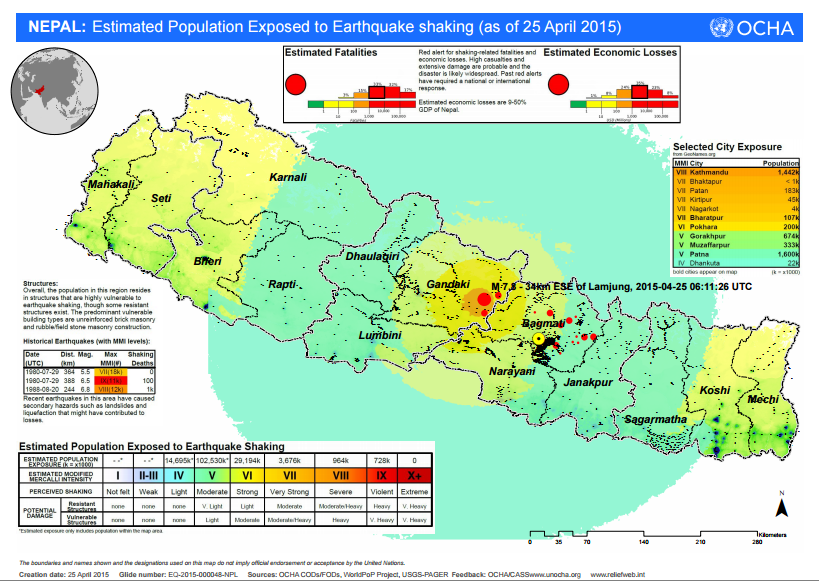 Areas where people have been affected and estmation of the number of casualties and damages - map OCHA / bit.ly-1ECKKQR NepalQuake / Relief web Twitter
This earthquake occurred as a result of thrust faulting on or near the main front thrust between the Indian plate subducting beneath the Eurasian plate, to the north. At the epicenter of the earthquake, 80 km away. from the capital Kathmandu, the movement of the Indian plate to the north-north-east is currently estimated at 45 mm per year, this movement leading for 50 million years in the uprising of the Himalayas range.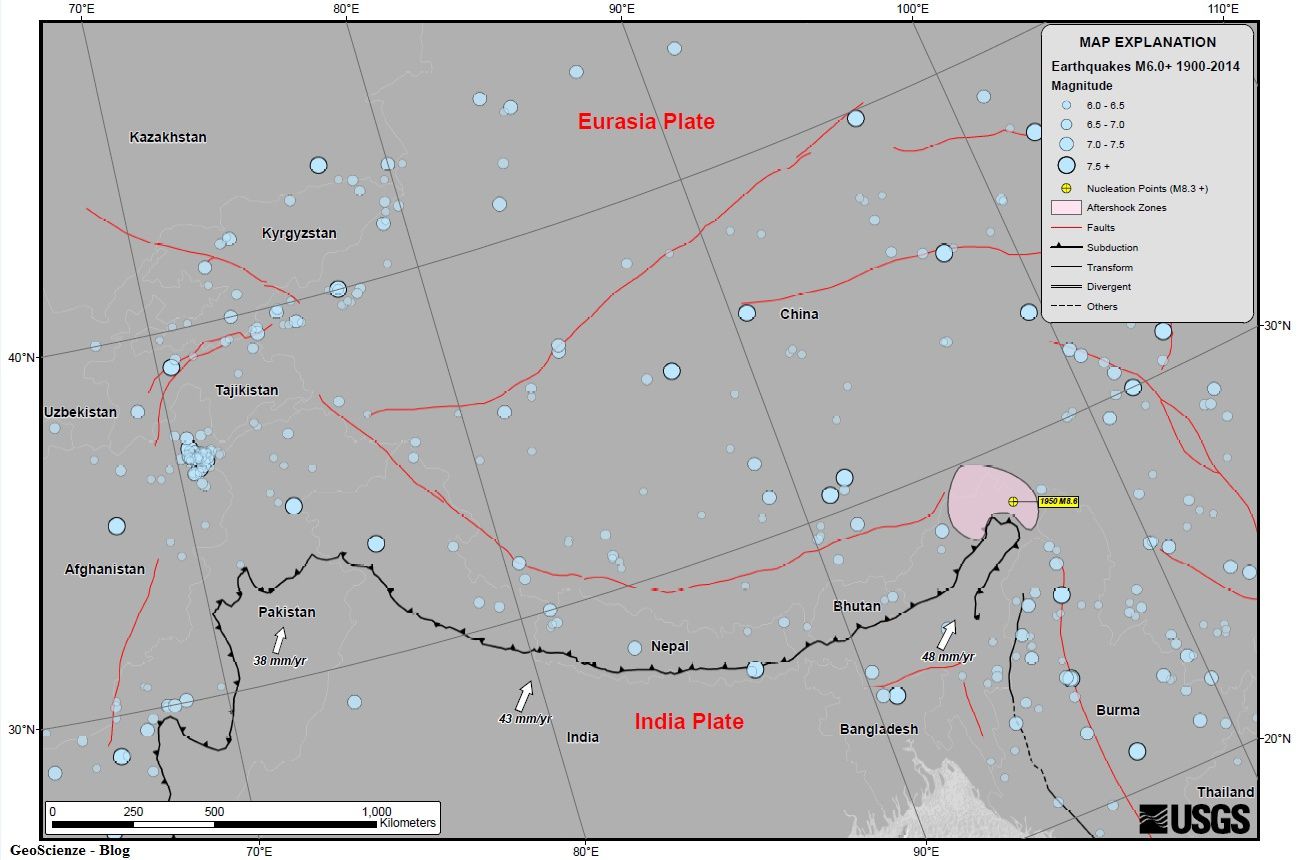 Tectonic to the meeting place between the Indian and Eurasian plates, with line of subduction and moving relative speeds - Doc. USGS / via Geoscienze.
The location of this earthquake was intended, without being able to set the date ... based on the seismic gaps recorded and the earthquake history marking the Himalayas range.

According to CIRES, "geodetic measurements indicate on the basis of these data that if an earthquake were to happen today in the central gap (western Nepal), it could cause a slip of 4 to 6 meters. These breaks correspond approximately to a M7,8 - 8.3 earthquake if the sliding area measuring 100 km NS by 300 km EW "... it is unfortunately the present case.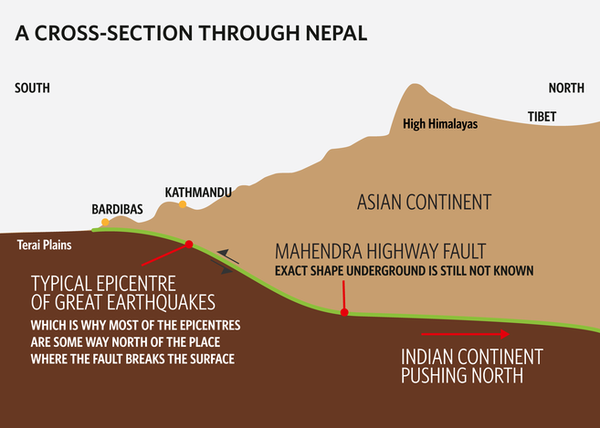 Diagram of the earthquake of Nepal - in the article by Kate Ravilious in 2014 - https://cosmosmagazine.com/earth-sciences/kathmandus-earthquake-nightmare.
A small idea of ​​the destruction of infrastructure, making difficult the arrival of the emergency services (photo to the left, in the center, a man in the crevice gives the scale - photos on Twitter / Sky Alert)
For the human and materials balances,consecutive to these earthquakes, refer to the media providing updated bulletins ... when writing the article, the death toll exceeds 3,300, and that of the injured 5,000 / Review temporary, because the remote areas can not be all joined.
Sources :
- USGS earthquake
- EMSC
- Earthquake report
- CIRES