Publié le par Bernard Duyck
In Ecuador, an increase of emission tremor of Reventador volcano was observed on May 17, 2015 at 13h50 UTC / 8:50 loc., suggesting a lava flow, not directly visible because of cloud cover.
Thermal images of Reventador, located in the Copete sector, show the presence of a lava flow down its southern slopes.
On the image of 19.05, it forms a fan, ranging from SW to SE and is divided into three fronts, reaching a length of over 1,000 meters from the summit.
The ejecta related of the explosions are limited inside the caldera and do not threat to populated areas.
Source : IGEPN - link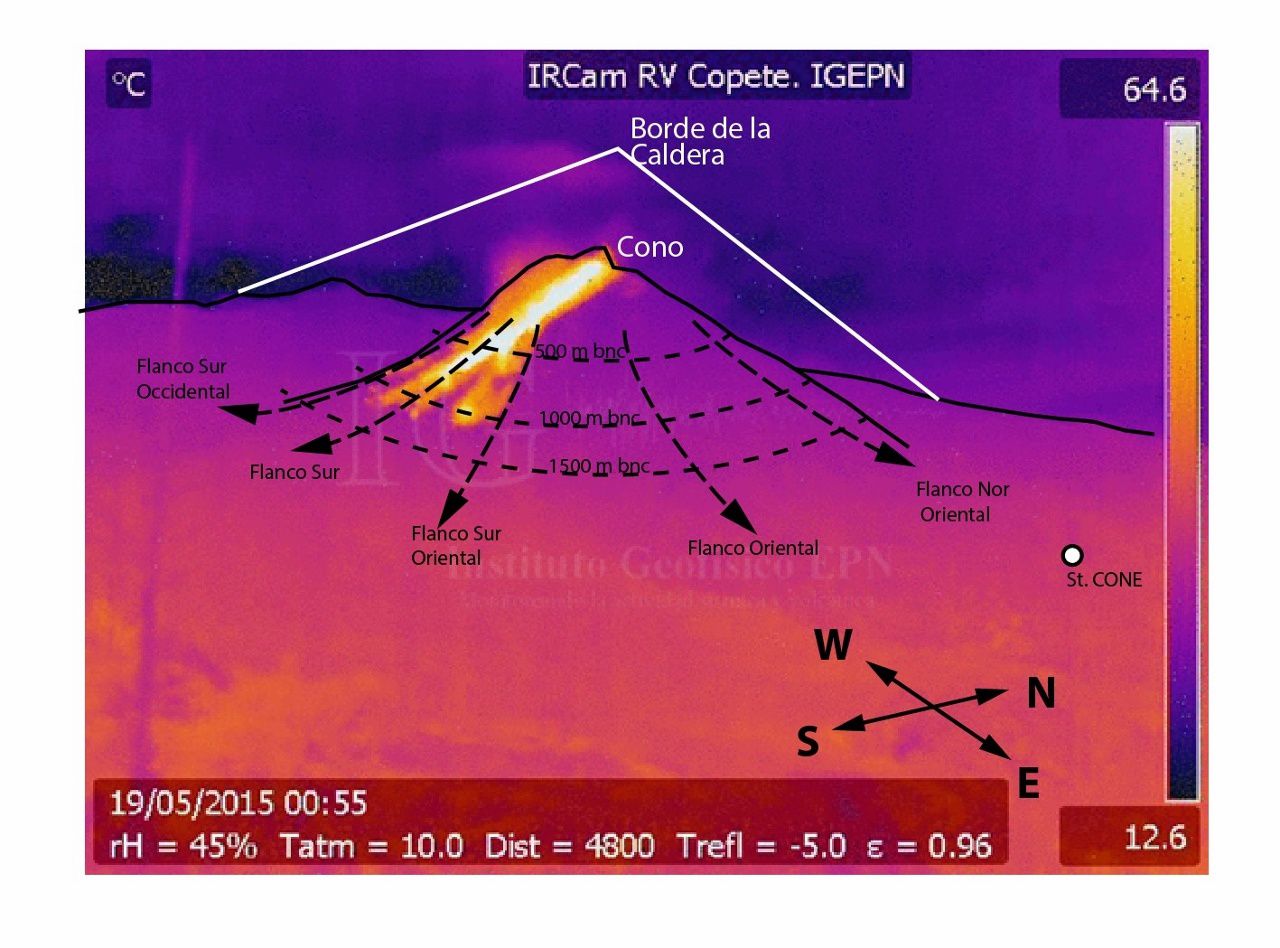 Reventador - Thermal image of 19.05.2015 - the highest temperature of the cast are noted on the S. & SE flanks. - Doc. IGEPN
In Colombia, the Nevado del Ruiz has been the site of ash emissions on 19 and 20 May 2015, visible on the webcam.
These programs follow a volcanic tremor episode began on May 13 to 3:08, associated with the first ash emissions, amounting to approximately 300 meters.
In late April, of such ash emissions were recorded by the Observatory of Manizales.
Source : SGC / Servicio Geologico Colombiano – Manizales - link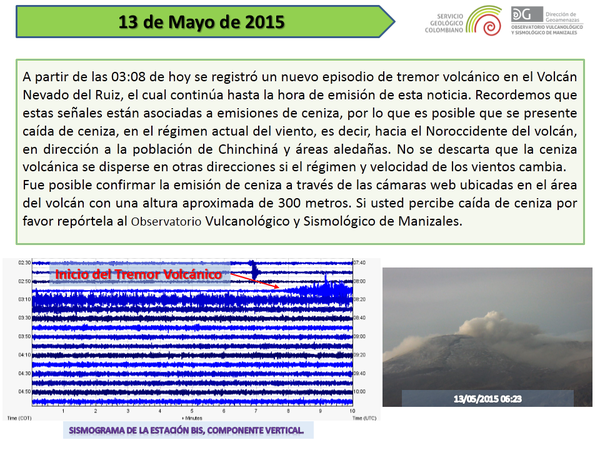 Nevado del Ruiz - Notice of ash emissions and tremor of April and May 2015 - Doc. SGC Manizales - one click to
An explosion marked the saddle between the Gunung Lokon and Gunung Empung, twin-volcanoes located on the Indonesian island of Sulawesi, on May 20, 2015 at 3:22 p.m. local. She was accompanied by an ash plume rising 1,500 meters above the presumed area of ​​Tompaluan crater, and a loud noise heard 5 km away.
The last eruption of Lokon-Empung date from Sept. 2012 to Sept. 2013 (GVP); three explosions were reported by the PVMBG on September 13, 2014, accompanied by white plumes rising 500 meters above the crater. This volcano is still on alert level 3 / Siaga since September 24, 2011, together with a closed area of ​​radius of 2.5 km.
Source : Facebook & Twitter