Publié le par Bernard Duyck
A Japan Coast Guard research ship spotted off Takarajima, an island belonging to the group Tokara Islands, a volcanic area in strongly positive relief relative to the plateau Sone Shirahama. A dome dominates the steep slopes of the plateau of 60 meters and present hydrothermal activity, marked by a rise in water temperature to within 80 to 100 meters vertically above the area, combined with a continuation of volcanic activity .

The Sone Shirahama plateau was emerged in the Ice Age. He has been immersed at the end of this period by the rising of waters, following the melting of ice.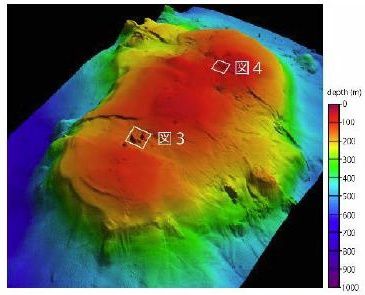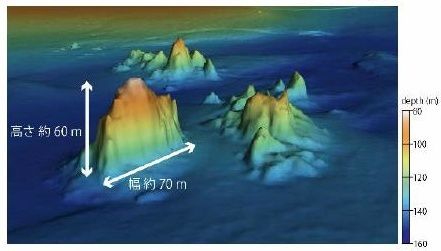 Bathymetry of the underwater volcano discovered by JCG ship off Takarajima on the plateau Sone Shirahama. - Courtesy of Japan Coast Guards Dpt. Oceanography.
Takarajima island measures only 7.14 square kilometers and has a population of some 116 inhabitants, living from fishing and a seasonal tourism; it can only be reached by boat from Kagoshima,

Takarajima literally means "Treasure Island"; it is supposed to house the treasure of Captain Kidd, a Scottish pirate.

Before being executed in 1701, he confessed to having hidden a treasure ... this information was not taken seriously at the time, but in 1937, documents showed a treasure burying in the Nansei Islands in a depression known as the Shi-no-Tani, the "valley of death", a place where an active volcano continuously emitted toxic gases. The east side of Takarajima is riddled with limestone caves, which are the subject of surveys unsuccessful ... for now.

The real treasure is Takarajima the coral reef that surrounds it and the contrast between the emerald green of its waters and the white coral sand.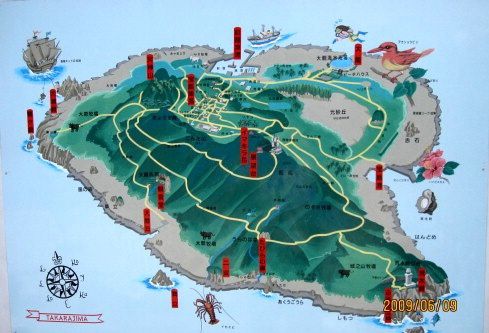 Map of Takarajima with reference to an ancient ship off its northwest coast. - Doc. in Takarajima: A Treasured Island Exogeneity, folkloric local branding and identity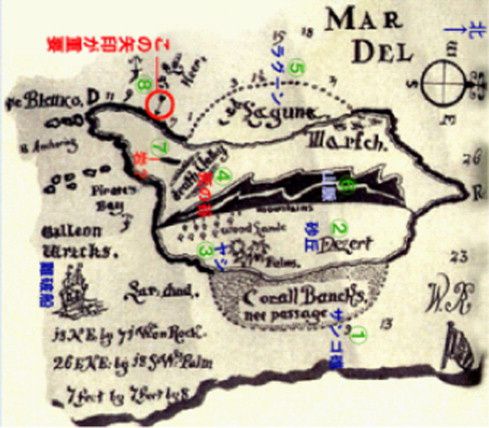 Treasure map attributed to pirate Captain Kidd - Doc. from Wilkins, 1936, 42 in Takarajima: A Treasured Island Exogeneity, folkloric local identity and branding
Sources :
- Hazard lab news - 28.07.2015 – Zone hydrothermale active découverte au large de Treasure island - link
Référence via Shérine France / Twitter
- Takarajima: A Treasured Island : Exogeneity, folkloric identity and local branding – by Philip Hayward et Sueo Kuwahara.