Publié le par Bernard Duyck
Ecuadorian volcanoes seem turbulent at the moment : it is the turn of the Guagua Pichincha to hold the front of the volcanic events.

The latest report from the IGEPN reported thirteen small seismic swarms since May.
In July, five swarms have been recorded to date. 19:00 Between July 22 and July 23 5:00 the local, 59 volcano-tectonic earthquakes related to fracturing rocks were recorded.
The hypocenters are located between 4,500 m and 2,500 m below the crater of the Guagua Pichincha.

The volcano is located only 11 km from Quito, the capital which has over 2.5 million inhabitants. Its last eruption certified by the GVP date of the end of 2002; the summit lava dome remains stable, although shaken in 2008 - 2009 by phreatic explosions.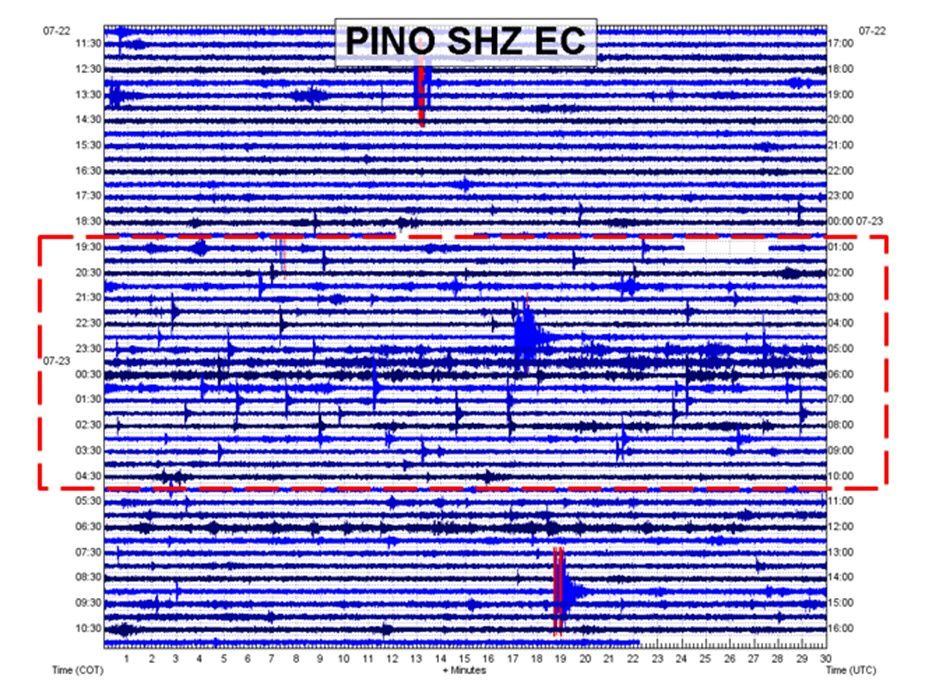 Guagua Pichincha - earthquake of 22-23.07.2015 station Pino / IG - in the red rectangle, VT earthquakes.
Guagua Pichincha - left, seismic swarms in July - doc IGEPN 07/23/15 - right, location of VT earthquakes in the past month under the volcano - Doc. IG - a clic to enlarge.
Ecuador has many volcanoes, besides the Guagua Pichincha, the Cotopaxi, currently under the clouds, is not the subject of direct observations; IG reported a moderate level of internal activity, and activity level surface down to 24 July.

Various controversies arise over its reactivation and the measures to surrounding populations ... justifying conferences on the subject, with as subject, the historical and current activity of the volcano, the threat assessment and risk management, and the system of early alert.

The Tungurahua has an activity level considered as moderate, and a surface and seismic activity on the rise; it is marked by light ash falls on a southwestern sector and mudslides in the drainages of Juive and Vazcún.
The internal activity of the Reventador remains high. A lava flow marks the southern flank and down on about 1,000 meters below the crater. Steam and ash emissions are observed, rising up to 600 meters above the crater, before spreading to the northwest.

Sangay is in constant eruption, but does not present any dangers for people, located in a sparsely populated and difficult to access.