Publié le par Bernard Duyck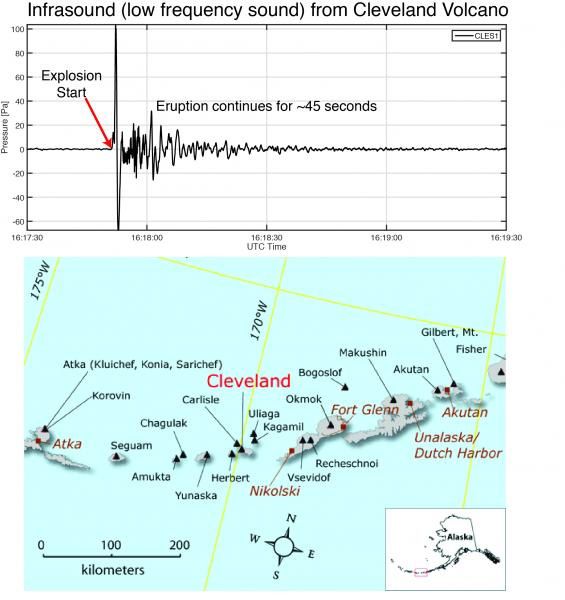 Cleveland - 07/21/2015 - Detection of infrasound graphic and situation of Cleveland Volcano in the Aleutian arc - Doc. AVO
The AVO has raised the aviation alert level of Cleveland at Orange on July 21, 2015 at 9:13, after detecting an explosion, based on seismic and infrasound detected at 8:17 local. The cloud ceiling prevented the satellite views; However, no ash cloud was seen above the cloud level. Observers, aboard a boat crossing to the north of the volcano, reported the presence of ash on the snow o the top, and steam escaping.

The Cleveland forms the western part of the island Chuginadak, uninhabited and located in the Aleutian volcanic arc.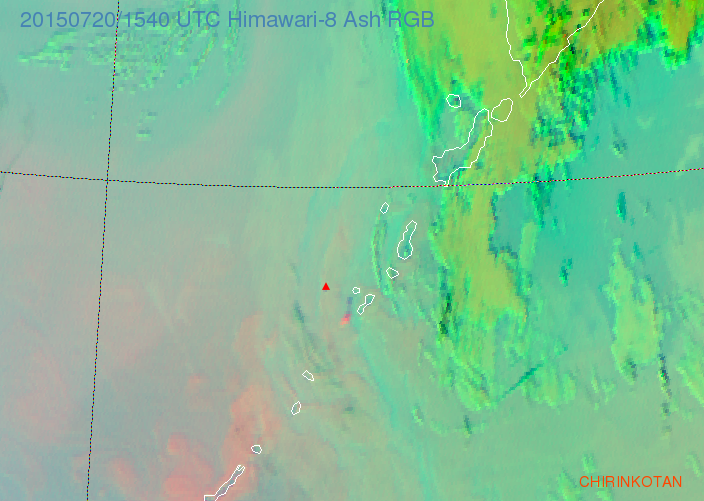 Chirinkotan - image of the little cloud of ash (pink stain under the red triangle) by the satellite Himawari 8 on 07.20.2015 / 3:40 p.m. UTC - Doc. VAAC Tokyo
Three reports from the VAAC Tokyo on 20 July 2015 concern the Chirinkotan volcano in the Kuril respectively at 15h45, 17h50 et 23h20 UTC. and relate a weak ash emissions detected by the Himawari-8 satellite.

The island is uninhabited but situated on aerial line, which has motivated the SVERT to raise the level of alert to yellow.

Sources:
VAAC Tokyo
VONA / SVERT – link

In Sinabung, explosion and several pyroclastic flows, including one with a length of 2,500 meters towards SE, accompanied by a co-pyroclastic cloud 500 meters at 17.20.
This information is derived photographers who strafed the volcano.


Sinabung 21.07.2015 / 11:09 p.m. loc.- Incandescent rockfall on both sides - photo endrolew@