Publié le par Bernard Duyck
In recent days, I got a bit out of the news, but it remembers to act with force, with a number of development to do.

In Kamchatka, the eruptive activity remains at Karymsky, in orange alert. Terra Modis notes the 27.07 a plume rising between 4,000 and 5,000 meters, extending to the east of 35 km; the 28.07, an explosion product a plume amount to 4,200 meters before drifting northward.

A beautiful image INSAR given us the Klyuchevskoy, by Nasa in his column Volcanic picture of the day.

Sources: KVERT - Nasa
In Indonesia

Few changes in Sinabung, with beautiful pyroclastic flows.

The Raung, erupting for more than 4 weeks, still has a strong outpouring of lava in the summit caldera, accompanied by an almost continuous emission of ash and plume amounting to 1-2 km. mainly before drifting west on 100 to 200 km.

On Halmahera, ash emissions continue at Dukono, with a plume, reported by VAAC Darwin, on 25 km to the north.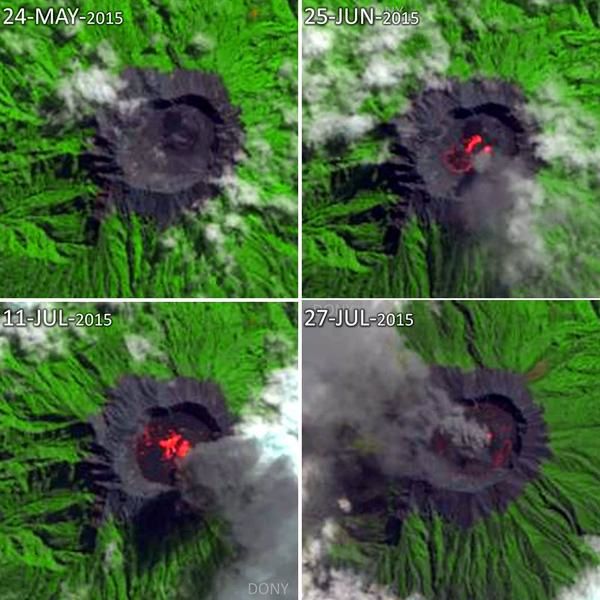 Raung - evolution of the summit caldera between June 25 and July 27 - Doc Citra satellite / via Sutopo Purwo Nugroho / BNPB / Twitter
The VAAC Darwin published a document containing the dispersion of volcanic ash on the south-east Asia from 1979 to 2001, a testament to the strong volcanic activity in this region and their impact on air traffic and economy this sector.
In Mexico, Popocatepetl is this past two days in a greater explosive activity, despite an alert level remaining unchanged. The explosions mark the summit crater, where a dome grows slowly ... construction - explosions and destruction cycle.

In TMVB / Trans Mexican Volcanic Belt, the activity of Colima also remains unchanged.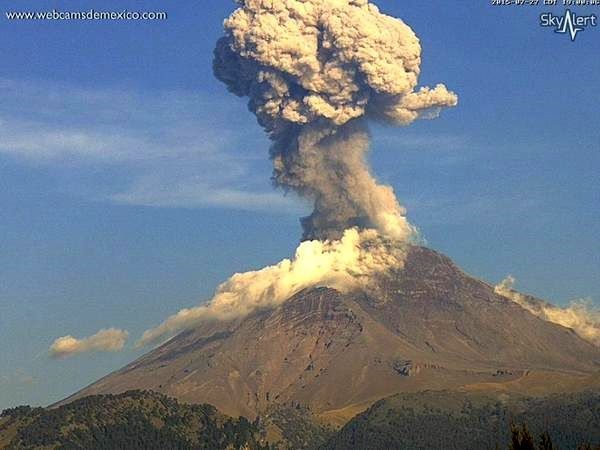 Popocatépetl - emitting a plume of ash and gas at over 2,000 meters, the 27.07.2015 / 6:57 p.m. - doc.webcams Mexico
In the Nippon archipelago, the activity spread from north to south on various buildings:

In the northern Kuril, the Tokyo VAAC reported a recording of ash emission on July 26 at Chirinkotan volcano, accompanied by a plume rising to 4,500 meters before drifting to the NW. Monday and Tuesday, after the dissipation of the plume, no new emissions were detected.

On Hokkaido, the JMA has raised the alert level of Meakandake to 2, on Tuesday, July 28, accompanied by a prohibited area of ​​500 meters, due to the potential danger of a small phreatic explosion.
This change follows the registration of a swarm of earthquakes, of low magnitude and not felt, as Ponmachineshiri crater and increased fumaroles and the temperature near the crater, confirmed by field observations.
On Kyushu, besides the perpetual activity of Sakura-jima, the JMA refers the record of seismic activity up to Kirishima on Tuesday, where a tremor phase lasted 3 minutes and slight inflation was detected in relationship with a fresh magma intrusion. The alert level remains unchanged, but the risks of a phreatic explosion remain ...