Publié le par Bernard Duyck
The Pulvermaar, sometimes called Gillenfelder maar, is driven in the forest, and occupied by a lake, whose level is 411 meters.
Her measurements: 900 m long by 800 wide and 120m deep. Its walls are carved in sediments dating from the Devonian and covered with ten meters of tuff at the top.
Its banks are home to an outdoor center and swimming pool; tourism overgrazing reduced much of his interest.
Further south lies the stratovolcano Römerberg; it is cut by a career of ejection tuff from the maar of Strohn. The cuvette, 210 meters of 140, is occupied by a bog, the Strohner Määrchen, and surrounded by fields.

The small maar of Strohn, also called Dürresmaar, formed 8,100 years ago, during a flank eruption of Römerberg. With a diameter of 170 meters and an area of ​​113 hectares, this is the type "finalmaar", a maar in the siltation point of silting : thick peat deposits of about ten meters, still intact, cover the bottom of the tank ... making it a place of importance for geology, paleobotany and biodiversity (250 plant species find their habitat).
A large fissure eruption, dated of 20-30,000 years, formed three coalescing ash cones, aligned on a NS axis. completed by the maar Sprinker. The volcanoes are so close that they are not individually identifiable; they form the Wartgesberg.

The youngest cinder cone, located south, has produced the longest lava flow in the Eifel: 5.500 meters.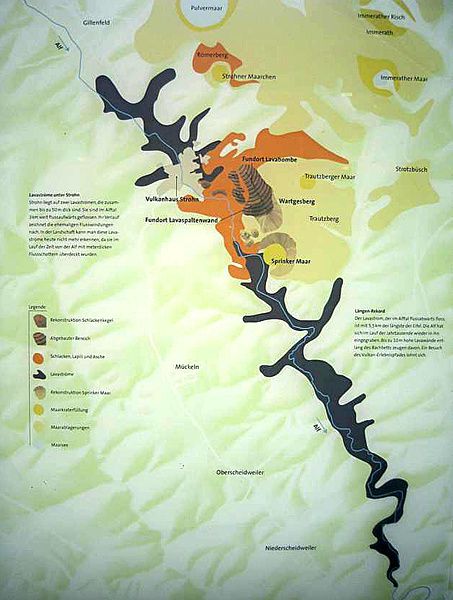 Wartgesberg situation, largely destroyed by quarries, and Sprinker maar - both south of Pulvermaar - according to a local display. The Vulkanhaus of Strohn (gray) is also on the casting.
This quarry exposes welded slag and some lava tongues; it also has two "mythical" bombs: a real ... and another!

The largest (the true) volcanic bomb in the Eifel weighs 1.46 tons and was discovered in 2007.
Didactic panel of Wartgesberg and thumbnail showing the extracting of the bomb of 1.46 T by carriers. - a click to open - Photo © Bernard Duyck 08.2015
The "Strohner lava bomb," star of the place, is in no way a pyroclastic formation. Its gigantic measurements, 5 meters in diameter and weighs 120 tons, suggest that she has no time could be propelled into the air. It can be described as a "ball of basalt formed by volcanic activity."

Nevertheless, it is a geological curiosity: discovered in 1969 during a mine fire, it was demonstrated in a quarry wall, before being placed in its current location, on a metal plate in years 80.
A hole at its base has allowed us to understand its formation: during one of the eruptions of Wartgesberg (between 15 and there 31,000 years), a piece of the crater collapsed into the vent. During his fall, he met fragments of incandescent lava, which are glued to the surface. Raised in a new eruptive episode, this chunk of basalt played the "yoyo" and has been enriched with new fragments of lava, who did grow to reach its respectable size, a bit like including a small snowball grows when the rolls in a layer of snow. The structure was installed in the walls of the crater, which it was dislodged by a mine fire in the industrial exploitation of the site.
Sources :
- Vulkane der Eifel – par H-U. Schmincke – éd. Spektrum
- Guide des volcans d'Europe et des Canaries – par M.Krafft et FD. De Larouzière – éd. Delachaux & Niestlé
- Maarmuseum Manderscheid
- Vulkaneifel geopark - link