Publié le par Bernard Duyck
Piton de la Fournaise

Following an increase in seismic activity since August 24, 2015 4:30 p.m., followed by the report of a magmatic intrusion at 5:11 p.m., the Piton de la Fournaise has been placed on alert 1 emergency plan Volcanoes from 18h.

At 6:50 p.m., the Prefecture happening in the alert phase "Eruption in progress"; the site is located south of the Dolomieu crater, about 2000 m. at the crater.Rivals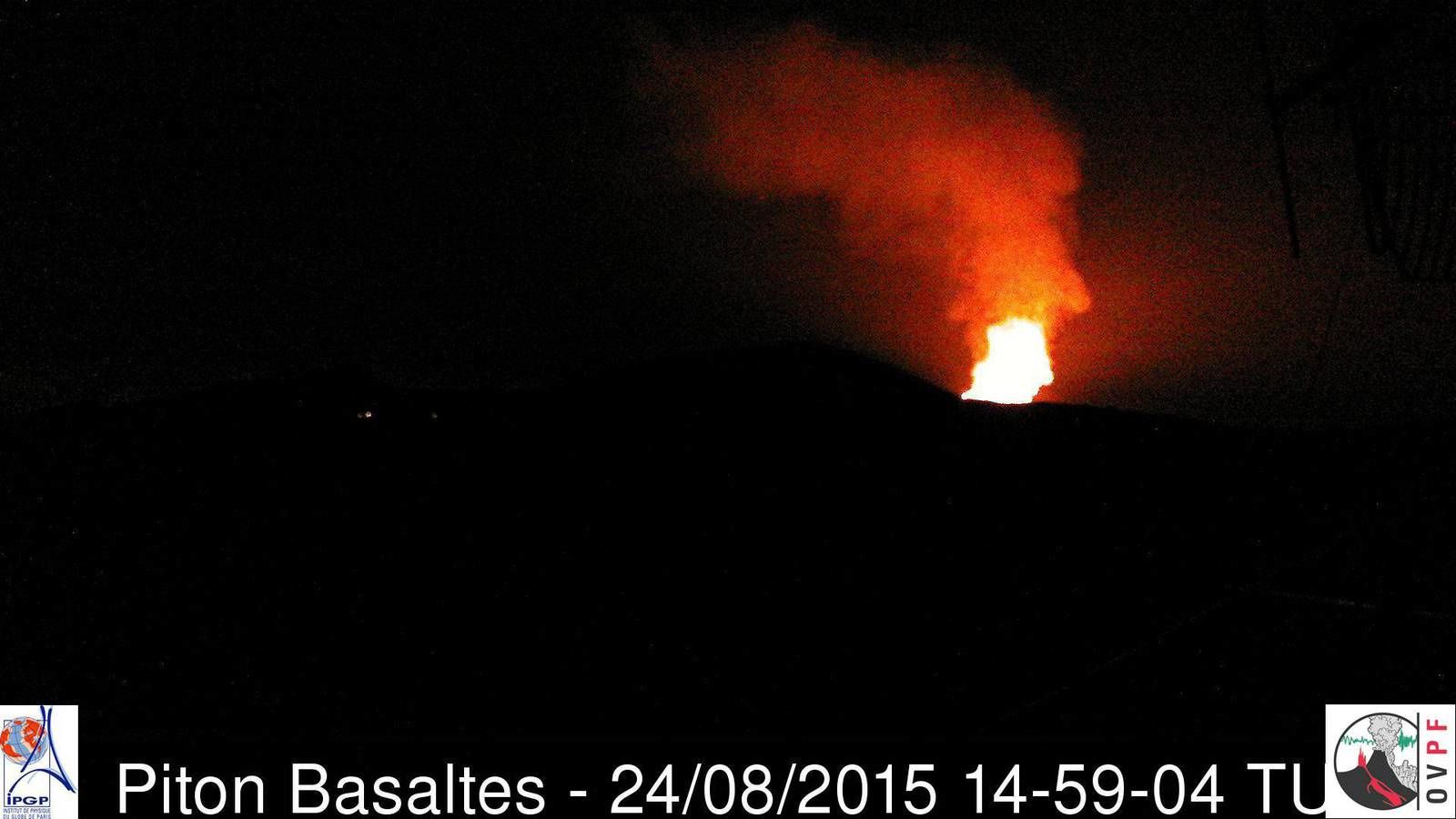 Piton de la Fournaise - eruption onset at 06:50 p.m.and the first image of the webcam Piton local basalts 6:59 p.m. (2:59 p.m. GMT) - Doc. OVPF
Seismicity has been rising significantly since August 17, and deformations, observed since August 2, rose sharply today since 5:45 p.m. local (1:45 p.m. GMT). The measurements by inclinometers confirmed intrusion to 5:50 p.m. local.

The gas measurements show an increase in sulfur dioxide levels from 16h. today.

This is the fourth outbreak of this year that starts after those of 4 to 15 February and from 17 to 31 May, and finally the short eruption started on July 31, which lasted only 50 hours.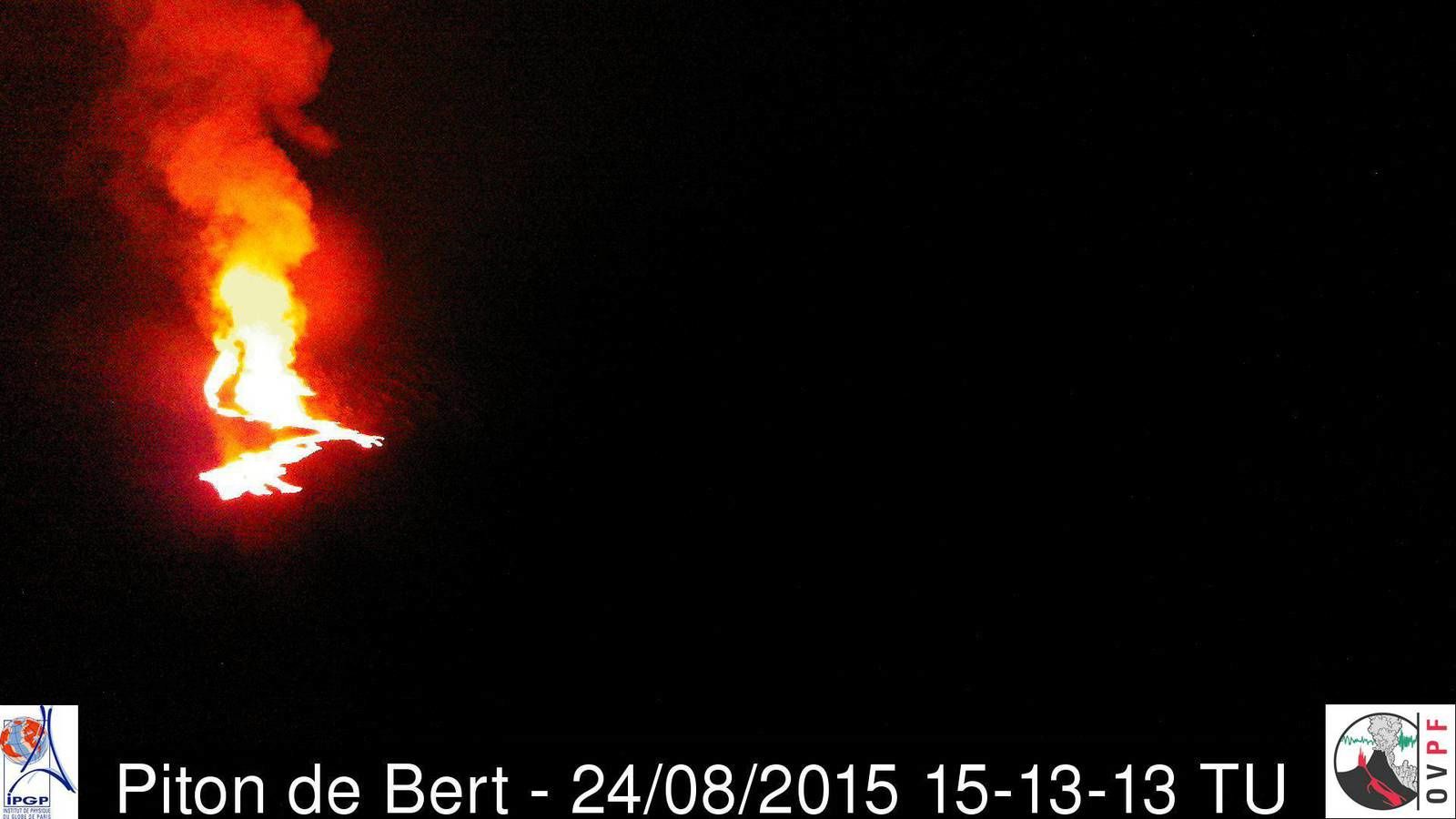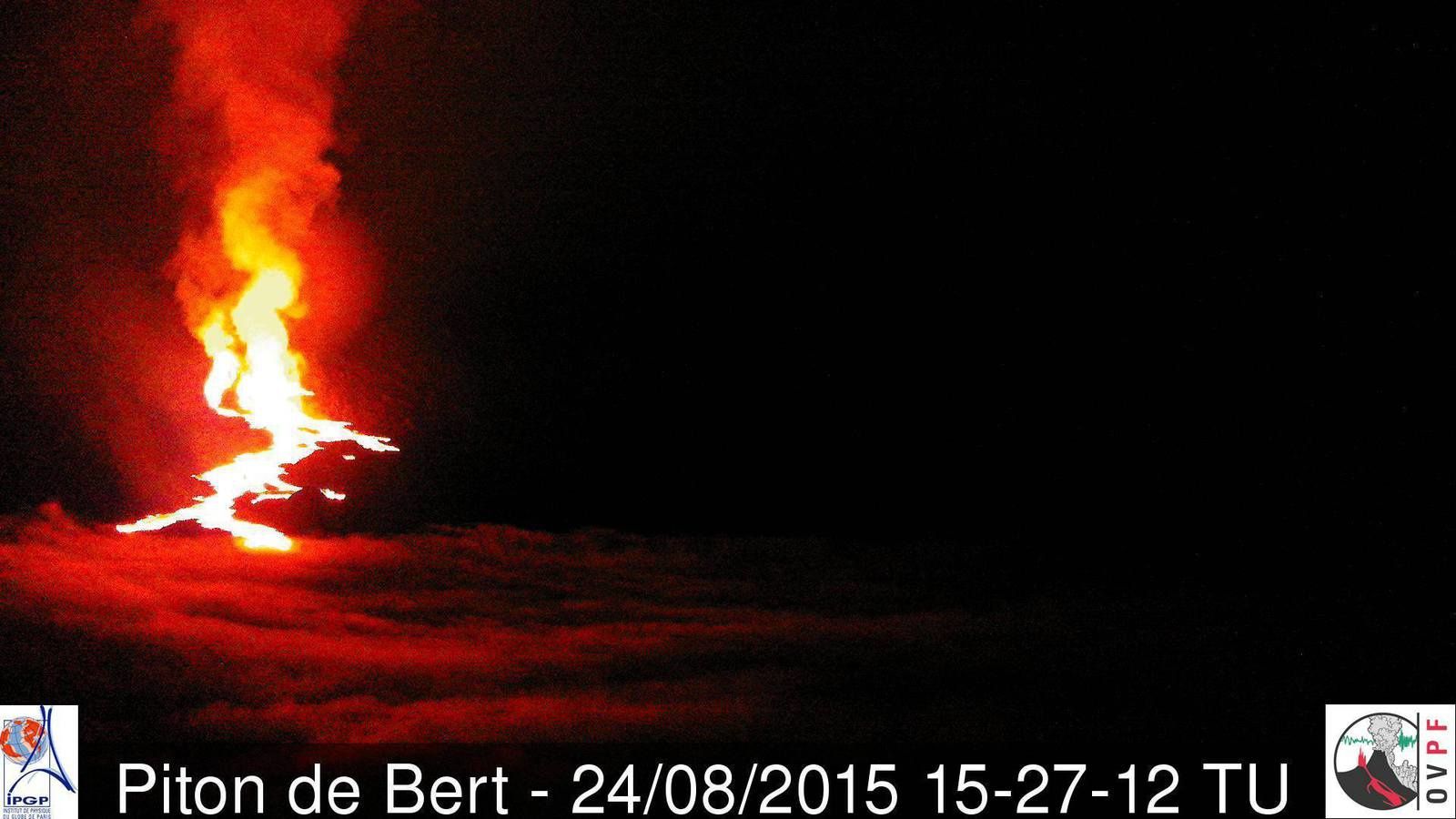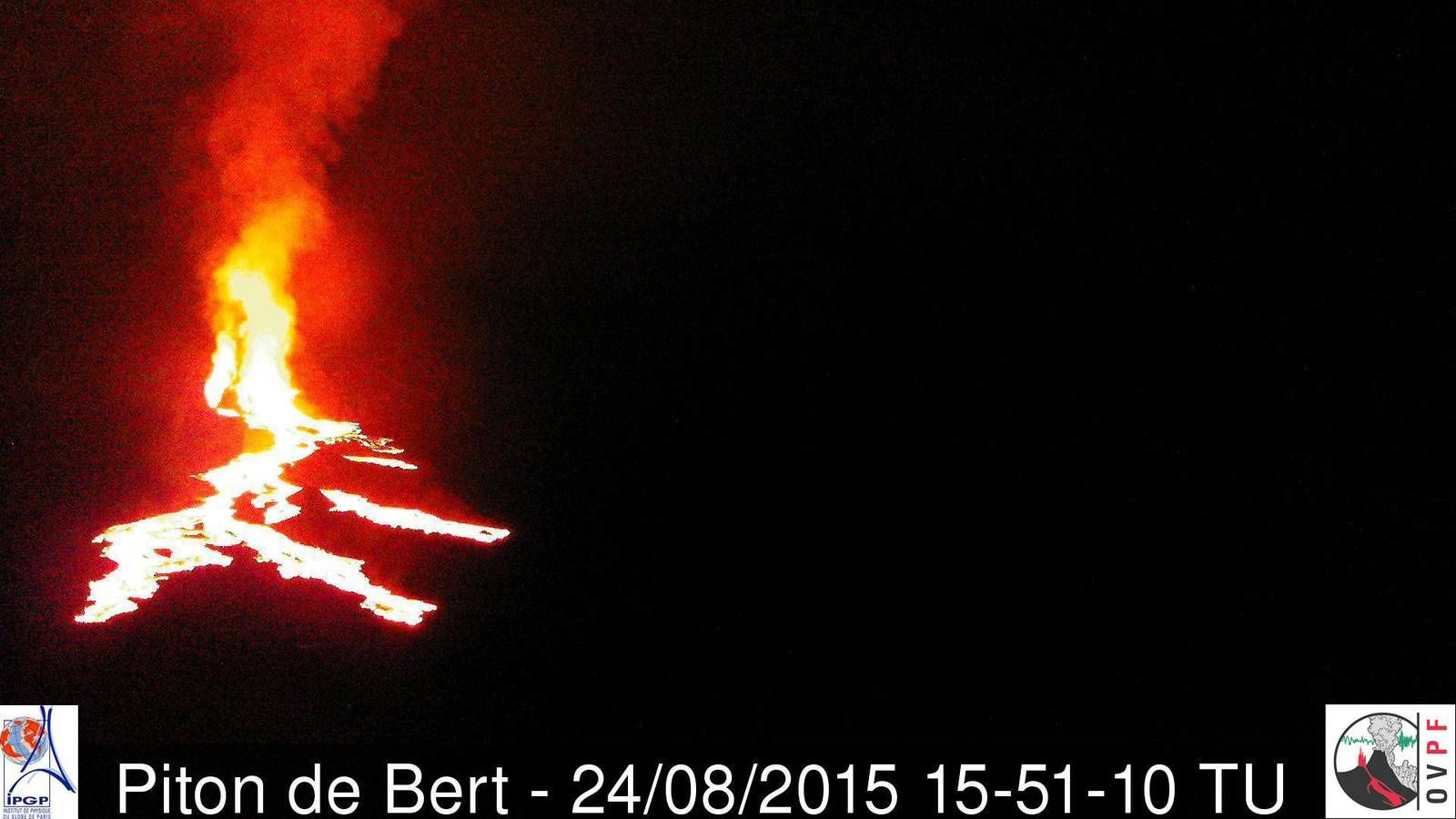 Evolution of lava flows and fountaining from Piton Bert camera, respectively at 3:13 p.m. - 3:27 p.m. - 3:51 p.m. GMT (local time + 4) - A click to zoom - Doc. OVPF webcam Piton Bert / OVPF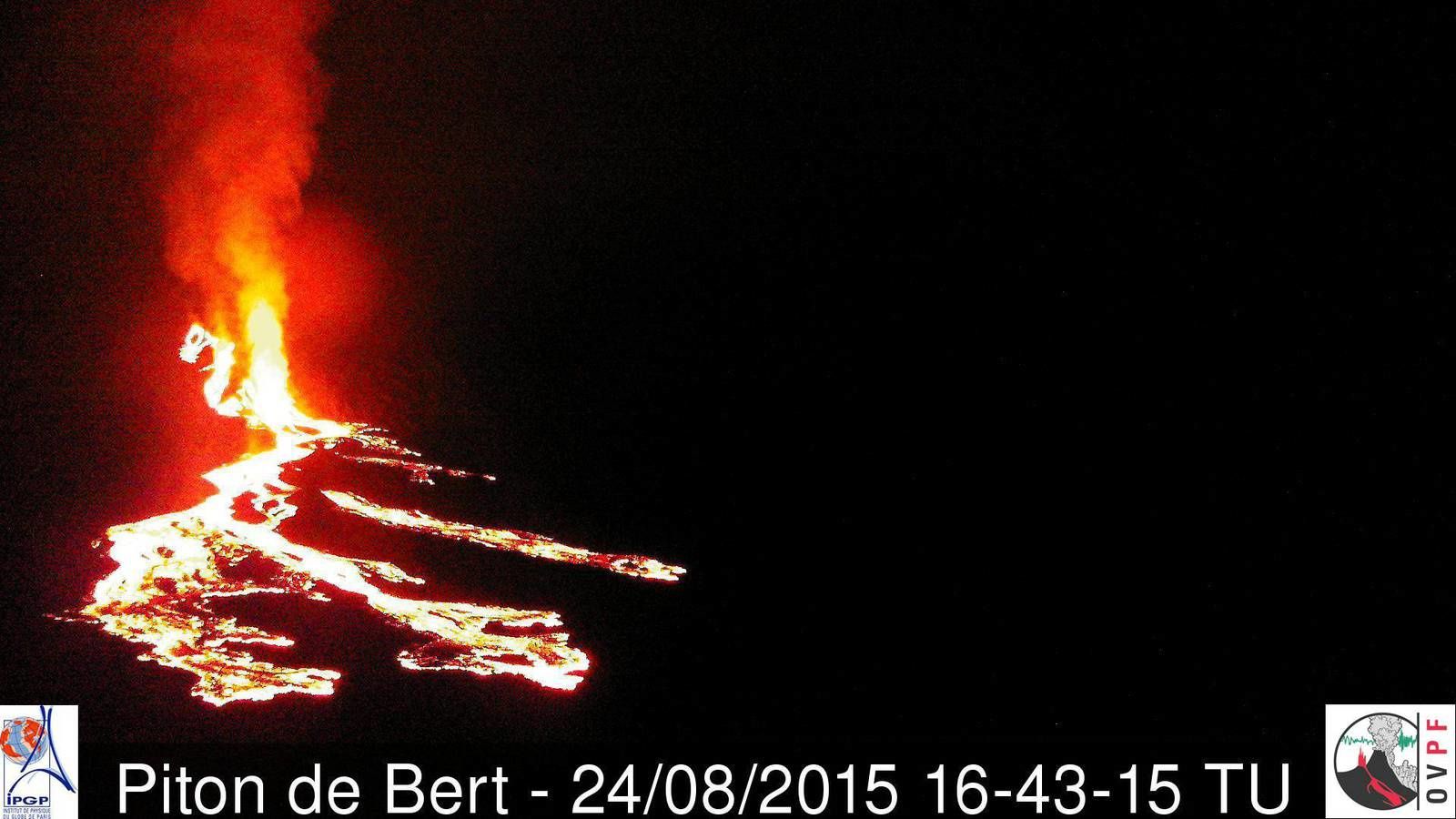 Piton de la Fournaise 08.24.2015 / 4:43 p.m. GMT / 8:43 p.m. Local - lava flow into several branches - webcam Piton Bert / OVPF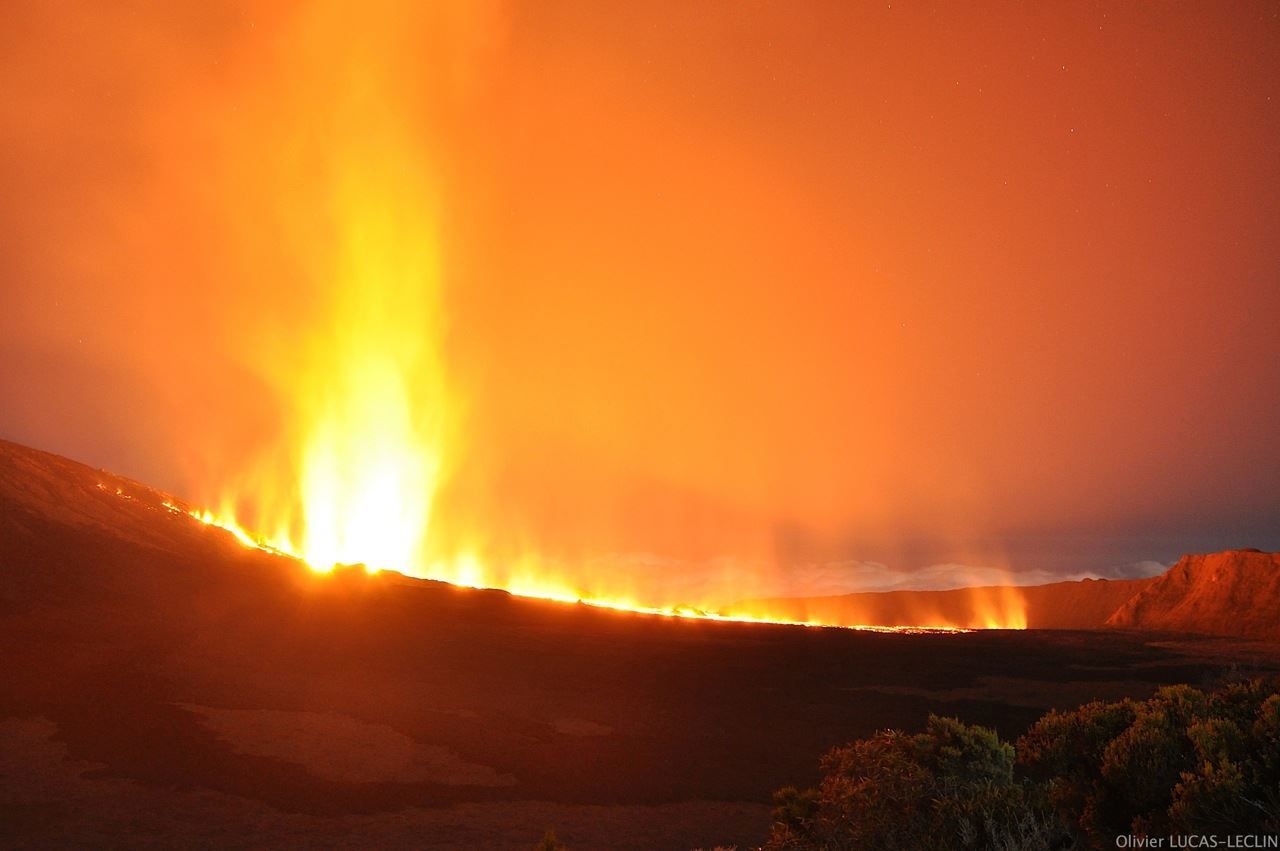 Piton de la Fournaise - the eruption between 10:00 and 12:00 pm on 08/24/2015 - photo Olivier LUCAS-Leclin / Furnace info
Sources:
- OVPF - Latest reports
- Local Media: Clicanoo - Fournaise.info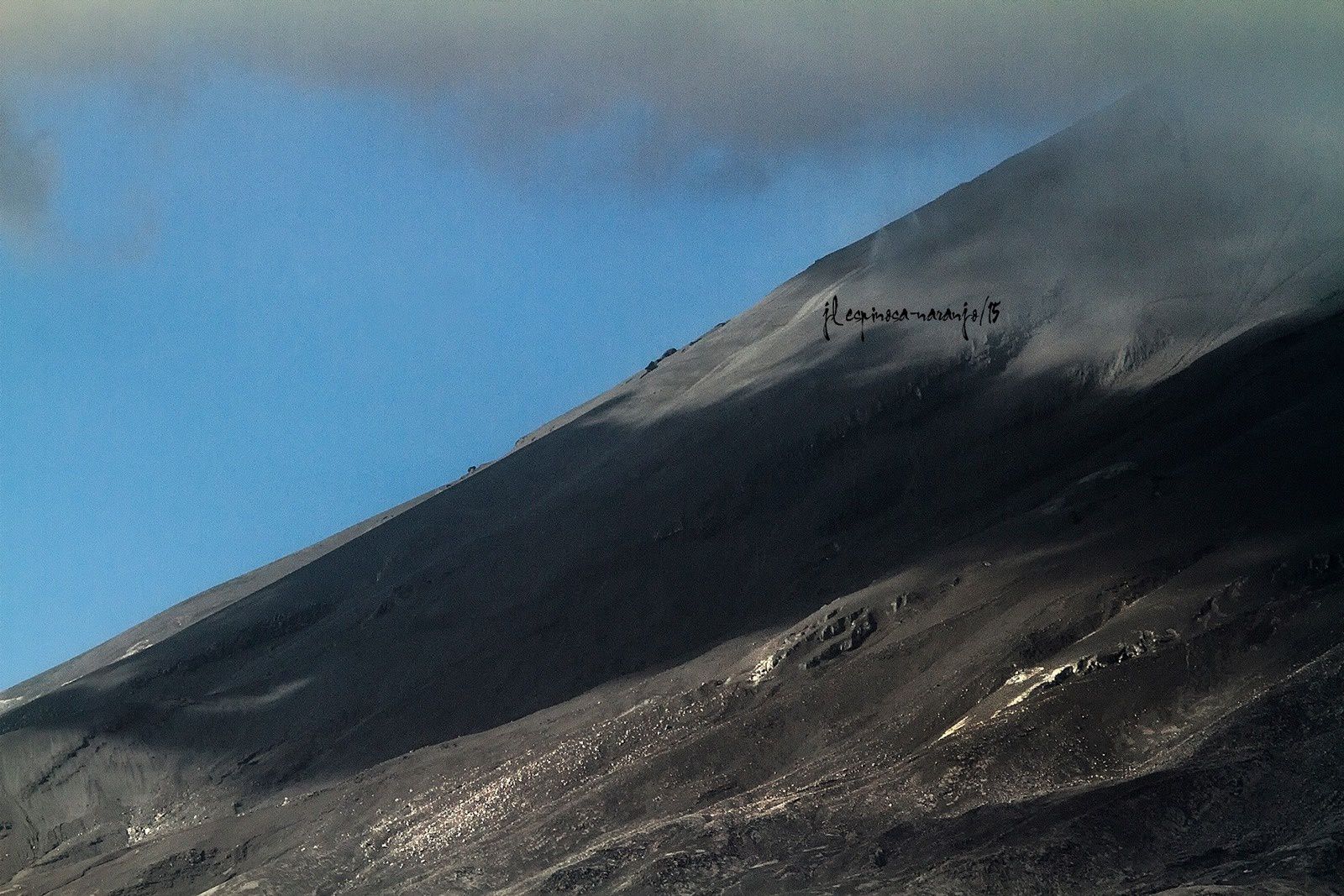 Cotopaxi - the apical slopes under the wind covered with ashes on 08/22/2015 - photo Jose Luis Espinosa-Naranjo
In Cotopaxi / Ecuador, since Saturday, August 22, emissions of ash is more sustained and height of the plume up to 2,000 m. over the top.

The tremor was recorded continuously since August 22 at 9:41 p.m., with a gradual increase in amplitude; the signal is always present at the last report of the IGEPN (evening of 24.08)

The ash plume takes an O-SO direction, with ash fall on Mulaló, San Ramón and Pastocalle.

According to the IG, compared with previous days, the height of the eruption column and the stray field, are more important, suggesting that we are in the presence of a greater internal pressure, possibly related to the rise of a volume of magma.

Source: IGEPN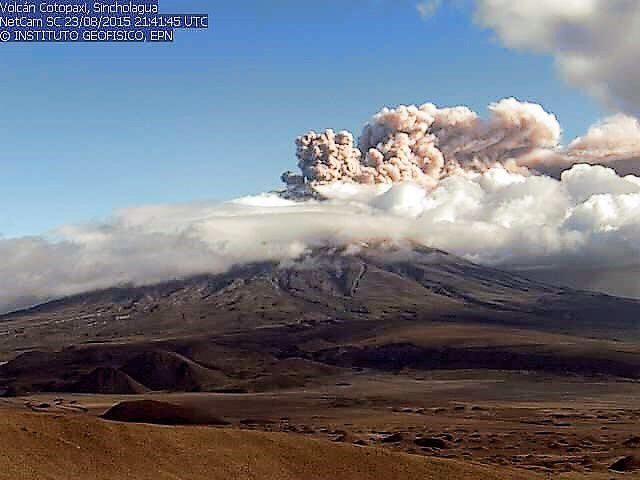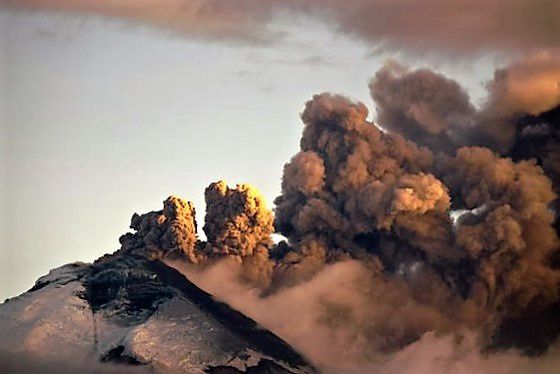 Cotopaxi: the plume of ash, 08.23.2015 / 9:15 p.m. / IG webcam, top photo - the 08.24.2015 / Fotos AFP - Martin Bernetti - El Comercio, bottom photo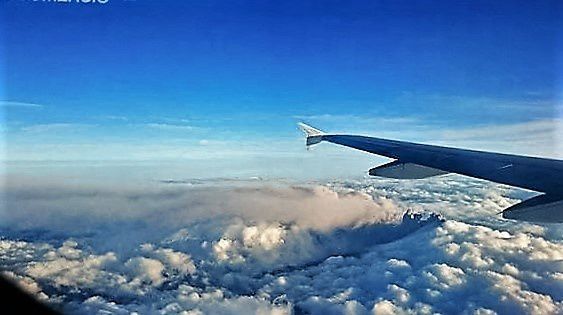 Cotopaxi, the plume and the air dispersion seen from a plane on 8/24/2015 at 6:40 - photo Coral Villota Jhonny / El Comercio