Publié le par Bernard Duyck
At Piton de la Fournaise, the OVPF volcanologists report that the lava flow front froze and there is no longer powered. One mouth remains active, hence escapes a lava arm, which is divided into two at the crater Cornu.

Since August 26 evening, activity fluctuations result in variations in the height of the plume and fountains. The intensity of seismic activity is globally stable.

Source: OVPF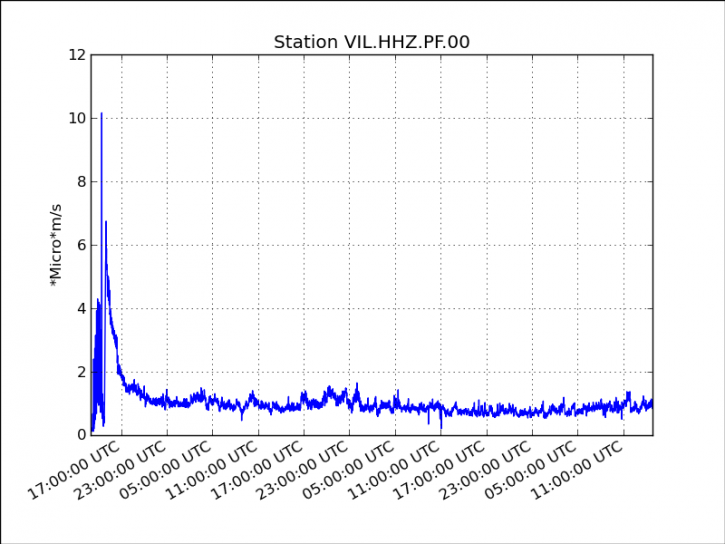 Piton de la Fournaise - tremor curve between the start of the eruption and August 27 to 19 h. Doc OVPF / IPGP 08.2015
In Cotopaxi, a thinning helped to spot gas and ash emissions amount to about 2,000 meters before going to the west-northwest.

During the morning, ash fall are reported on Concordia, San Jacinto, Puerto Limón. A smell of sulfur is present on Amaguaña. In the afternoon, the ash falls were confirmed on the cantons of Quevedo, Mocache and Buena Fe.

Source: IGEPN

In Mexico, an overview of Colima showed the enlarging of the diameter and the deep of the summit crater, following the ten daily explosions.

The crater has depth of about twenty meters in 15 days, and is measured at 60 meters instead of 40. Its diameter is a little over 270 meters, which remains lower than that measured after the eruption 1913, when it reached 350 meters. The lava flow from the south traveled, in the barranca Monte Grande, a slightly longer distance than the eruption of 1998-99.

The situation of Colima is stable with a slight downward trend; fluctuations emitted plumes remains dependent on the intensity of the winds blowing over the top, the number of emission episodes is down and the seismic energy released during these events is lower. It is however recommended not access the barranca Monte Grande volcanic material being compacted and are always warm, the risk remains lahar during precipitation.

Source: University of Colima.