Publié le par Bernard Duyck
The study of Luca D'Auria et al., Published in the journal Nature on August 17, analyzes the renewed magmatic activity of Campi Flegrei caldera from January 2012 to June 2013.

Understanding the volcanic activity of this high volcanic risk area is critical ... It affects around one million and a half inhabitants of the Neapolitan metropolis that grew often anarchically on these fertile lands.
Small reminder of the activity of Campi Flegrei:

The current landscape is the result of two major caldera-forming eruptions called respectively "the Campanian Ignimbrite", dated about 40,000 years and a VEI 7, and "Neapolitan Yellow Tuff", dated about 15,000 years and a VEI 6.
The last post-caldera eruption was in 1538, with the episode of Monte Nuovo, of VEI 2, eruption preceded by earthquakes and a floor uprising that began at least 70 years before.

During the 20th century, three major episodes of the uprising marked the Campi Flegrei: in 1950-1952, with inflation of 73 cm, from 1969 to 1972, with inflation of 1.77 meters and from 1982 to 1984, with. an uprising of 1.79 meters. Various studies have talked about magmatic sources for seismic crises that accompanied them.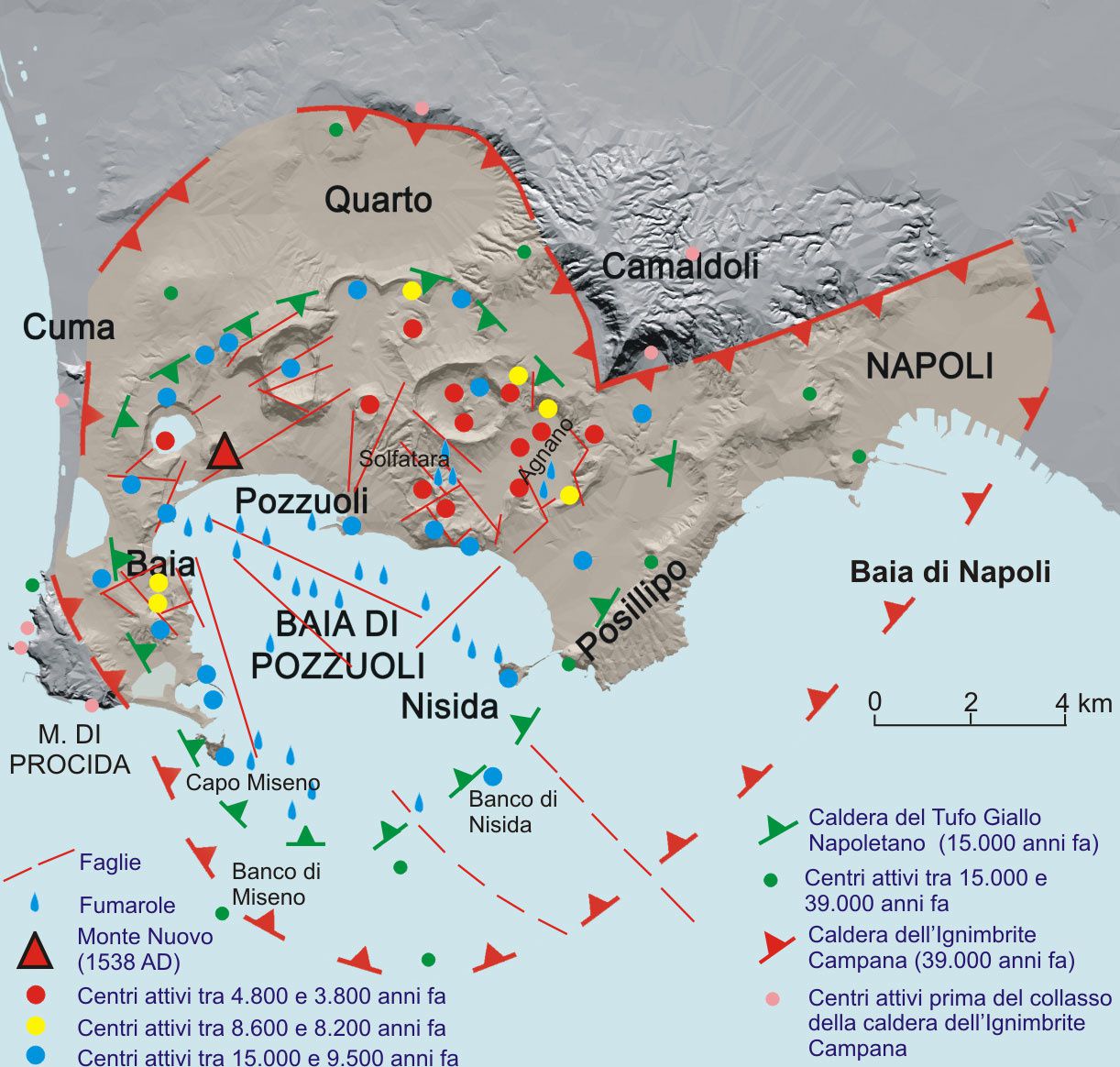 Campi Flegrei - the two major caldera and post-caldera activity centers - Doc. Ridisegnato e modificato da Santacroce et al. (2003)
Ground deformation between January 2012 and June 2013 was observed by GPS measurements and satellite interferometry. It is interpreted as the effects of the intrusion at a depth of 3090 ± 138 meters from a magma volume of 0.0042 ± 0.0002 cubic km in a sill (*).

This magmatic intrusion interrupts a phase of 28 years mainly dominated by hydrothermal activity, and occurs in the context of a disturbance phase that began in 2005, and in the most general of an ongoing inflation since the 50s .

The uprising phenomenon is interpreted as the result of repeated injections of limited amounts of magma, fueling the growth of a shallow magma reservoir associated with transient disturbances of the hydrothermal system.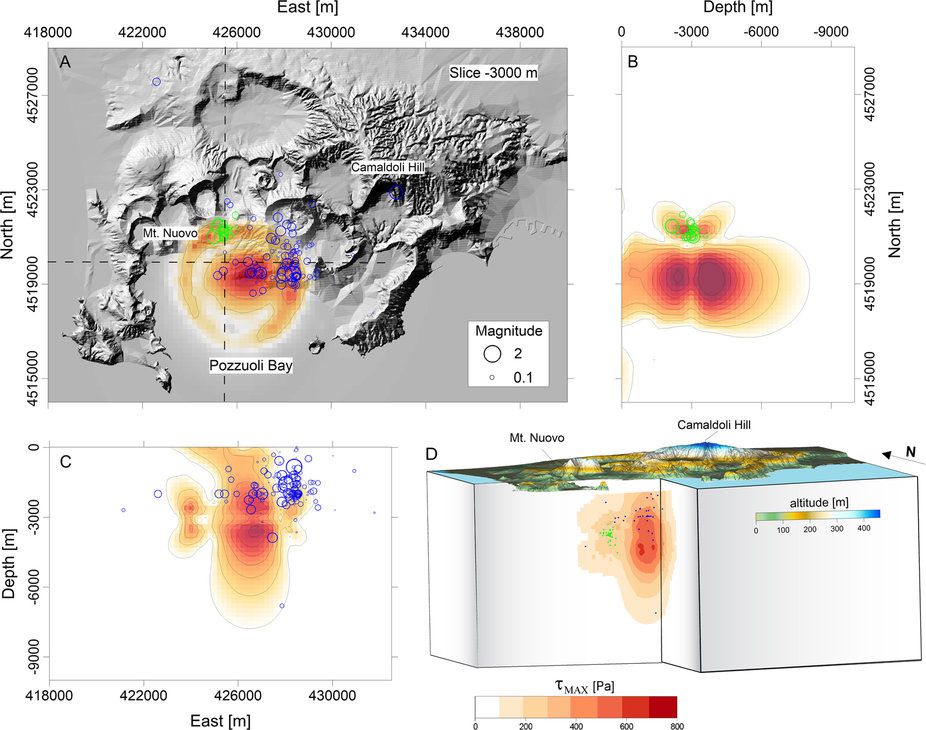 Elastic stress field variations due to the intrusion of the sill. We considered a cumulative opening of 12 cm relevant to January-September 2012 time interval. (A) Map of τ MAX (maximum shear stress) at a depth of 3000 m b.s.l. superimposed on the shaded relief map of the CFc. Earthquake hypocenters are reported in green for the September 2012 seismic swarm, while they are in blue for the 2005–2012 interval. In (B,C) the N-S and E-W cross-sections of τMAX are reported. (D) 3D view of τ MAX field distribution resulting from the structural mechanics modeling. All the maps were realized with the software Surfer® .- in D'Auria, L. et al. / réf.in sources

Model of the dynamics of the sill intrusion. (A) "a posteriori" p.d.f. as a function of magma viscosity (η) and of the amount of liquid magma already present in the sill before the 2012-2013 episode (Vini). The red outline enclosed the area with 95% of probability. The Corresponding confidence bounds are delimited by the red lines. (B) Inferred magma flow rate. (C) Cumulative volume (Cum. Volume) of magma injected. - In D'Auria, L. et al. / Ref. in sources
This discovery will have implications for the volcanic hazard assessment and monitoring of volcanoes in a densely populated area.

(*) Sill : A sill is a "fillon-layer" more or less horizontal, respecting the general stratigraphy of the volcano, and a thickness of one to 10 meters. (JM Bardintzeff, 1998 - "Volcanology" Ed Dunod.)
Source :
D'Auria, L. et al. - Magma injection beneath the urban area of Naples: a new mechanism for the 2012–2013 volcanic unrest at Campi Flegrei caldera. -
Sci. Rep. 5, 13100; doi:10.1038/srep13100 (2015). / This work is licensed under a Creative Commons Attribution 4.0 International License.