Publié le par Bernard Duyck
Besides its many volcanoes, the Eifel massif, in Germany, has some explosion craters, called maar.
They are mostly gathered in the western part of the massif.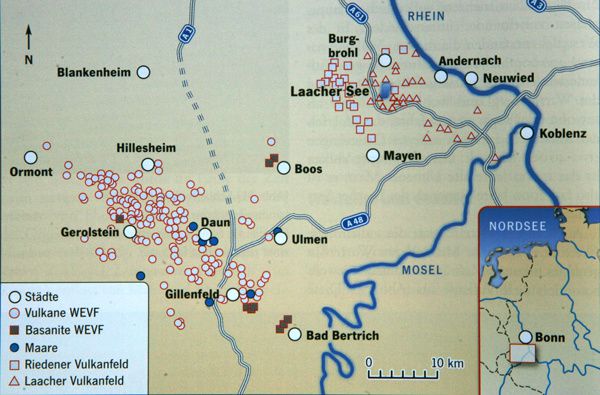 The eruptive centers of Eifel - the maars are concentrated in the western part of the massif - map from "Vulkane in der Eifel / Hans-Ulrich Schmincke"
We called "maar" an explosion crater, usually of large diameter, occupied by a lake or clogged, not located on top of an eruptive building, but hacking to the punch the pre-existing bedrock. The fragments torn from the bedrock are still an important part, often predominant, of the products projected by the crater.

The hydrovolcanisme characterizes the maars, and implements phreatic eruptions type sensu stricto, when the magma underlying, cause of the increased of yhe flow of heat and vaporization of water, remains deeply, or phreatomagmatic eruptions type, where magma and water are involved in various proportions, with output of the magma in the surface.
In the Eifel massif, there are between 12,000 and 10,000 years ago, the encounter between the waters of the aquifer and the magma dug craters in the bedrock of the massif, dating back to the Devonian (420-359 Ma) ... fragments of rock cooled from the eruptions of maars that we find in surface contain up to 90% of fragments of the bedrock.

The negative morphology of the land after the explosions resulting from the surface collapse;
at the end of the activity, this flat-bottomed depression fills with rocks from collapsing edges of the crater and impact in the bowl. Waterproofed by alteration clays, it can then be occupied by a lake - a maar in German - that forms under rain water and / or groundwater inflows.
Lakes of the Eifel, also called the "Eifel eyes" because of their indigo blue waters are just some examples :the maars of Ulmen, Gemünd, Weinfeld, Schalkenmehren, Immerath, Meerfeld or the Pulvermaar and Holzmaar.

To follow: Meerfeldermaar and Hinkelsmaar, the maars of Daun and the Mosenberg group.
Sources :
- Vulkane der Eifel – par H-U. Schmincke – éd. Spektrum
- Guide des volcans d'Europe et des Canaries – par M.Krafft et FD. De Larouzière – éd. Delachaux & Niestlé
- Károly Németh, Ulrike Martin et Gábor Csillag - « Pitfalls in erosion level calculation based on remnants of maar and diatreme volcanoes », Géomorphologie : relief, processus, environnement [En ligne], 3/2007 | 2007, mis en ligne le 01 octobre 2009, consulté le 08 août 2015. URL :http://geomorphologie.revues.org/3822 ;DOI :10.4000/geomorphologie.3822