Publié le par Bernard Duyck
Near Manderscheid, and its castles Oberburg and Niederburg, which reflect the political upheavals in the Middle Ages, we find two maars, the maar of Meerfeld and of Hinkel, and the Mosenberg volcanic complex.
The Meerfelder maar is the largest formation resulting from a phreatomagmatic eruption in the western Eifel.

Located west of the massif, the structure measure 1,480 meters over 1200 meters; its depth is 180 meters. The lake itself occupies only a part of the explosion crater, with 490 meters in diameter. The romantic village of Meerfeld and fields invested the rest.

The maar is shallow : 17-18 meters and its waters are polytrophes; during the summer months, the water is cloudy and brownish in color, because of algae.

Mr. Krafft date him of a little less than 11,000 years
South of Meerfeldermaar, the Hinkelsmaar dried up around the year 1840;
The drainage of Hinkelmaar, to exploit peat, empty a part of the year of its waters. Its tuff crater lies under the thick layer of peat 4.8 to 9.5 meters ... his age is estimated to be 17,000 years old. Superficially, the peat layer contains a layer of tuff from the eruption of Meerfelder maar.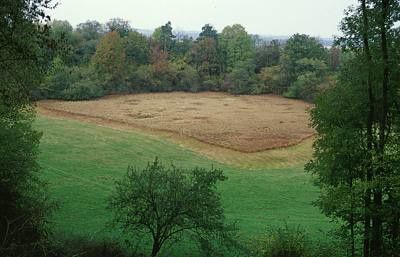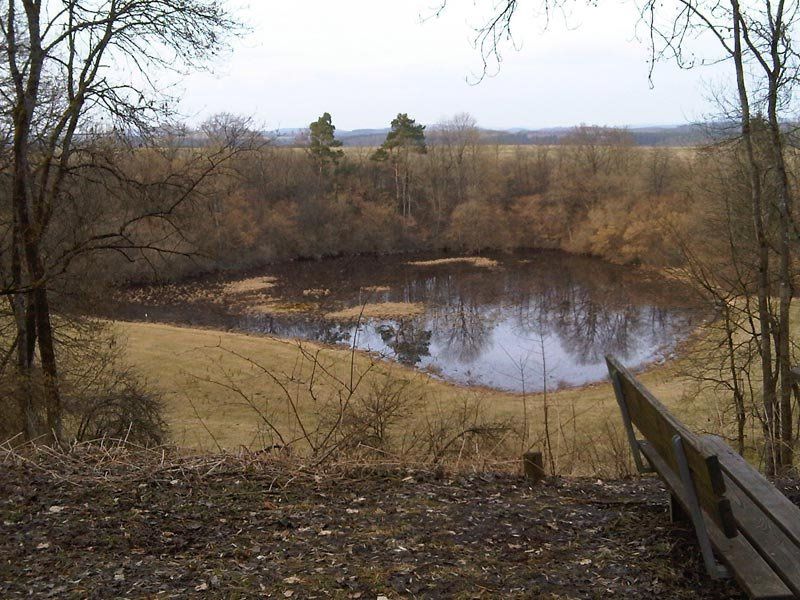 The Hinkelsmaar - top view, the bog - down, the maar partially filled by water in March 2009 - photo Panoramio
The volcanic history of Mosenberg-Reihen group began here 80,000 years ago,with the first eruption. Eruptions are then succeeded on a NNW-SSE axis, on which there are six vents.

Mosenberg up consists of two cinder cones, including a basalt flow, 17 meters thick, that escapes from the most southern cone, and is channeled over 1,600 m in the Horngraben. A career cut its crater in iron horse.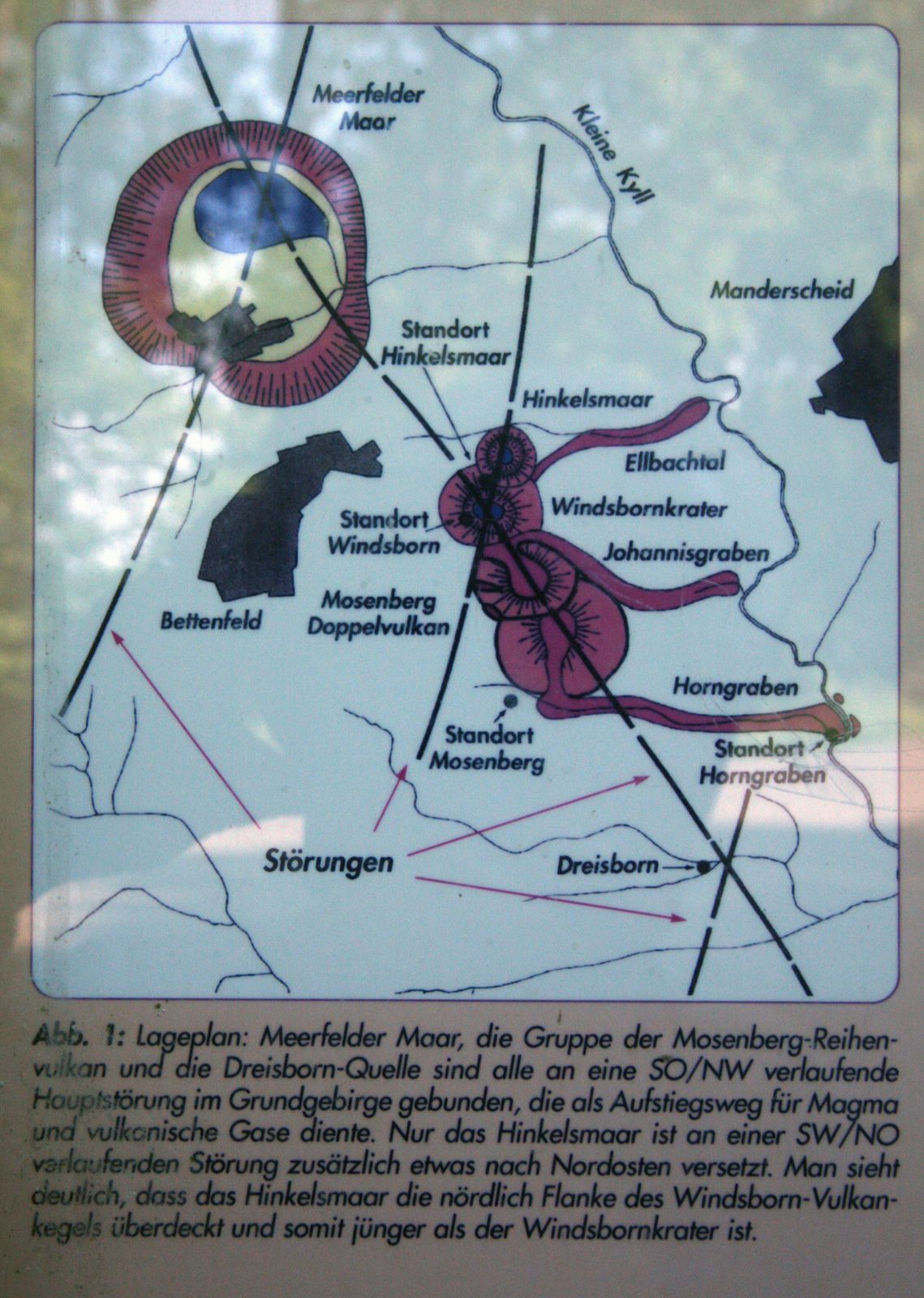 The two maars, Meerfelder maar and Hinkelsmaar, and the volcanic group Mosenberg - the area is intersected by faults - from a didactic panel / Photo © Bernard Duyck / 08.2015
North of the group, Windsborn cinder cone, a little separated from the twins Mosenberg, contains a real crater lake, not a maar, and the only crater lake north of the Alps.
On top of the large cross, whjere we find ejection slag strongly welded, one can admire the sunken Windsborn kratersee.
Sources :
- Vulkane der Eifel – par H-U. Schmincke – éd. Spektrum
- Guide des volcans d'Europe et des Canaries – par M.Krafft et FD. De Larouzière – éd. Delachaux & Niestlé
- Maarmuseum Manderscheid
- Vulkaneifel geopark - link