Publié le par Bernard Duyck
The alert level of Cotopaxi / Ecuador remains unchanged with an internal activity "moderate" and superficial "low". No further indication against the last flight over the volcano by IGEPN.

Controversy persists about the lack of will of the Ecuadorian authorities to build anti-type SABO lahars dams, despite a known history of devastating lahars formed by previous eruptions of the volcano.
Cotopaxi - left, the 09.28.2015 / 6:01 - via Seguridad Ecuador - right, surveillance teams when flying from 27.09.2015 - IG / Twitter - a click to enlarge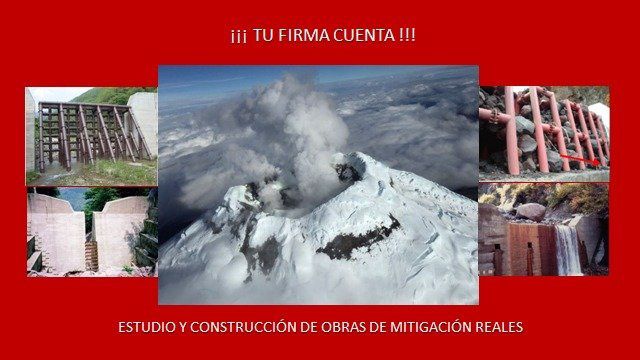 Image accompany a pending petition for the establishment of anti-lahars works in Cotopaxi - https://www.change.org/p/presidencia-de-la-republica-del-ecuador-ministerio-coordinador-de-seguridad-del-ecuador-gobiernos-provinciales-de-pichincha-y-cotopaxi-gobiernos-locales-del-distrito-metropolitano-de-quito-rum-exigimos-de-las-autoridades-del-ecuador-la-constr?recruiter=392087496&utm_source=share_petition&utm_medium=twitter&utm_campaign=share_twitter_responsive
Explosive activity continues at Colima / Mexico.
Few new of the activity of the volcano ... Mexico is especially concerned about the arrival of the Hurricane Marty, whose heavy rains could also re-engage ashes deposited on the flanks of Colima.
Colima - from left to right, 28.09.2015 / 7:33 p.m. plume rising to 2,000 m - night the explosive activity 09.28.2015 / 10:33 p.m. - webcamsdeMexico pictures - a click to enlarge
After an increase in the number of VT earthquakes for six days, increasing of the internal pressure and a thermal anomaly detected on September 25 by Mirova, the volcano Ubinas / Peru presented on 27.09 / 5:20 p.m. LT an explosion accompanied by an ash plume amount to 1,100 meters above the crater; the explosion released an energy of 5 Megajoules. A tremor of emission was recorded for 37 minutes. The ashes were scattered eastward.

On 28 September, at 1:45 p.m. local, a plume following another explosion was recorded at altitudes above 3,500 una meters above the crater.

Source: OVS - IGPeru

Explosive activity continues to Sinabung, described by the photos received from Sadrah Peranginangin this morning.