Publié le par Bernard Duyck
Naia Morueta-Holme, a researcher at the University of California, Berkeley after a thesis at the University of Arhus in Denmark, and lead author of a study entitled " Strong upslope shifts in Chimborazo's vegetation over two centuries since Humboldt ", analyzed the changes in vegetation on the upper slopes of the volcano Chimborazo in Ecuador.

The comparative study between the publications of Alexander von Humboldt in 1802 and scientific surveys on the same slopes 210 years after, can account for the influence of climate change on the spatial distribution of plant and animal species in this tropical region.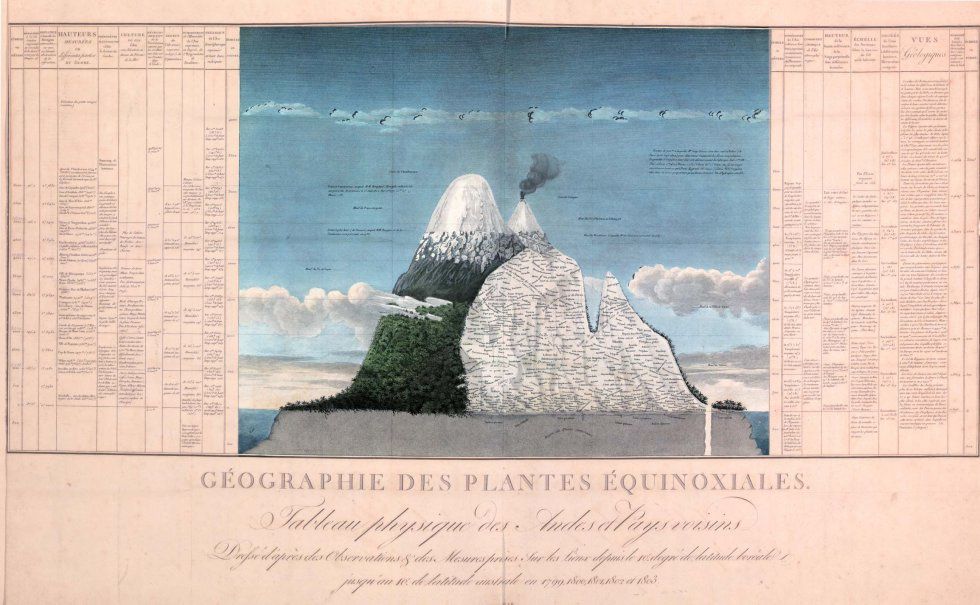 Plate of von Humboldt: "Geography of equinoctial plants" / from his "Essay on the Geography of Plants" - 1802
A. von Humboldt had detailed precisely, in his "Essai sur la Géographie des plantes", the distribution of wild and cultivated plant species during his ascent of the volcano, as well as the external conditions, temperature, humidity, atmospheric pressure, and the lower limit of the glaciers that cover it.

Two centuries later, scientists traveled like Humboldt on the south and eastern flanks of Chimborazo, with modern tools available today, cameras, computers, GPS, and compared their observations.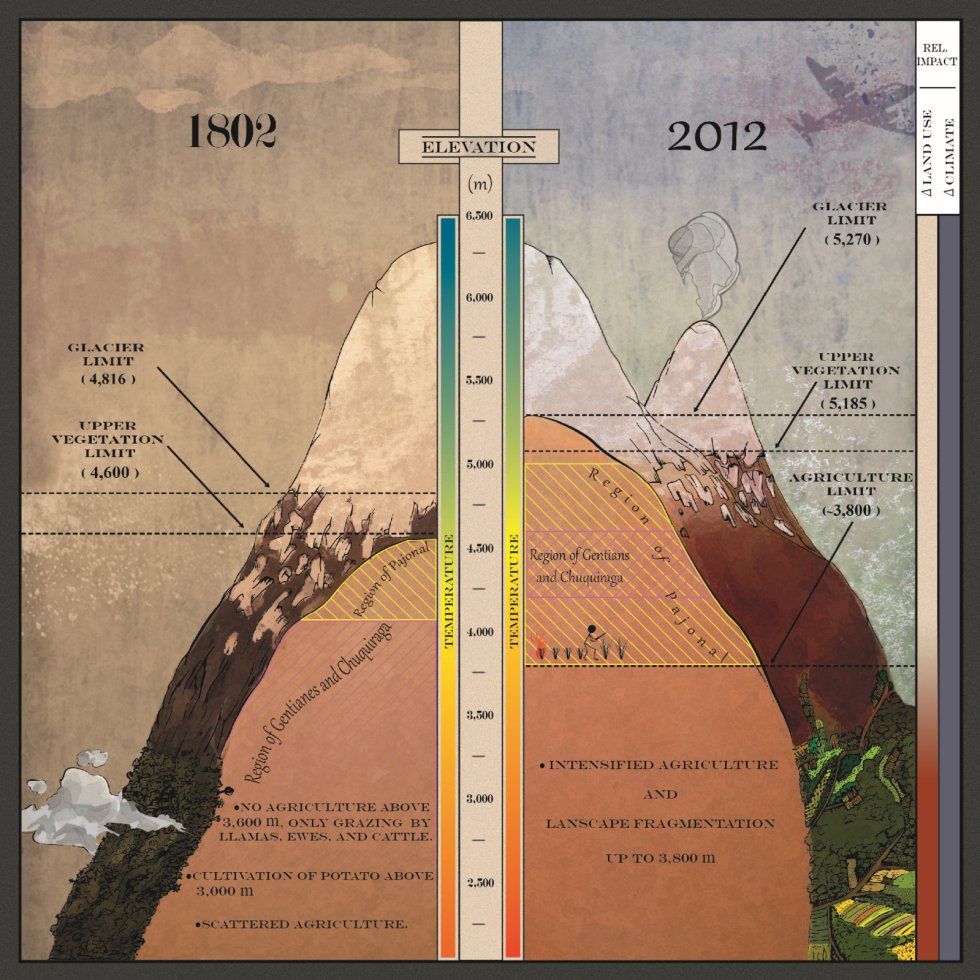 Illustration in the style of " Tableau physique des Andes et Pays voisins " of von Humboldt showing the difference in situation of Chimborazo between 1802 and 2012 - Doc. Morueta-Holme et al.
Glacier retreat has performed an average of two meters per year : they appeared at 4814 meters in 1802 and start to 5270 meters in 2012.

The plant growth limit has increased by approximately 500 meters to the top; a plant of the family of gentians, of Espeletia y Chuquiraga kind, are growing between 2,000 and 4,100 m according to von Humboldt, is left with a limit to 4,600 m. A grass, known as pajonal and quoted in 1802 at an altitude of 4,600 m, is now found to 5.100 m.

Official documents of the Ecuadorian Republic, and global data allow to estimate that Chimborazo's temperature rise to 2 ° C since 1802.

An average ratio of temperature change of 6 ° C per 1000 meters, reinforced by other mountain climate studies, allow to calculate a maximum increase of plant growth altitude of 410 meters since the visit of Humboldt. Despite a slight delay with the forecasts, we can establish a relationship between climate change and the limits of plant growth in the tropics ... von Humboldt data being prior to the Industrial Revolution and global warming linked, they allow an analysis of changes in that ecosystem in 200 years.

However, other factors are not completely rule: first, the ash emitted by the neighbor volcano Tungurahua, again active since 1999, may have also influenced the glacial melt (black body on the ice). On the other hand, the change of the population and agro-pastoral habits could also alter the migration of vegetation: cultures formerly limited to 3,600 meters above sea level are meeting today to 3,800 meters, and meadows areas were also more extensive.


The quality of these works - and it must be emphasized scrupulous note taking by von Humboldt - shows that major changes have already taken place, " even, as Morueta-Holme concludes, if the temperature rise was below forecasts for the end of the century, we can expect more changes in the future. "
Sources :
- El Pais - Un dibujo de Humboldt de hace 200 años prueba el cambio climático - link
- El Comercio / Planeta - Un estudio alerta sobre cambios en el Chimborazo - link