Publié le par Bernard Duyck
Details concerning the mechanism of the earthquake in Chile on September 16 just been made by Marianne METOIS, from the Geology Laboratory of Lyon, on the CNRS website:

"The first analyzes of the mechanism to the home indicate that this is a subduction "classic" earthquake. The rupture occurred at the interface between the Nazca and South America plates, with a hypocenter depth which has was estimated between 11 and 25 km. This type of mechanism (known as reverse fault) positioned on the subduction trench explains the tsunami suffered on the coast of Chile near La Serena / Coquimbo with an amplitude of the waves (height crests) of 4 to 5m, and further south in Valparaiso with an amplitude of wave 1 to 2m Page tsunami du NOAA / PTWC, http://www.ioc-sealevelmonitoring.org/.

French teams of the ENS Geology Laboratory (CNRS, ENS Paris, Paris Sciences & lettres) and the Earth Physics Institute in Paris (CNRS, Paris Diderot, Sorbonne Paris Cité) working in the area of ​​Coquimbo since 2004 proceeding to geodetic measurements of ground movement, as part of a Franco Chilean cooperation with the University of Chile in Santiago (International Associated Laboratory Montessus Ballore).

The today earthquake was preceded by an intraplate earthquake, that is to say, in the descending plate in 1997 (Punitaqui Earthquake Mw 7.1), roughly at the same latitude but more to the East. Specialists note that the inter-plate earthquakes of Iquique in 2014 and of Maule in 2010 had also been preceded by intra-plaque ruptures ( Tarapaca 2005 and Chillian 1937 respectively).

During this earthquake to Illapel, the break seems to have spread both north and south from the hypocenter (bi-lateral spread), with the first analyzes of the source indicating a shift more important in the North than to the South. The earthquake take again the rupture of 1943, but with a higher magnitude (8.4 instead of 7.9 to 8.2 according the estimations), probably due to the extension to the south, or to a stronger slip between the plates. The tsunami also more powerful than in 1943, suggesting a more intense break and / or more superficial. "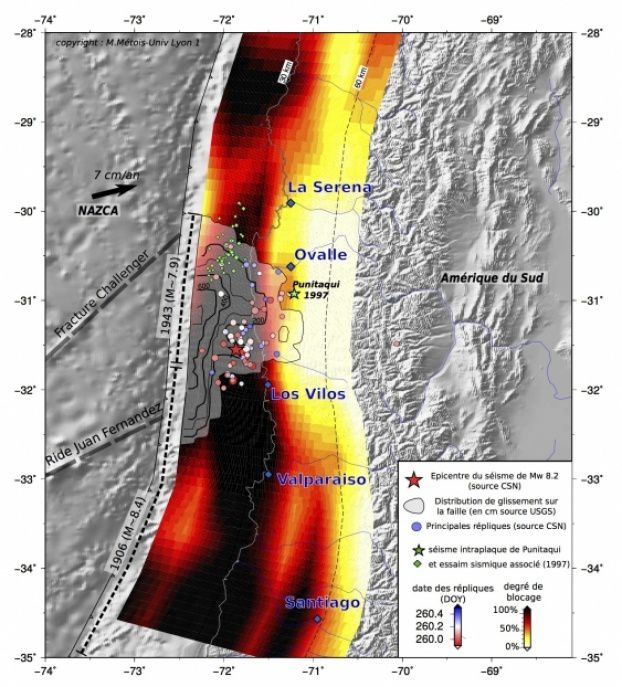 Earthquake Coquimbo / Chile - blocking Degree and slip distribution - Source: Original figure of Marianne METOIS Geology Laboratory of Lyon-Earth Environment (CNRS, Université Claude Bernard, Lyon ENS)
The Cidvc / investigation Centro y difusion of Volcanes de Chile states:

"The area affected by the recent earthquake registered a seismic deficit since 1943. After 72 years, an earthquake of M 8.3 (Usgs, last updated) affected the region. Reports indicate that it was perceived from Araucanía up from Tarapacá (about a distance of 3000 km). "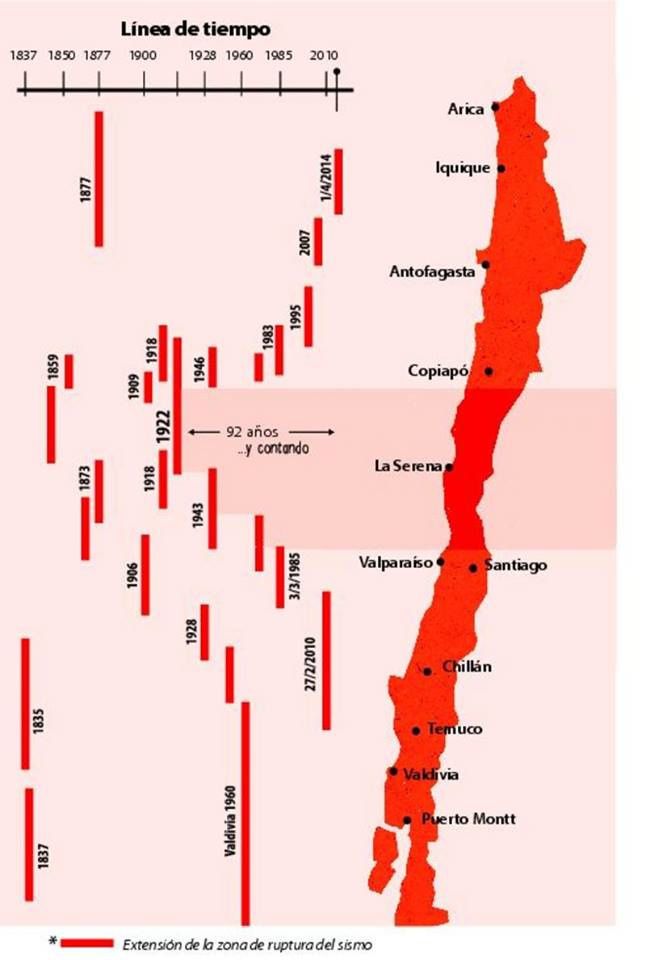 Seismic zone deficit since 1943 and area affected by the earthquake of 16.09 and its aftershocks - photo: LUN.COM
As part of the European Union Copernicus program, the Sentinel-1 stallite helped to generate interferometric images of the affected area (images of 245 in August and 17 September); their analysis will clarify the displacements following the earthquakes.

The ERCC / respone Emergency Coordination Center issued a map relative to the location of earthquakes and different heights of tsunami waves, listed on the north and south of the epicenter of the earthquake of 09/16/2015