Publié le par Bernard Duyck
In its latest bulletin, the OVPF reports that the eruption that began August 24, 2015 at 18:50 at the Piton de la Fournaise is continuing.

"The trend observed these days continues: the eruptive tremor remains high and we maintain the hypothesis that this increase is not related to an increase of the phenomenon of dynamism, but a change of the supply line.
Gas and flow rate measurements carried out remotely (stations that measure the flow of gas from thermal walls and satellites and infrared) confirm this hypothesis because the observed values ​​remain constant or slightly decrease over the two days.

On the field the same trend is visible. The eruptive cone closes more and more. Inside, the lava lake is separated into two separate units. Fountains are less high than in previous days. The flows of lava are always at the tunnel exit located about 50 meters below the vent. This September 5 at 11:00, five small streams were present at the foot of the cone. Four of them were about thirty meters long. The fifth, most important, flowed east on a distance less than one kilometer. "

Source: OVPF / IPGP
In Ecuador, an overview of Cotopaxi showed new fissures in different areas of the upper glacier, mainly on the east and northeast sides, and on the wall Yanasacha. The latter has at its foot areas of landslides and accumulation of materials. Accumulations of basalt blocks are also observed on the top and the upper parts of the cone, as well as small impact craters of these blocks.

The circular glacier present inside the crater fell sharply, due to volcanic activity, and presents fractures. Glacial melt zones have increased in size on the upper flanks of the volcano; Water shape of the threads on the north side, down the slopes at the main drainage of Cotopaxi.
The temperature measured in the eruption column is 200.3 ° C, and those of some regions of southern and eastern flanks are increased by a few degrees, all higher compared to measurements made in August. In other areas, the temperatures are maintained or reduced. New thermal anomalies were found in different places on the flanks of the volcano.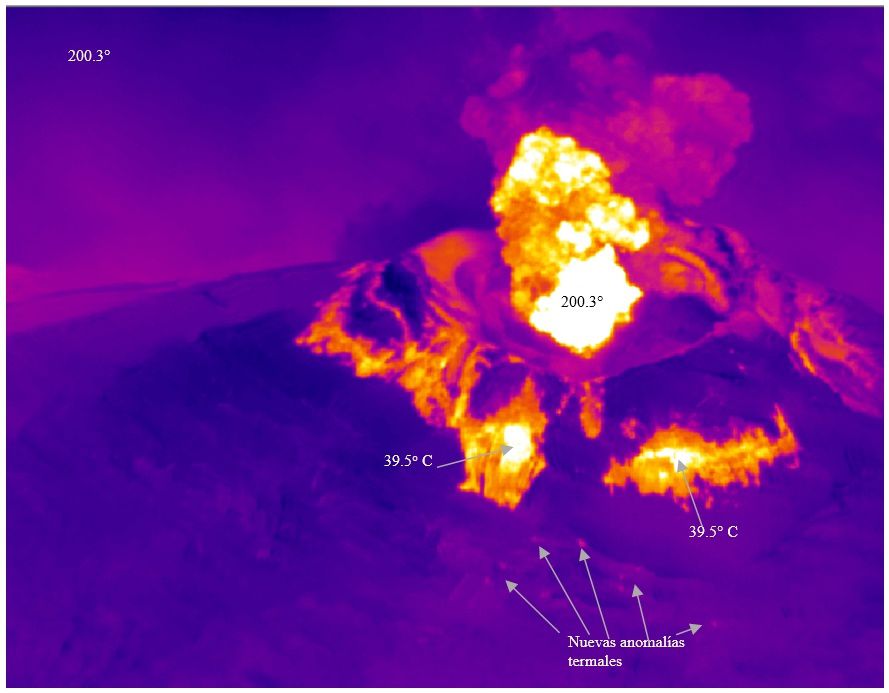 Cotopaxi - temperature measurements with IR camera on the volcano's SE sector (Foto P. Ramón IGEPN).

Cotopaxi - for comparison, temperature measurements and the situation of SW flanks on 08/26/2015 - (Foto P. Ramón IGEPN). - A clic to enlarge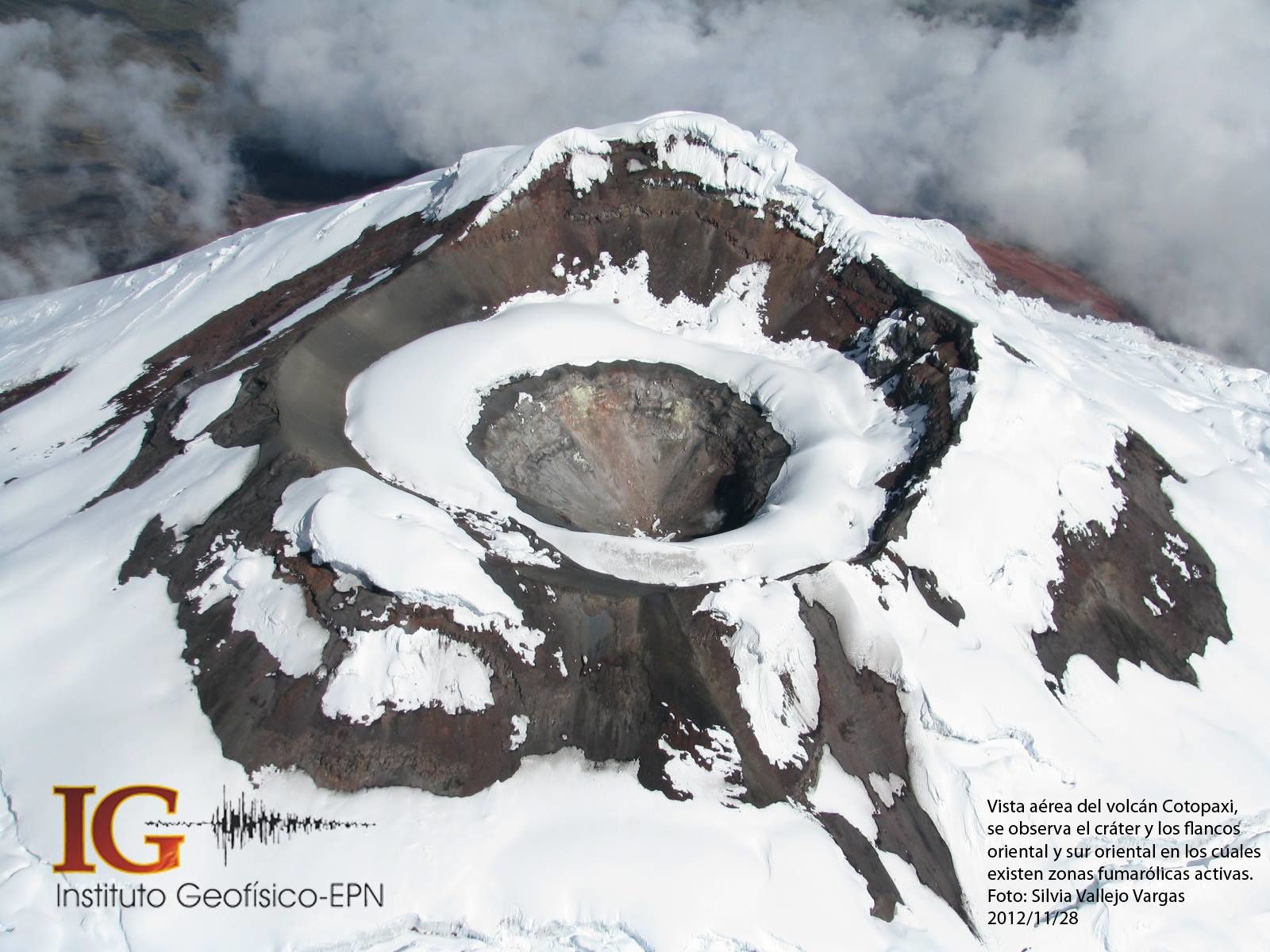 Cotopaxi - top, partial melting of the circular intra-crateric glacier / P.Ramon / IGEPN - down, compared with a view of the crater and its glacier 28.01.2012 / SVVargas / IGEPN
An analysis of the ash carried in the labs of Dr. Delmelle / University of Leuven / Belgium show that they are characterized by low pH (harmful to herbivores and corrosive to metals and roofs) and fluorine and sulphate low concentrations. The ash currently produced are the product of weathering rocks from the pipe or hydrothermal system of the volcano. This situation may change with continued eruptive process and the rise of magma related. Occasional earthquakes aligned in the pipe to a depth of between 3 and 11 km. under the crater were detected, related with the presence and pressure of the magma.
Source : IGEPN - Actualización de la Actividad Eruptiva--Volcán Cotopaxi N°14 - 2015