Publié le par Bernard Duyck
In 1799, Alexander von Humboldt and his companion Aimé Bonpland, seek to find the connection between the Amazon and Orinoco rivers. This topic, of geographic controversy initially, will lead to five years of exploration in South America, Mexico and Cuba.

Their findings will influence knowledge in tropical zoology, botany, geography and geology.

Alexander von Humboldt will write in French, with Bonpland, the results of this scientific journey in a set of thirty volumes published in Paris in 1807.

" Le Voyage aux régions équinoxiales du Nouveau Continent " / "Journey to the equinoctial regions of the New World", includes atlases, geography and economy treaties, the account of his travels, many boards on botany and geology.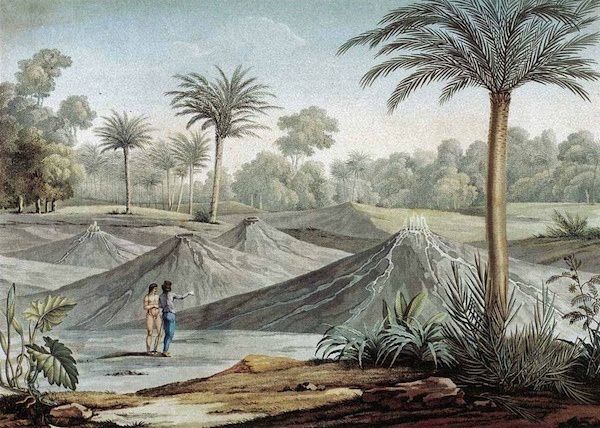 Turbaco volcanos, painted by Alexander von Humboldt, from His book Views of the Cordilleras 1810-1813. - Courtesy of the Beinecke Rare Book and Manuscript Library, Yale University.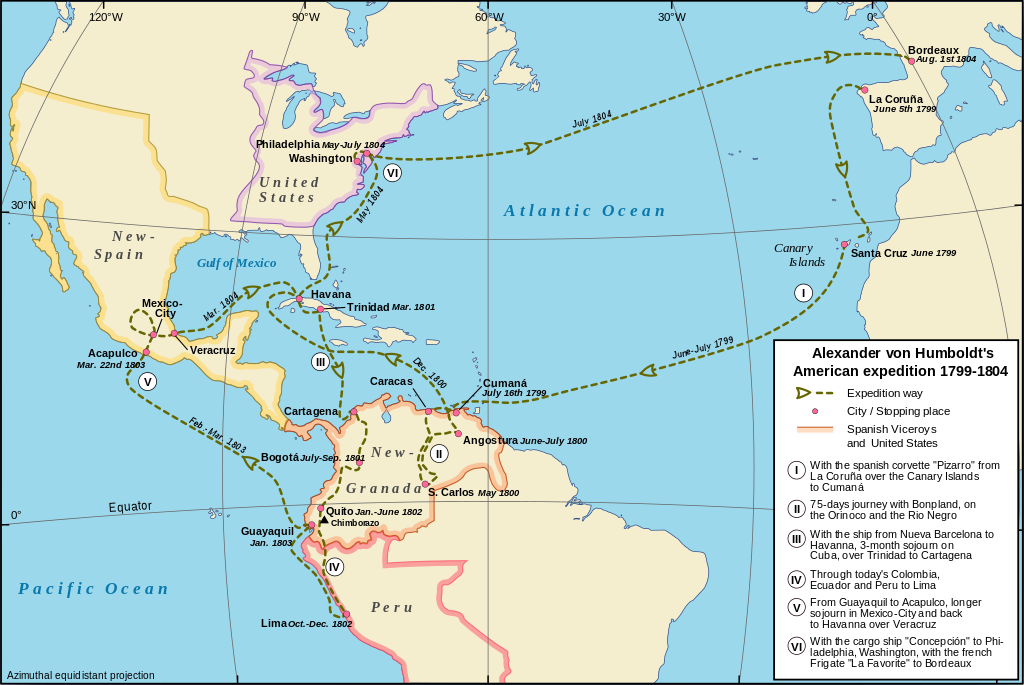 Map of A. von Humboldt expeditions from 1799 to 1804 - Doc. Alexander Karnstedt (Alexrk) - Translated and modified by Historicair
In the volumes "View of the Cordilleras and Monuments of indigenous peoples of America", a document on Colombia describes "The air volcanoes", a term used by the indigenous to describe these cones spewing mud instead of lava.

These mud volcanoes are located in an Indian village in the Cartagena region, Turbaco, in a marshy expanse, amongst palm trees; they are formed, as described by von Humboldt, "a number of cones with a height ranging from nineteen to twenty-five feet; they form the air volcanoes". This name is found in an account of the settlers of the years 1900 and in the book "Volcanoes and Caverns," by an anonymous author and published by T.Nelson and sons.

They are known locally as "the volcancitos" small volcanoes, he wrote. "According to the tradition, the ground was formerly in an ignition state, in other words, it was a fire volcano, but a monk extinguished the fire by throwing on holy water, and the fire volcano has become a water volcano ".

Von Humboldt produced engravings that show not only encountered landscapes, but also people and their cultures, offering an alternative perspective of the New World, in opposition to the imperialist ideas and slavery, current at the time
A different work on the same topic: "Mud volcanoes at Turbaco", in the United States of Colombia, South America. Illustration for Our Earth and Its Story edited by Robert Brown (Cassell, c 1890)
Books on the subject: "Views of the Cordilleras and Monuments of the Indigenous Peoples of the Americas" - "Volcanoes and Caverns" / Ed Nelson and sons - One click to enlarge.
Sources :
- HiN - Revue d'études Humboldiennes / Université de Postdam - Revue digitale avec articles en allemand, espagnol, anglais et français. - link
- Las ocho láminas de Humboldt sobre Colombia en
Vistas de las cordilleras y monumentos de los pueblos indígenas de América (1810) - Marta Herrera Ángel - link
- Ten Fiery Volcanoes That Shaped Native History - link