Publié le par Bernard Duyck
The Colima / Mexico present yesterday several explosions, one at 7:55 on the 16th, with a rising loaded ash plume at 2,000 meters above the crater.

A recent overview allows us to see changes in the summit crater.
After the report of a plume of ash on 11 October, and glow in the crater of Copahue by the National Service of Geology and Mining of Chile, the SERNAGEOMIN said in the newspaper Soy Chile that the event corresponds to a degassing process and causes no change in the alert level, which remains in Amarilla, seismicity remains at an intermediate level.

A volcano overflow on October 11 showed the disappearance of the acid crater lake El Agrio, replaced by deposits of falling material. Thermal images reveal a temperature of 500 ° C max. in the emission center.

On October 16, new ash emissions can be seen on the webcam Cavihue of SERNAGEOMIN, and photographed from Argentina.
Around 19:30, a tweet from SERNAGEOMIN indicates that the presence of a more superficial magmatic body has disrupted the hydrothermal system, leading to a rise in temperature, emissions of ash and gas and a permanent incandescence. The SERNAGEOMIN reiterates its recommendation to establish an exclusion zone of 2.5 km around the crater El Agrio.


To the Piton de la Fournaise, an intensification of the eruption results in a high boiling lava inside the cone, accompanied by regular ground shaking in an area of ​​100-200 m. around the crater, is described by Franck Grondin. The crater appears to have cracked and we talk about threat of collapse.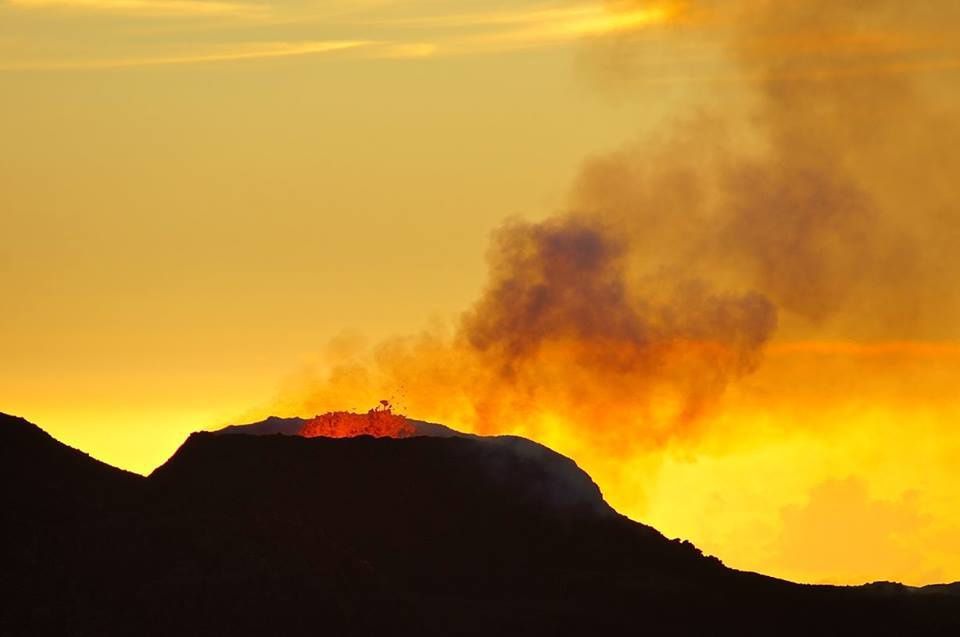 The OVPF report on 17.10 that geophysical and geochemical indicators show abrupt changes around October 12:
- Tremor: surge
- Gas: strong increase
- Deformation: strong deflation
On the eruptive site:
The site and activity have changed in recent days. Cone still grows. Its footprint exceeds 100 m in diameter and its height is estimated at 40 m. The increased flow of SO2 released to the vent creates very large bubbles that "splash" the external walls by large "packets" of lava. Compared with observations October 12 bubble size, the size of "shreds" and projected distance reached by the projections are no common measures. (Note the change of vocabulary) The whole is more important including frequent outbursts.


Piton de la Fournaise - left, RSAM (seismic intensity) recorded by the Station Rivals since the beginning of the eruption.- right, Evolution of the average flow rate (average Time Discharge Rate) since 24 août.- Doc. OVPF / IPGP - one click to enlarge
In Hawaii, many lava breakouts occur on the said June 27 lava flow between 2.2 and 6.3 kilometers northeast of Pu'u O'o.
A beautiful video of Paradise Helicopters / Bruce Omori explains us what they call "nosebleeds".