Publié le par Bernard Duyck
Since October 7 at 4:50, the Fuego / Guatemala has entered in its eighth blowout of the year, according to CONRED.
It is characterized by lava fountains, fed by two separate vents. The length of the lava flow has increased due to the new intake and reached 1,000 meters into the ravine Trinidad, and 700 meters in the ravine Santa Teresa (compared with 600 and 400 meters measured the 06.10).

The plume of gas and ash showed up at 4.800 asl., before moving to the south and southwest for 12 km. The CONRED has established a warning Amarillo Phase II.

Fuego 07.10.2015 / 4:30 a.m. - activity at the summit and lava flows on the flanks - photo Insivumeh
The level of surface activity of Cotopaxi has just gone from low to moderate.
Since October 5, ash emissions have become continuous, with falls on western and northern sector. Seismicity level, trémor of emission appeared and a decrease in the number of the volcano-tectonic earthquakes; Sulphur dioxide emissions are rising, exceeding 7,000 tons / day. The temperature measured in the last overview, the 0210, is also rising. Four small secondary and limited lahars were caused by the rains over the top and a slightly glacial melt.

On 7 October, the plume of ash and gas reached 1,500 m above the crater, then heading in a northwesterly direction. Fine gray ash fell on the northern side and the Rio Cutuchi sector. SO2 emissions are measured to 6.744 tons / day and a higher sulfur smell from midday at the Refuge.


Cotopaxi, emissions of ash - left, the 03.10.2015 / Photo Barga Diego - right, on 07.10.2015 / IG webcam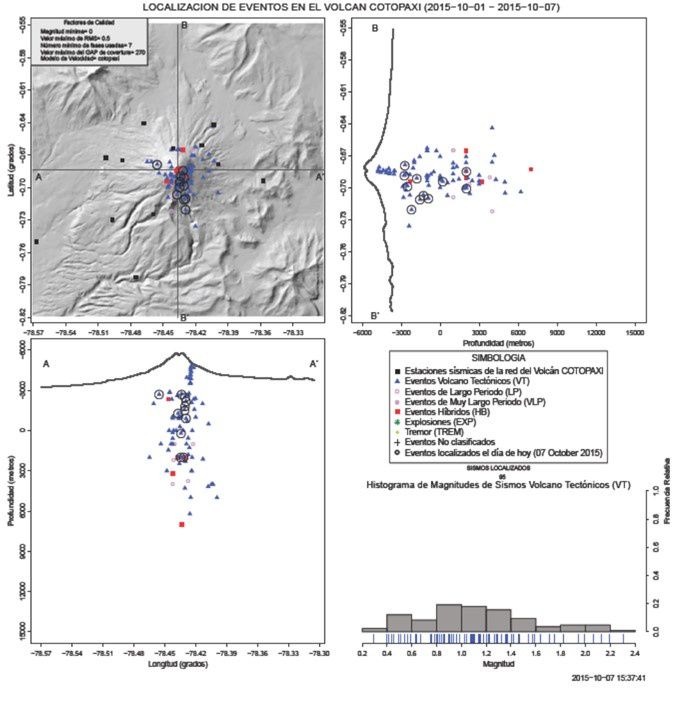 Cotopaxi - Location of the earthquakes between 30.09 and 07.10.2015; VT earthquakes (blue triangles) and LP (red circles) are located between 9 and 12 km. under the crater - doc IGEPN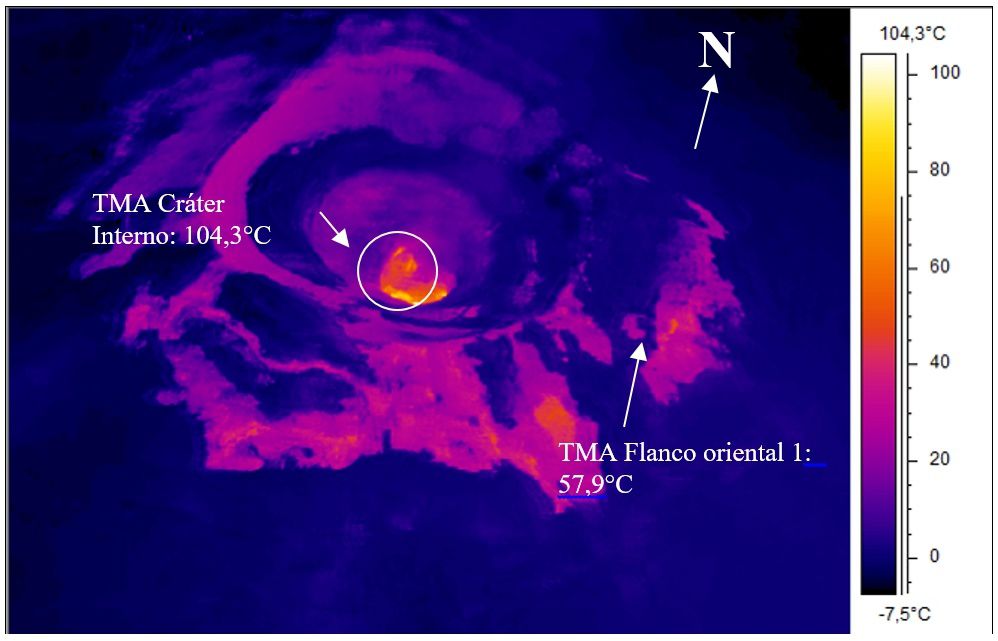 Cotopaxi - temperature measured at the overflight of 02.10 with the thermal camera - Imagen / Fotografía: Mr Almeida / S. Vallejo, IGEPN
The evolution of the activity is consistent with the first hypothesis on 1 October :
progressivede increase in activity, with ash emissions after small explosions, and moderate impact in areas downwind. Decimetric ballistic projections are possible in a radius of 1 to 2 km. around the crater, as well as small side lahars following their remobilization.

Source: IGEPN
In Mexico, Popocatepetl had six explosions on October 7 between 10:09 a.m. and 3:57 p.m., followed from 16 hours by a strombolian activity episode that lasted after 9 h , characterized by a series of small explosions, accompanied by tremor, and expulsion of fine ash and incandescent fragments 300 m from the crater on the NE side. Five more explosions followed between 3:24 and 7:59.

Source: CENAPRED