Publié le par Bernard Duyck
A small explosive eruption marked the Barujari cone located in the caldera lake of Rinjani volcano, on the Indonesian island of Lombok, this October 25th at 10:45.

Hikers and those present at the lake have been evacuated, the Rinjani National Park and all the footpaths giving access to the volcano are closed.

The explosion was not accompanied by a significant seismic activity, and emission of ash was too small to be detected by satellite. However, VAAC Darwin has increased the aviation alert level to orange.

Sources:
- Darwin VAAC
- Info Rinjani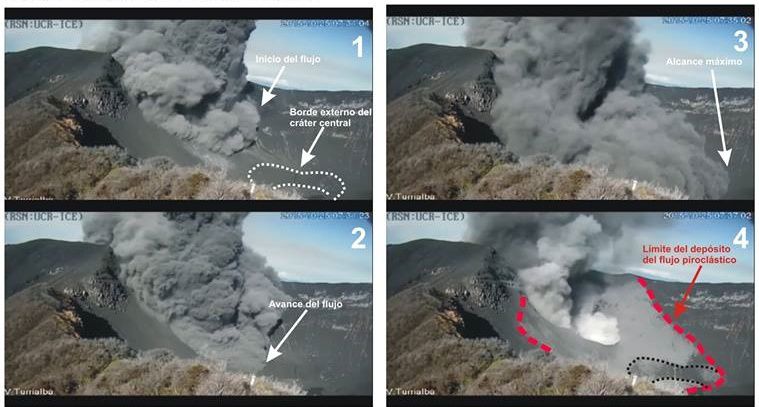 Turrialba - 10.25.2015 - extension and area covered by pyroclastic flows deposits - Doc. Video RSN / RCU-Ice
In Costa Rica, Turrialba continues its activity, marked on October 25 with 10 eruptions period ranging between one and nineteen minutes, accompanied by plumes of ash between 100 and 1,000 meters high, according to Ovsicori.

The RSN reports of small pyroclastic flow towards the central crater at 7:31, 9:27 ET 11:27.

Sources:
- Ovsicori Press - link
- R.S.N.

In Ecuador, nocturnal glow is reported to Reventador: all activity remains confined inside the caldera, with a small lava flow to the southwest, and small pyroclastic flows on the northern and eastern flanks.

The activity remains high at Tungurahua, which issued on Sunday a continuous plume of gas and ash up to 1,000 meters, and experienced two explosions, accompanied by tremor of emission and ash fall on Pillate, Cotalo, Cusua, Ambato , Quero, and Chiquicha.

In Cotopaxi, internal and superficial activity levels remain classified as moderate. Despite the cloud cover, it was possible to see in the evening a gas plume reaching 800 m. above the crater

Source : IGEPN