Publié le par Bernard Duyck
Updating the eruptive activity of Cotopaxi:

Since October 2 / 19h LT, an incandescence is observed in the cotopaxi's crater, due to high temperature of magmatic gases.

This could be a premonition of a new eruptive phase characterized by small to moderate explosions and the expulsion of incandescent blocks on the outskirts of the crater, and / or ash emissions.

According to the newspaper El Comercio, eight areas have been added to areas vulnerable to lahars. These areas are the subject for 30 years of construction of houses, housing complexes and shops, schools and health centers, hospitals ... 16,000 people are involved in these areas near the rivers Pita, Santa Clara and San Pedro, where the uncontrolled growth was not controlled by the authorities

Sources:
- IGEPN - http://www.igepn.edu.ec/servicios/noticias/1194-actualizacion-de-la-actividad-eruptiva-volcan-cotopaxi-n-19-2015
- El Comercio: http://www.elcomercio.com/actualidad/valle-volcancotopaxi-crecimiento-zonasvulnerables-lahares.html
The SERNAGEOMIN & the OVDAS signal a significant change in the internal activity of Copahue / Chile, with effect from 1 October to 10:58 local, characterized by a continuous tremor signal, interpreted as in relation with disruption of the hydrothermal system volcano and /or movements of the magma to surface regions.

The yellow alert is maintained, together with an exclusion zone of 2.5 km around the crater El Agrio. The registration of a volcano-tectonic earthquake of M3,6 has not changed the alert protocol.
Piton de la Fournaise, the poor weather for a week did not allow a good direct observation of the eruption ... but the cone remain still important, the lava fountains are visible, and the lava flows well channeled lava, with no progression.

Regarding these fluids flows, an interesting article on the formation of lava ponds is well explained on the website Culture volcans (http://laculturevolcan.blogspot.fr/2015/10/les-mares-de-lave-du-volcan-piton-de-la.html) ... to read!

The latest report of OVPF indicates a slowly increasing of seismic activity for one week. The evolution measured on the three closest stations varies from 10 to 15% more intensive. The trend of deflation is downward in summital and distal area. Rare SO2 measurements (due to the time) show a slight increase of the flow in the plume.
CO2 values ​​are high in the soil for 10 days.

Geophysical and geochemical indicators therefore remain at a high level, with a slight upward trend, except for the deforamtion measurements.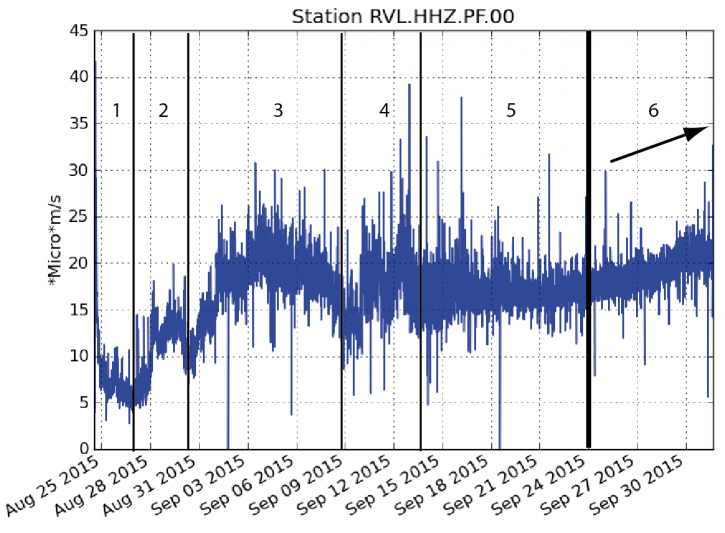 MRS (seismic intensity) recorded by the Station Rivals since the beginning of the eruption. Compartments 1 to 5 are described in the bulletin of 24 September 2015. The compartment 6 is the increasing trend observed over a week.- doc. OVPF / IPGP
The Veniaminof / Alaska present since September 30, a seismic activity, characterized by small low-frequency earthquakes, rising. The tremor prompted the AVO to raise the aviation alert code yellow, and the volcanic alert to Advisory.

Satellite view and webcam have been made impossible because of the cloud cover in the last days. A thinning on 1st October showed by the webcam that no eruptive activity was visible at Veniaminof.

Sources:
- AVO - https://avo.alaska.edu/activity/Veniaminof.php
- Alaska Dispatch News http://www.adn.com/article/20151001/seismic-activity-prompts-alert-alaska-peninsula-volcano
For Icelandic Jökulhlaup, IMO indicates that the water level has reached its maximum at Eldvatn, with a discharge measured 2.200m³ / s. Areas close to the main drainage will be subject to flooding in the coming days.
Three gas measuring stations have been installed to monitor the gas levels released by the glacial meltdown in Skaftá river.
The mud spoofed by the debacle will cause serious damage to crops