Publié le par Bernard Duyck
The highlands of central Java island are renowned both for their variety of volcanic features and their ancient Hindu temples, the oldest date back to the 7th century.

The term Dieng comes from the Javanese Di Hyang meaning " House of the Gods ", an etymology found in various places on Java.

The Dieng volcanic complex consists of several stratovolcanoes - Prahu, Ngesong, Kemulan, Alang - and more than 20 small craters and cones, dated from Pleistocene to Holocene, and covers an area of ​​6 km by 14 km.

Always active, its last eruption dates back to September 2009, it also contains lava domes, a dozen of fumarolian fields, mud pools and acid lakes. In addition to these structures, the historic volcanic activity is restricted to phreatic-type eruptions and toxic gas emanations, that restrict by the time the access to certain areas.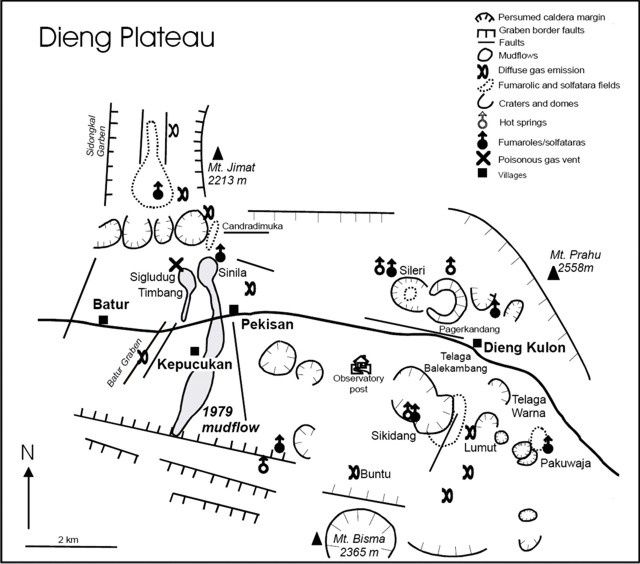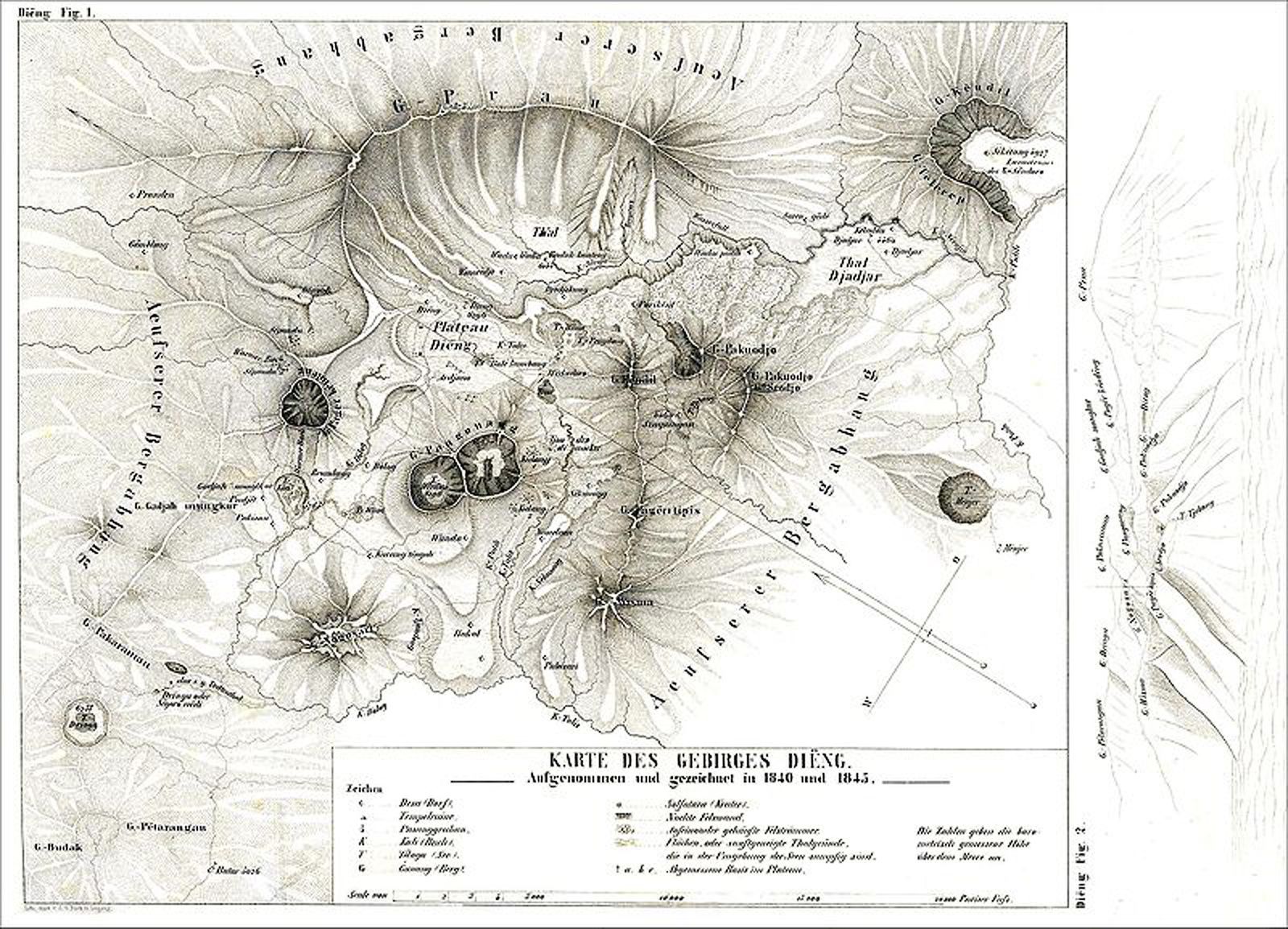 Map of volcanic structures and faults in the Dieng Plateau - top doc., GVP - down, Doc. Franz Wilhelm Junghuhn archives - Pflanzendecke Bauart und innere. Band. Leipzig, Arnoldische Buchhandlung, 1854
The example of Dieng shows that expansion and dissemination of magmatic pure carbon dioxide, which accumulates in the lower areas of a volcano, are a major threat during phreatic eruptions, and can be either trigger or be the result of eruptions (Patrick Allard)

The most recent fatal eruption on the Dieng plateau is dated of 1979: 150 people were killed, over 1,000 wounded were counted, and more than 100 hospitalized, because of gas containing CO2 and H2S, ejected by the Sinila crater ... the bodies were found along the track leading to the village of Batur. Many animals were killed and the ponds near the crater were covered with dead fish. (GVP)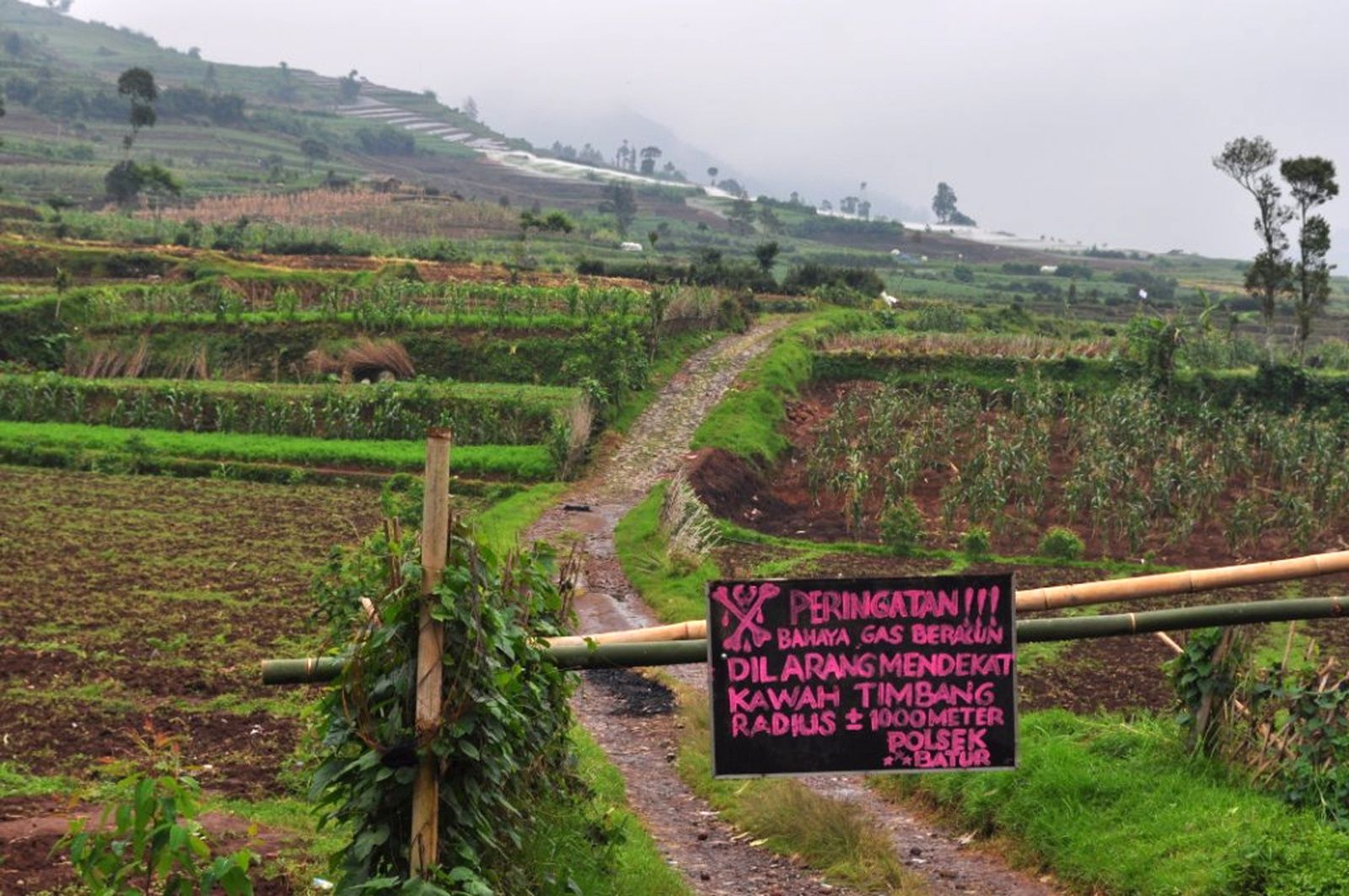 Dieng Plateau - denial of access to Timbang crater due to gas fumes - photo Andi (Adi Susanto Rosadi) Volcanodiscovery- guide 29.05.2011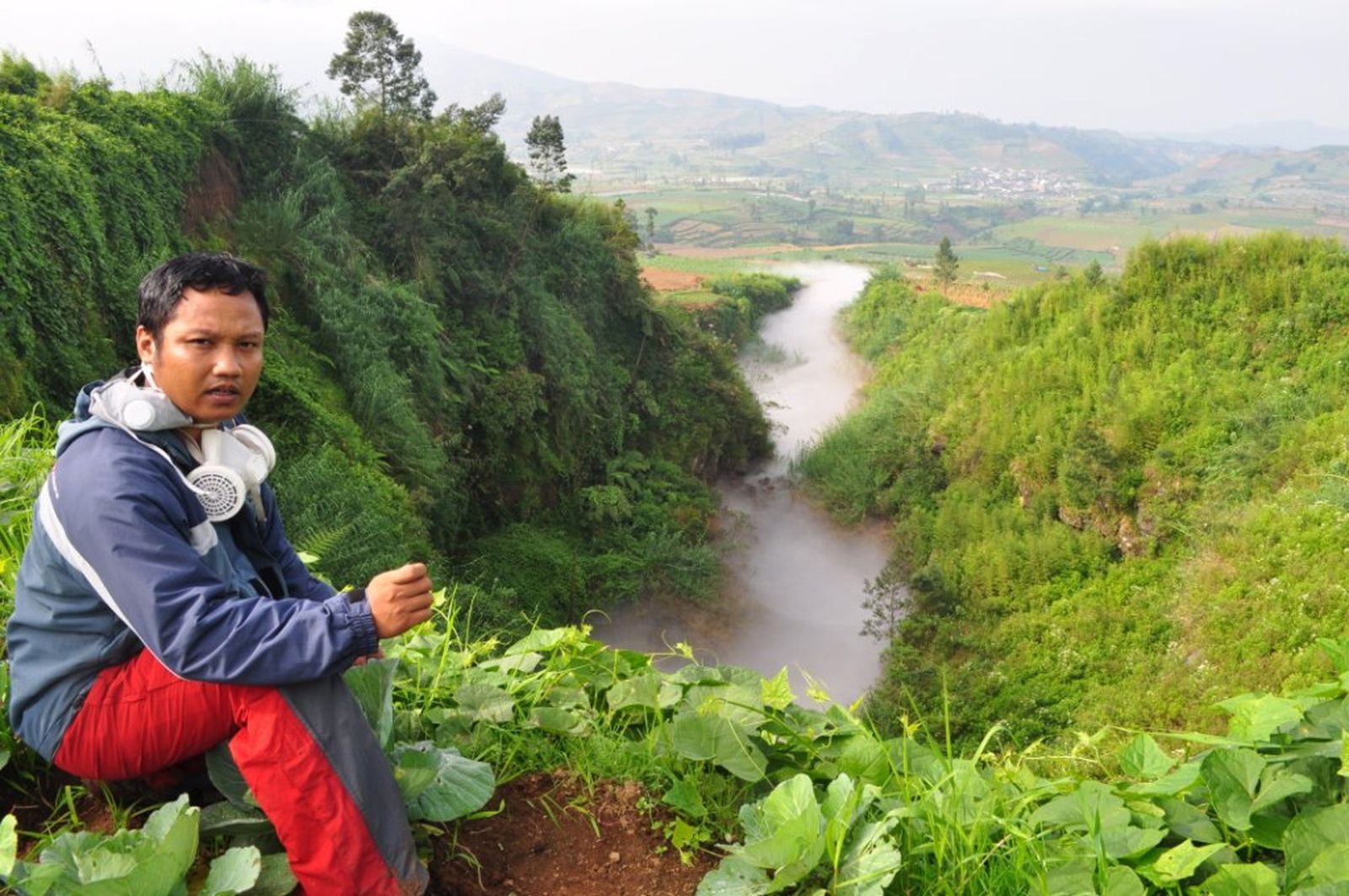 Dieng Plateau - gas fumes in a valley bottom - photo Andi (Adi Susanto Rosadi) Volcanodiscovery guide 29.05.2011
The Dieng plateau is operating geothermal object; potential exceeds 2,000 MW spread over several tranches.


It culminates at 2565 meters, at Prahu volcano, one of the edges of a vast caldera; the bottom of the depression is between 1,600 and 2,000 meters.
Subject to greater rainfall than the surrounding plains, it is often in the mist ... this moisture, combined with volcanic soil, makes it a fertile area of food crops. The slopes, sometimes steep, are exploited in terraces.

Initially at the number of 400 temples, the "House of the Gods" still houses small eight temples (candi) in stone of 7 and 8 centuries ; they are the oldest stone buildings visible in Java , they were dedicated to the ancestral deities and had not intended to serve as a place of worship.
During the years 1945-1949, the Dieng Plateau was the scene of a war of independence, called by the Indonesians " Revolusi " , a diplomatic struggle, aguerrilla-style armed conflict and a social revolution between the Netherlands and Indonesians.
Source : Global volcanism Program - Dieng volcanic complex