Publié le par Bernard Duyck
The complex of mud volcanoes Bledug Kuwu is a vast field of mud, located in the province of Central Java - Grobogan department, which continuously produced a succession of CO2 bubbles explosions and salt water.

In local language, "Bledug" means explosion cannon like and "Kuwu" means to be dispersed.

Over time, this has created a vast mud flat, circular area of ​​about 800 meters in circumference. During the rainy season, the activity of the mud volcano becomes more violent, explosions are stronger, and the mud is thrown at a greater height.

What we see of far, is the rise from the surface of large quantities of steam from the ground accompanied by a strong detonation like a distant thunder.
Up close, hemispherical bubbles made of black earth and water is observed, about 5 meters in diameter, that appear at an interval of a few seconds and swell, reaching a height of 6 9 meters, piercing a flat area covered with a crust of dried mud.
They burst producing a loud noise, scattering in all directions black mud with a strong smell of tar and with an higher temperature than the surrounding air. The explosion was followed by a white plume of steam.

The two sites where eruptions occur were called Mbah Jokotua (grandpa) and Mbah Rodenok (grandmother); these sites have a sacred character.

The temperature of the biggest mud volcano is between 28 and 30 ° C, while the small is only 15-16 ° C, unlike hard to verify and explain ... it could be due to a content more aqueous, of lesser density, related to more frequent breakouts and a lower temperature.

As in many mud volcanoes, we have as ingredients: salt water, clays, and gas, in this case mainly CO2 with traces of H2S. Salinity and turbidity are such that no plant life are possible. The gases that rise to the surface pass through a layer of rocks that have trapped seawater for millions of years.
Oddly, the salt water contains iodine, such as sea water, which feeds the myth of Bledug Kuwu link to the mystical "Laut Selatan" (Indian Ocean) through a tunnel, a passage for the knight Joko Linglung joining the Kingdom of Medang Kamulan.
It was recently found there a halotolerant bacteria, able to withstand an high salinity, similar to that found deep in the waters off Japan. (Gadjah Mada University)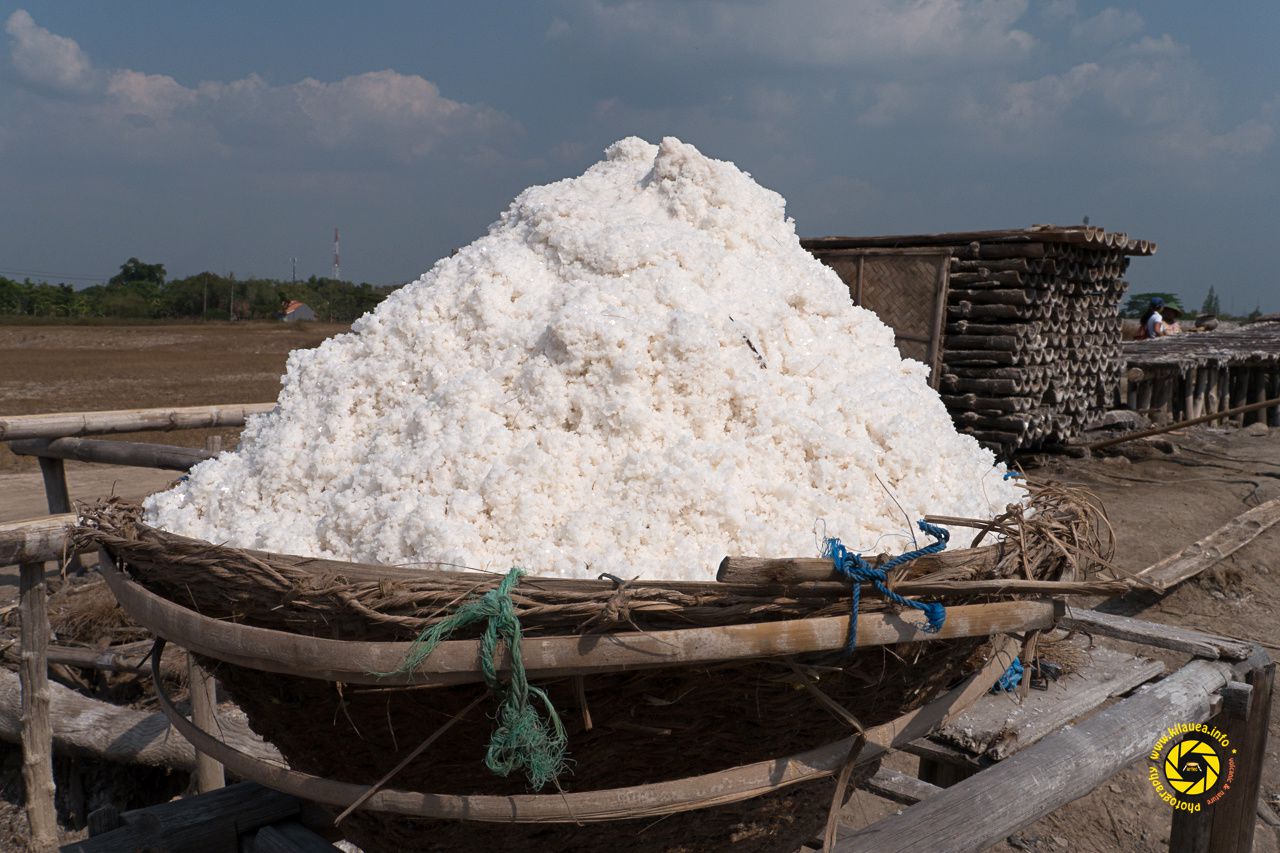 Bledug Kuwu - bamboo pipe for salt water and sample of collected salt - Photo © 2015 Jean-Michel Mestdagh
Bledug Kuwu - old artisanal practice of salt recovery - click to enlarge - Photo © 2015 Jean-Michel Mestdagh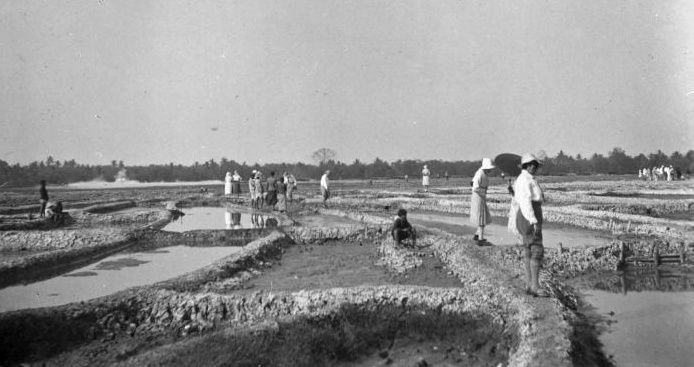 "Members of a Natural History Association during a trip to a salt company in Koewoe" - 1932 - Collection Tropen Museum / left of the photo, one can see an explosion of a mud bubble.
The local population recovers salty and yellowish muddy water, channeled along a channel to a bamboo teak giant container to let it evaporate and extract the salt for culinary purposes. Former artisans still do spray on racks.

The water of Bledug Kuwu contains 8 ppm salt, much more than the sea water of around 3 ppm salt. The mud of Bledug Kuwu, unlike that of Lusi / Sidoarjo, did not make fly the inhabitants, but provided them with a livelihood.
Geologically, the complex of Bledug Kuwu is located on the border between the Kendeng and North Serayu depressions . Other mud volcanoes are located in the same area: Bledug Kesongo and Bledug Kropak among others.
Sources :
- PROCEEDINGS, INDONESIAN PETROLEUM ASSOCIATION Thirty-Second Annual Convention & Exhibition, May 2008
MUD DIAPIRS AND MUD VOLCANOES IN DEPRESSIONS OF JAVA TO MADURA : ORIGINS, NATURES, AND IMPLICATIONS TO PETROLEUM SYSTEM - Awang Harun Satyana and Asnidar
- un grand merci à mon ami Jean-Michel Mestdagh pour son partage de photos sur Java ouest et Java centre.