Publié le par Bernard Duyck
During the night of 20 and the morning of October 21, The OVSICORI / Costa Rica registered a volcanic tremor sustained during 7:30 at Turrialba volcano, in conjunction with internal fluid movements, mainly concerning the hydrothermal system, and accompanied by output of steam and magmatic gases through the fumaroles of the western crater .
This tremor is usually considered signs of an eruption ... to follow.
In Ecuador, the activity of the Tungurahua is considered as high.
On 20 October, different issues have occurred: continued emissions of steam and ash moderate, rising to 2,000 meters above the crater. On 21 October, the moderately loaded ash plume rose to 3000 meters maximum, before heading west.

Seismicity level, there are 167 earthquakes LP, a volcano-tectonic earthquake, 10 emission tremor episodes, one explosion and harmonic tremor episode.

In Cotopaxi, the surface activity is characterized by slight gases, steam and ashes.

The emission tremor is down overall and both horizontal and vertical deformation does not exceed 1 cm. SO2 emissions remain since Oct. 13 at about 1,500 tons / day.
Cotopaxi - trémor of emission, left, and value of sulfur dioxide emissions, right - a click to enlarge - doc IGEPN 19.10.2015
The activity of Colima, Mexico, continues to be characterized by explosions accompanied the amount plume 3,000 meters until October 19, and 20-21 between 1,500 and 2,000 meters.
On Nishinoshima, strombolian activity remains robust, averaging a blast all the 3-5 minutes, accompanied by small ash plumes loaded.
Lava emitted by the spatter cone built in January 2015, now buried under the lava flows.
An expedition measures conducted in July reveals a new bathymetric image of the volcano : an important platform has been added under the sea level ... its eventual collapse puts to a tsunami risk and potential danger to the surrounding islands (see video attached)

Source: Japan Coast Guard report 10.20.2015 http://www1.kaiho.mlit.go.jp/GIJUTSUKOKUSAI/kaiikiDB/kaiyo18-e1.htm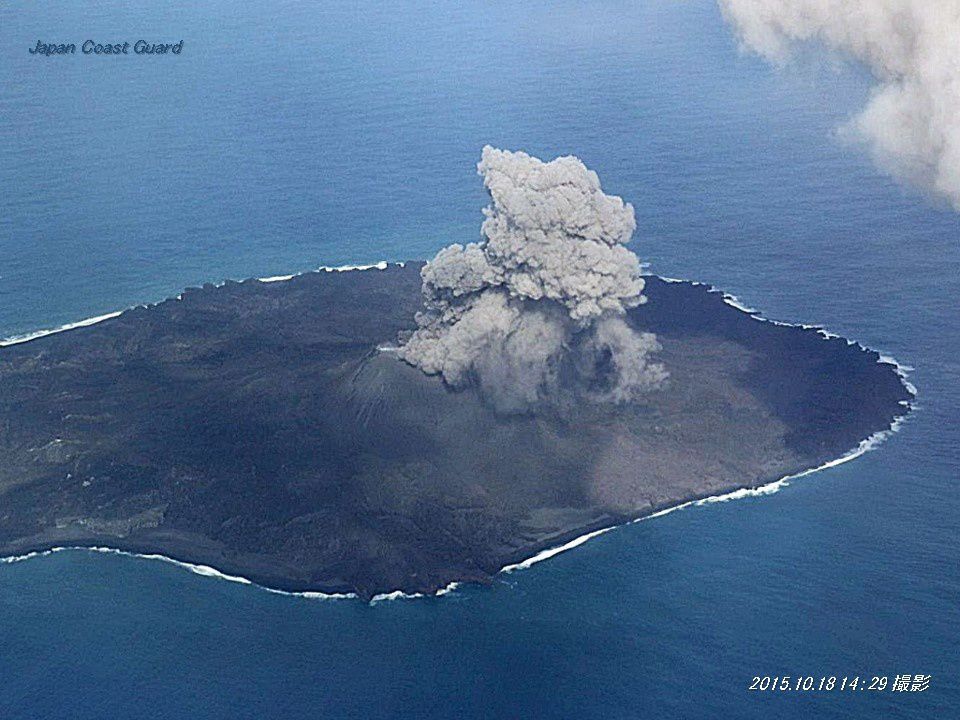 Nishinoshima 10/18/2015 - Strombolian successive loaded plumes of ash - the first on the top right of the photo - Doc. Japan Coast Guards