Publié le par Bernard Duyck
The KVERT reported explosions at Shiveluch / Kamchatka Peninsula, the October 8 from 11:47 p.m. UTC, accompanied by an ash plume at 4000-4500 meters asl, before drifting over 25 km towards SE.

The explosive-effusive activity continues with producion of pyroclastic flows, in connection with the collapse of large parts of the dome.

The aviation alert code remains in Orange.

In Cotopaxi / Ecuador, the alert remains at amarilla, with a moderate internal and surface activity.

On 8 October, gas and ashes were noticed, rising to 2,000 m. above the crater and caused ash fall on El Chasqui Chaupi, Machachi, Aloag, Obelisco, Panamerica Sur and San Ramon, either in majority on the southwest sector.

The webcams network produces a permanent video surveillance of Cotopaxi.

Source: IGEPN

Satellite networks we relate thermal anomalies

- To Karangetang / Api siau / Sulawesi - signal by the site Mirova / Modis. The volcano alert is level III / Siaga since 03/09/2013

- Michael Volcano, located on Saunders / South Sandwich Islands island - satellite Landsat 8 / OLI & TIRS, revealing an undetermined volcanic activity (end of August)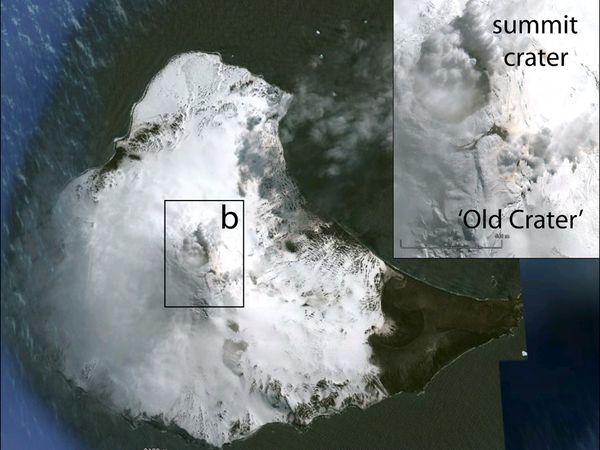 Location of Sanders island in the South Sandwich - Volcano position and the summit crater - Doc. GVP - a clic to enlarge
Seismographs recorded this October 7th from 9:20 thirty earthquakes, referring to typical bradyseism phenomenon of Campi Flegrei, affecting mainly Pozzuoli.
The most significant earthquakes were of magnitude 2 / 2.5 with an epicenter at 2-3 km depth, respectively, 10:37, 11:13 and 12:10. Solfataras Zones were evacuated as a precaution.

Source: Campi Flegrei news