Publié le par Bernard Duyck
The submarine volcano Hijo de Tenerife, also called Volcán de Enmedio was discovered in 1993 during the campaign METEOR by the german volcanologist Hans-Ulrich Schmincke, and then mapped by the research vessel Hesperides of the IEO / the Spanish Oceanographic Institute.

Located between Tenerife and Gran Canaria, it is pointed at 25 km from Faro de Abona (Tenerife) and 36 km from the port of La Aldea de San Nicolás de Tolentino (Gran Canaria), to coordinates 28° 05 '24' 'N / 16º 10 '1.4' 'W.

The 2015 campaign Vulcana / Vulcanologia Submarine de Canarias of 12-13 October 2015, which will continue until 2017, clarifies this structure using the research vessel Alvariño Ángeles.

Volcán de Enmedio - bathymetric and topographic description from the Vulcana 2015 document - a click to enlarge
The volcano, circular and irregular conical shape, has a height of 170 meters and a base diameter of about 3 km. It is located between 2,100 meters at the base and 1,630 meters at the summit ... under the sea level, making it impossible look to the surface in case of eruption.

Its slopes are steep and the top is cut in half due to landslides.

At 500 meters to the southwest of Enmedio, two secondary cones exceed of one hundred meters the seabed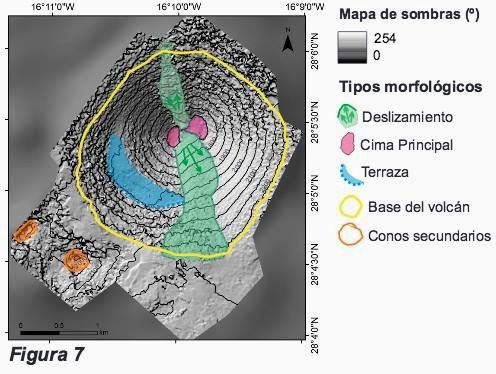 Volcán de Enmedio - Yellow Line: volcano outline - in orange, secondary cones - the top (pink) is separated by landslides (in green ) - in blue, the presence of a terrace, seen on Colorful 3D bathymetry above - Doc. Vulcana 2015
Sources :
- Schmincke H.-U. and Rihm R. (1994). Ozeanvulkan 1993, Cruise No. 24, 15 April-9 May 1993. METEOR-Berichte, Univ. Hamburg, 94-2.
- Schmincke H.-U. and Graf G. (2000). DECOS/OMEX II, Cruise No. 43, 25 November 1998 - 17 January 1999, Meteor-Berichte, 2000-1, Univ Hamburg: 1-99. - link
- Ciencia Canarias - ¿En qué fase están los volcanes submarinos de Canarias? - link
- Vulcana 2015 - Fiche descriptive du volcan Enmedio - link
- Vulcano - Investigadores del IEO lideran una expedición para estudiar los efectos de los volcanes de El Hierro y del Medio sobre el ecosistema marino - link