Publié le par Bernard Duyck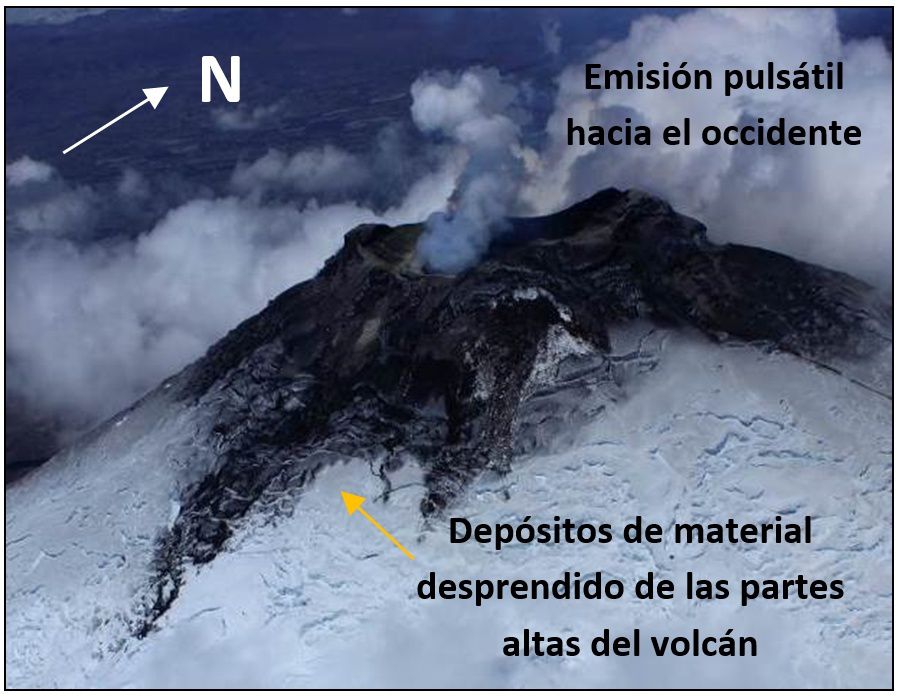 Cotopaxi eastern flank - the upper glacier and the edge of the crater melting caused mudslides, which material obscures the lower part of the glacier - Photo: S. Vallejo / IGEPN
The IGEPN has posted its report on the observation flight over the volcano Cotopaxi conducted on September 29.

The observations and thermal measurements indicate a fusion of glaciers, accelerated since the last check.
Two parameters combine to explain this phenomenon: the arrival of hot fluid surface, in relation to the magmatic body located below, and the decrease of the albedo due the ash cover of the top.
Cotopaxi - left, thermal image of the crater - right, thermal anomalies on the upper flanks - a click to enlarge - Photos: S. Vallejo / IGEPN
The overview showed changes in the crater, where the vent reaches several hundred meters deep. The TMA / maximum effective temperature of the upper parts of the gas plume was measured at 157.7 ° C.

Thermal anomalies are reported in several areas of glaciers, often associated with a new fumerolian activity. The eastern upper flanks are covered with darker material, following their detachment from the edges of the crater, where the glacier has melted.

What follows is new cracks in the upper flanks and the terminal tongues of glaciers. The advance of glaciers in the drainage could accelerate and lead to collapses, generating lahars
Jökulhlaup of the Skaftá river :

The discharge ratio increased to Sveinstindur on the Skaftá river. It is considered the highest recorded at the station since 1971, and may well be a record.

At 10 am on 1 October, it was over 1.300m³ / sec. increasing at Sveinstindur. Around the same time, the flow was detected in Skaftárdalur, halfway between the glacier and the coast, at 400 m³ / sec, increasing rapidly. The jökulhlaup (glacial meltdown) is expected to peak in the early hours of Saturday, October 3rd.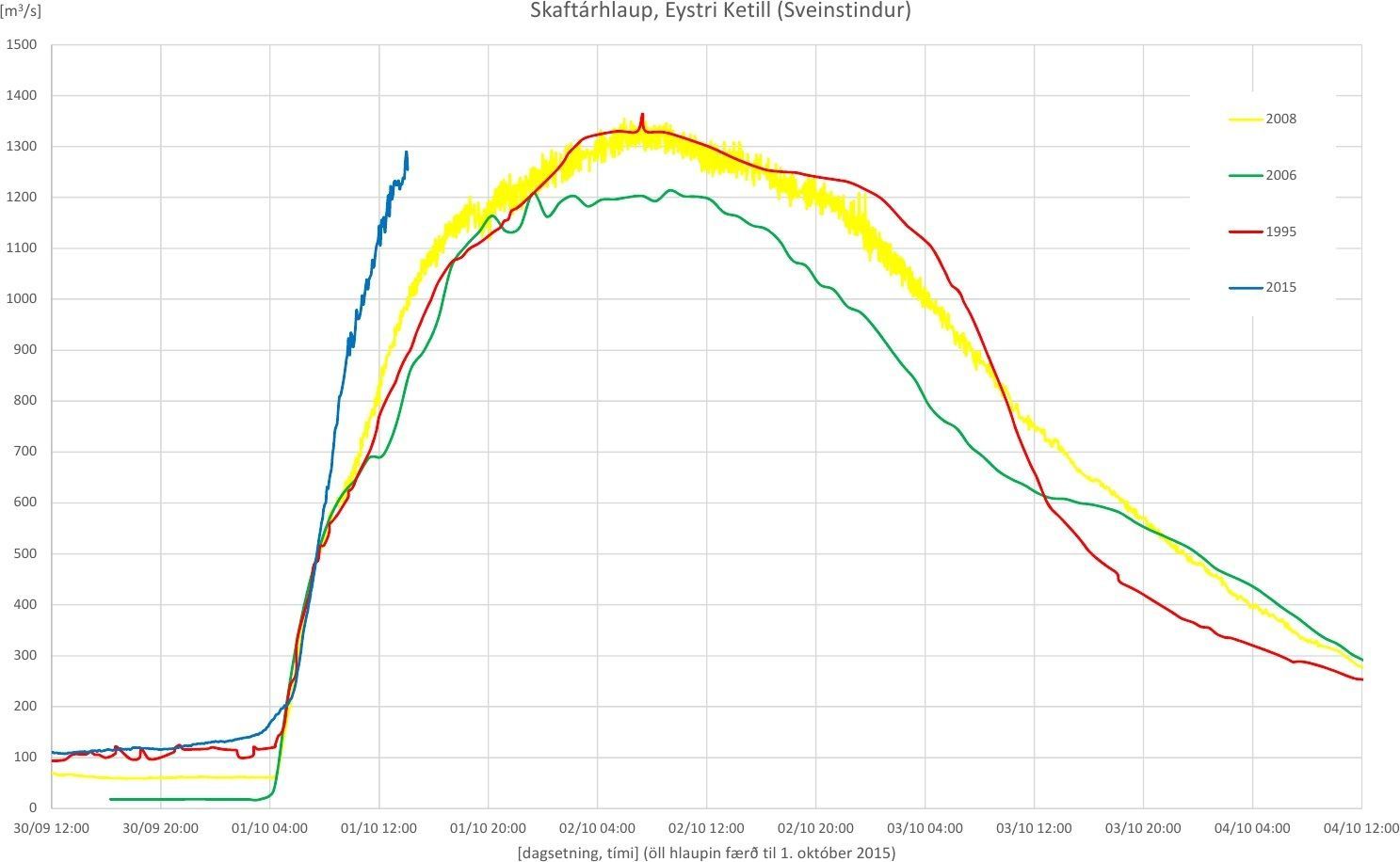 Comparison of the jökulhlaup of eastern Skaftá cauldron: 1995, 2006, 2008 and 2015 ongoing - doc. IMO / A. Iceland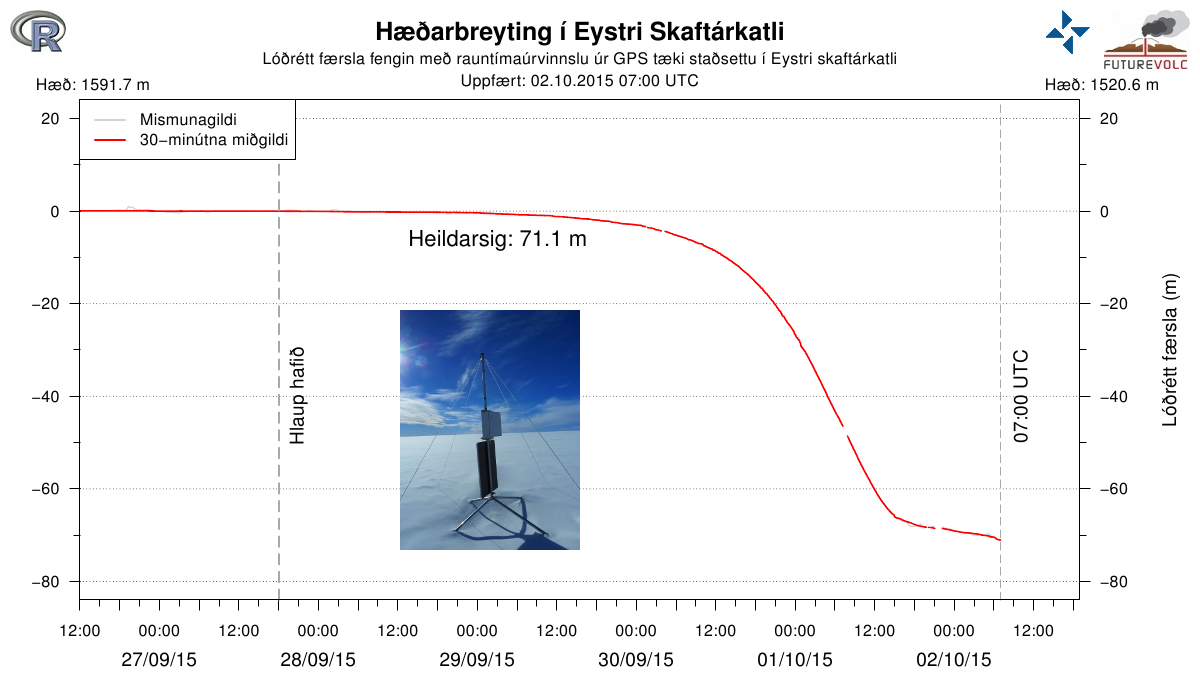 Subsidence of the GPS station in the eastern Skaftá cauldron 02.010.2015 / 7am - Doc. IMO / Univ. Iceland
The gas, H2S and SO2, can reach toxic levels in areas near glaciers Skaftárjökull, Tungnaárjökull and Síðujökull.

Cracks are developing rapidly around the East Cauldron, and the lower parts of Skaftárjökull and Tungnárjökull glaciers. Radio contact, always made with the East Cauldron GPS station indicates a subsidence of 71.1 meters between September 27 to 18h and October 2 at 7am. In the last two hours, the ratio of subsidence has decreased, a sign that the overflow of the cauldron has plateaued.

Sources: IMO / One Of Iceland / Futurvolc.