Publié le par Bernard Duyck
The last eruption of Papandayan in 2002: VEI 2, it concern the craters Kawah Baru and Kawah Nangklak and changing from phreatic to phreatomagmatic type (GVP)

Following a period of intense seismic activity, an phreatic eruption begins on November 11, 2002 at 15:30, at the Kawah Baru, one of its craters.

Ninety minutes later, part of its internal wall collapses and forms a debris avalanche rushing into the valley Cibeureum Gede; it will turn into lahar.
The phreatic phase will give way to a phreatomagmatic eruption until November 14; during this period, there are seven eruptive vents in the Kawah Baru, four responsible of the phreatomagmatic activity, three other make ash-producing eruptions.

On 14 November, between 0:17 and 11:50, it totals 17 phreatomagmatic eruptions, which produce gray ash plumes reaching between 500 and 1,000 meters above the vents.
On November 15, at 6:30 am, a powerful plume rises to 5,000 meters above the volcano.

Explosions of average magnitudes will succeed at Baru crater until late November.
Papandayan - eruption of November 14, 2002 - doc VSI / GVP - New Papandayan crater formed on 11.11.2002; it is no longer active from 08.12.2002 and fills with water. Its diameter is about 300 m. - Doc. VSI - a click to enlarge
Meanwhile on 20 November, an eruption produced by the Kawah Nangklak propels his gray ash at 1,500 m; they will drift to a broad northern sector, and allow more than 2 cm. ash to 2 km. north-west. A visit by the volcanologists will see the effects of a lateral blast, which swept all the trees present inside the crater to the northeast, and left blocks, bread crust bombs and between 4 and 8 cm of wet ash.

On 21 and 22 November, explosions and gas emissions form gray to white plumes following the ash content, mainly above the Kawah Baru, of high between 200 and 600 meters.

From November 23 to 25, the activity is dominated by ash explosions to Nangklak, while six other craters emit white gas plumes.

In the first half of December, a gray-white plume is emitted continuously at the Baru crater top 150-400 meters, then replaced by a white gas plume until December 22.

The Global Volcanism Program considers the eruption as completed between 19 and 22 December 2002; the alert level is lowered to 2 sometime in the second week of January 2003.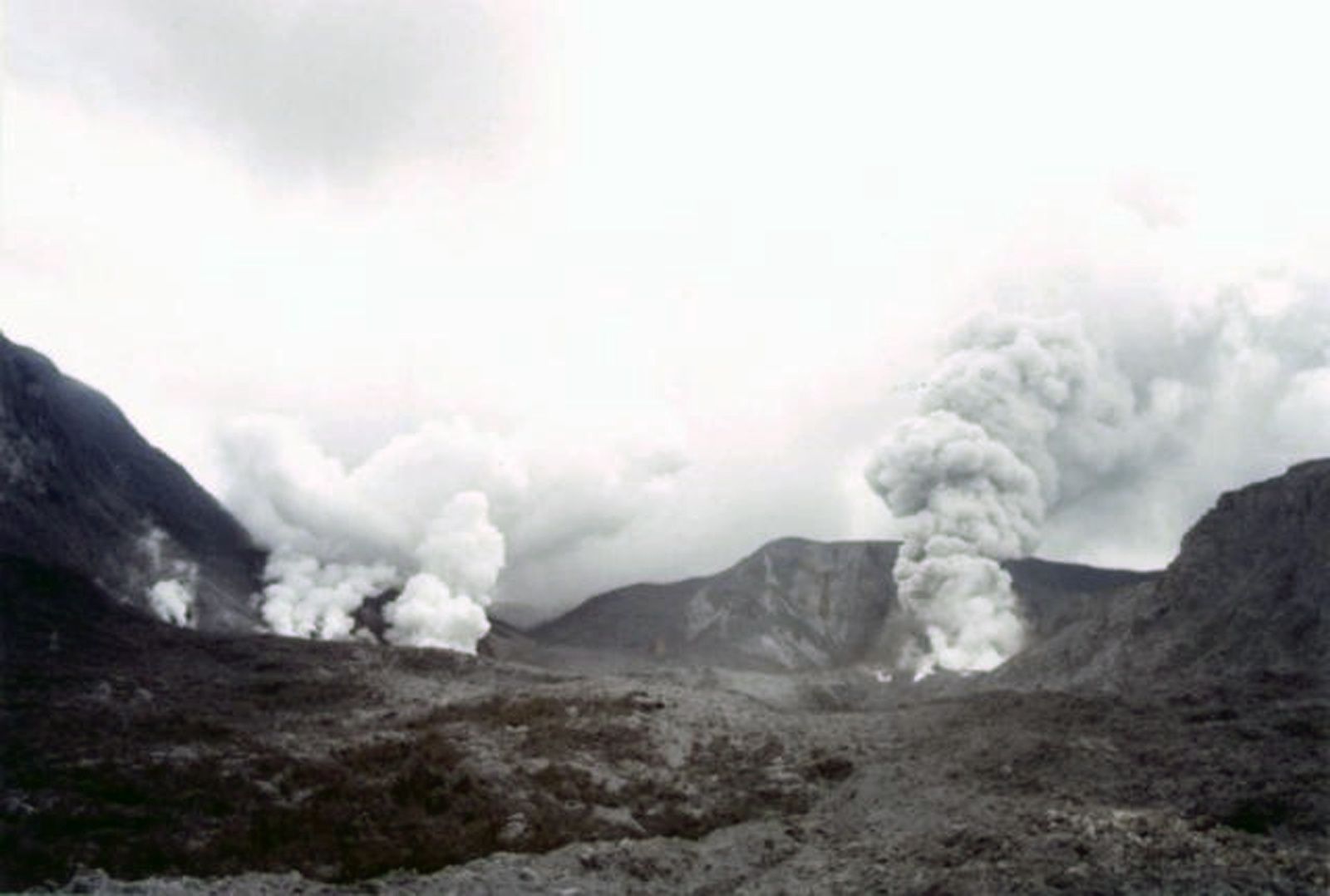 The evolution of the crater and the lake formed by the eruption of 2002 in pictures: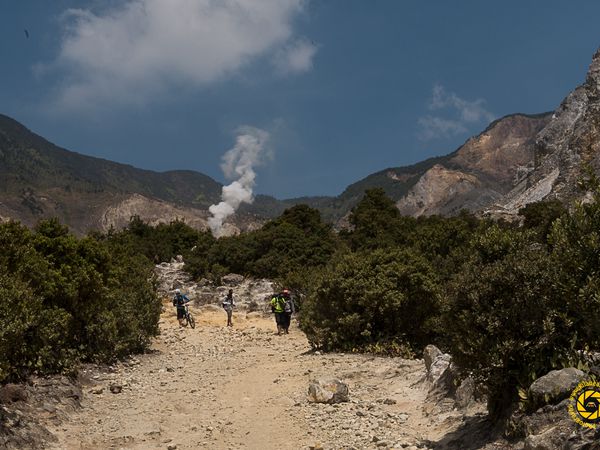 Papandayan - top, left in 2006 / Photo © M.Rietze - right, in July 2011 / photo © Devy Syahbana - a click to enlarge / Downstairs, in 2005 / Photo © Jean-Michel Mestdagh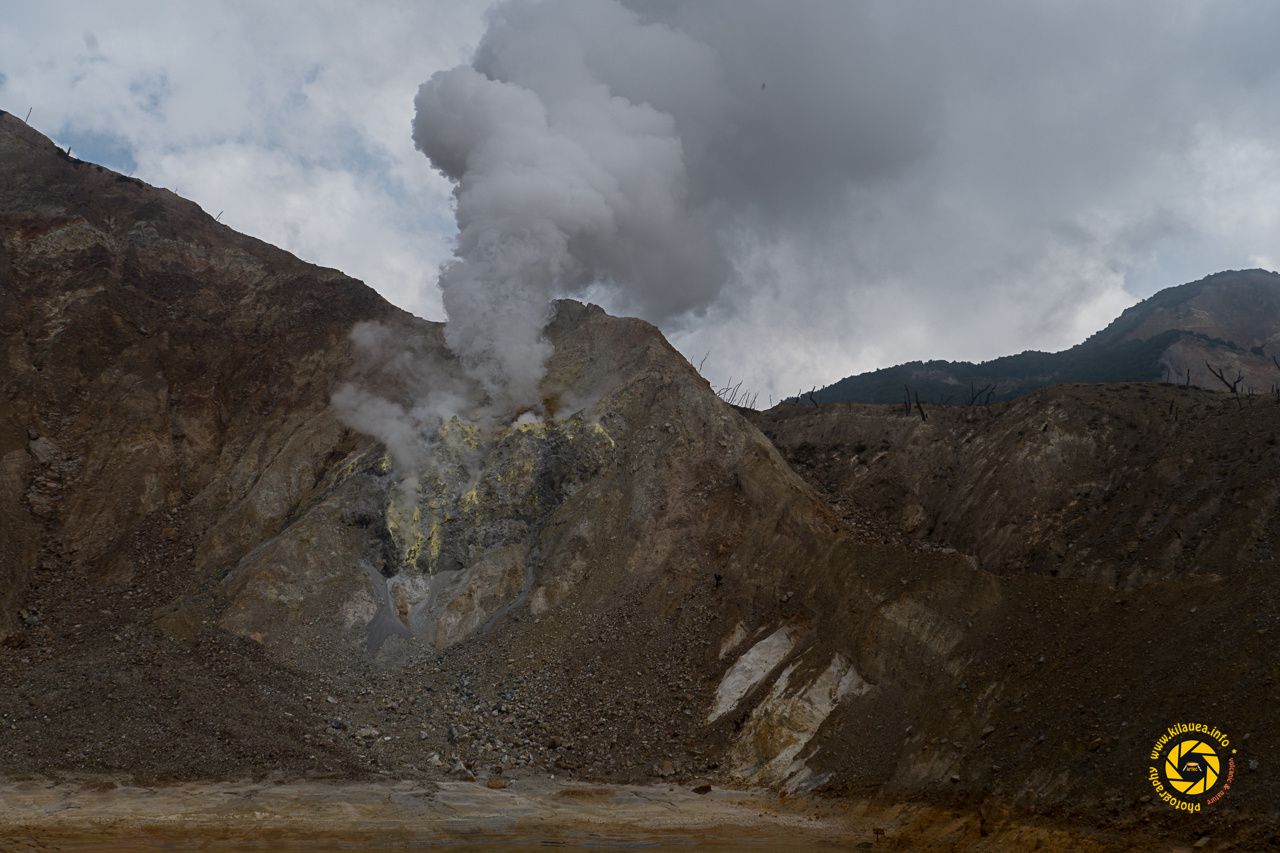 Papandayan - active fumaroles zone near the edges of the crater lake - Photo © 2015 Jean-Michel Mestdagh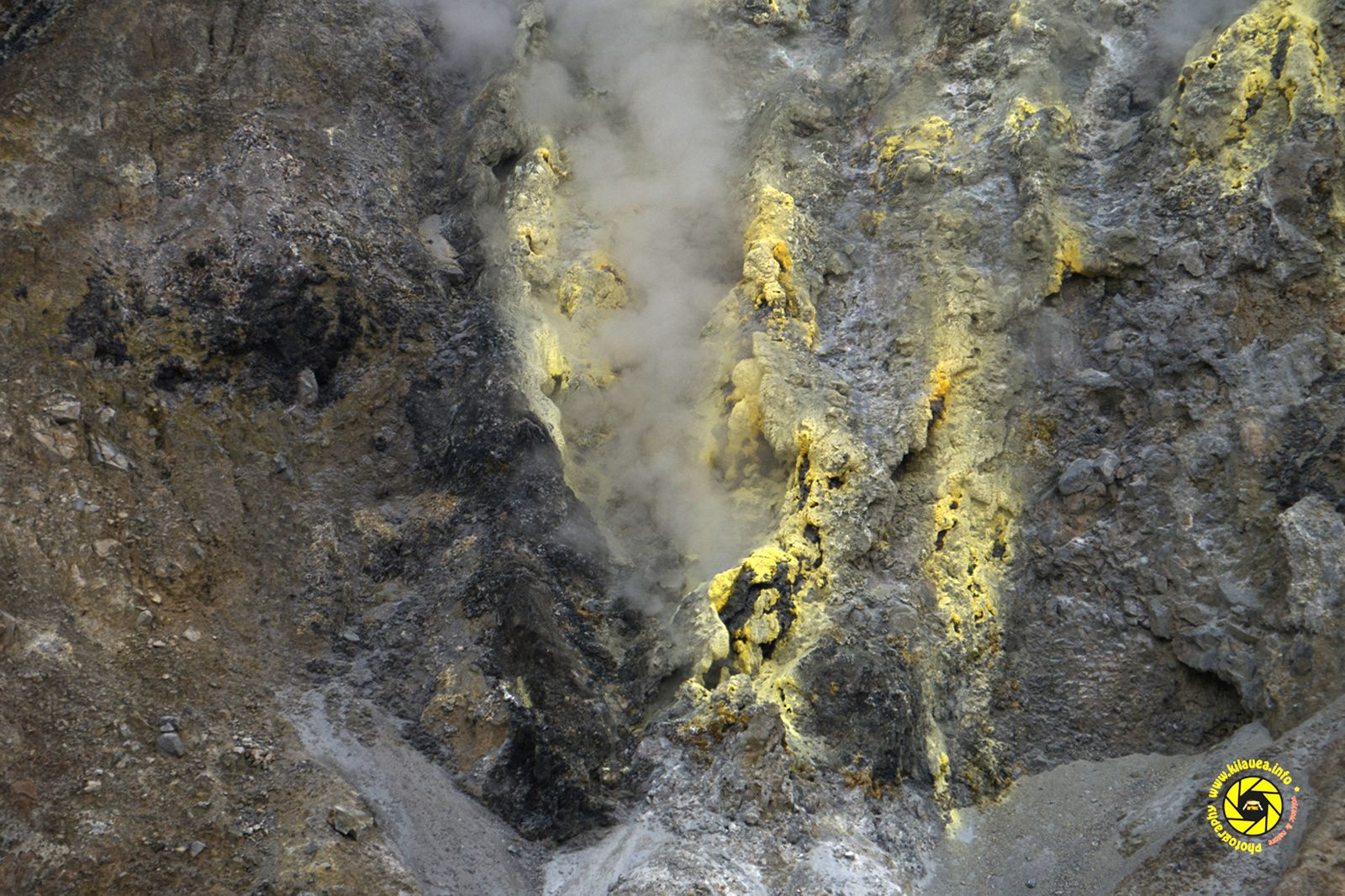 Papandayan - active fumaroles zone near the edges of the crater lake, close up - Photo © 2015 Jean-Michel Mestdagh
Sources :
- Global Volcanism Program - Papandayan
- L'éruption du volcan Papandayan (Indonésie) en novembre 2002: aléas directs et induits – par Franck Lavigne & al. - link
- Activité hydrothermale des volcans Kelud et Papandayan et évaluation des flux de gaz carbonique – thèse de doctorat d'Agnès Mazot /U.L.B. - link