Publié le par Bernard Duyck
After inspiring the canvas of Jocelyn Lardy this November 5 (link), Olivier Grunewald and Nyiragongo volcano are again at the forefront of the news, with the teaser of the second film of the photographer:

Nyiragongo, travels to the center of the Earth

Nyiragongo, travels to the center of the earth , a film of the photographer Olivier Grunewald
Since 2003, a volunteer team of volcano lovers is helping scientists of the Volcanological Observatory of Goma and UNOPS, an UN antenna to natural hazards in the DRC, to learn more about this African giant.
Seasoned with the difficult terrain, they will help volcanologists to descend into the huge crater to collect samples, gather data and installing surveillance equipment.
The film of Olivier Grunewald recounts, in 52 minutes, the adventure of these enthusiasts for over 10 years, to the foot of the largest lava lake on the planet.

The film will be broadcast on Ushuaia TV and TV5 Monde, the dates are not yet fixed.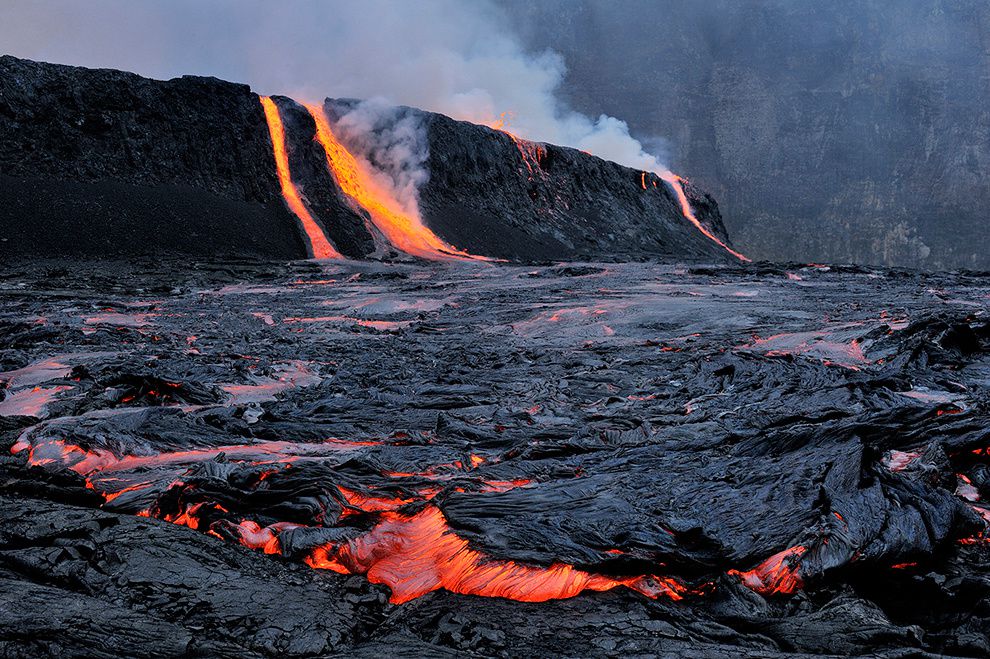 Overflow of Nyiragongo lava lake - photo of O.Grunewald / doc. "Journey to the Center of the World".
The photographer Olivier Grunewald approaches closest to the Nyiragongo lava lake, in the Democratic Republic of Congo during an expedition of the Society of volcanology of Geneva (SVG). The images are filmed by Peter Vetsch from the camp set for nine days in the crater. Olivier will be the third of the team to win the shore of the eight million cubic meters of lava bubbling after Marc Caillet and Franck Pothé.
From November 19 to 22, the photographer will present his photos in the Montier en Der festival, in France, and its exhibition ORIGINS ... a "best of" of thirty years of photography in the heart of the creation.