Publié le par Bernard Duyck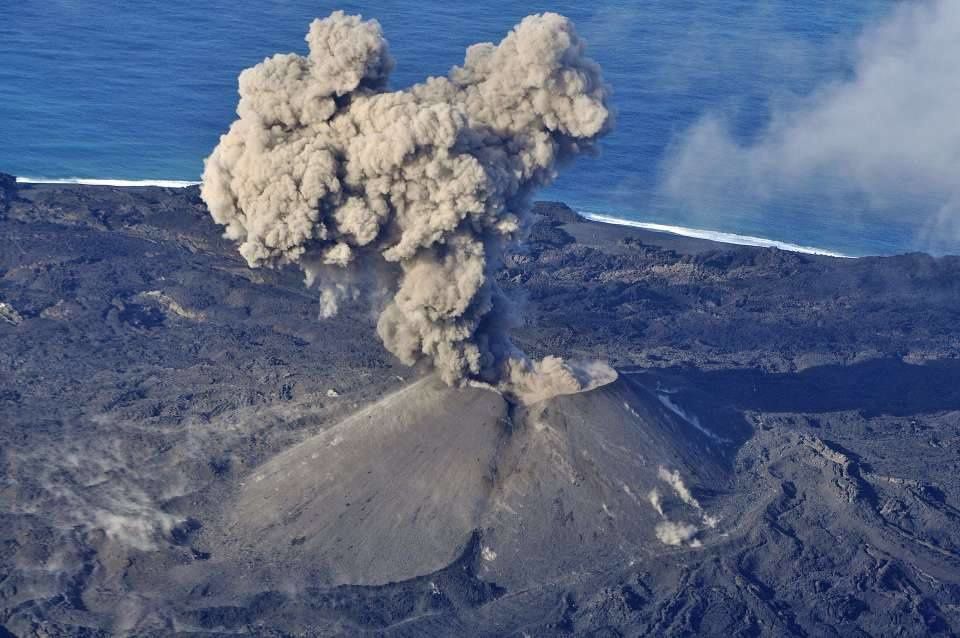 Nishinoshima - overview of 11/17/2015 - Vulcanian ash plume and recent lava flow at the foot of the cinder cone opening - photo Japan Coast Guards
Tomorrow it will be two years since the eruption began to / from Nishinoshima (西 之 島, "western island", or Rosario island) in the Ogasawara islands, parts of the Izu-Bonin volcanic arc, south of Tokyo .

The eruption has done the pre-existing island grow by a factor of 12.

The last survey of Nishinoshima on November 17 has clarified the topography of the craters atop the cinder cone; it opened on its southwestern flank and let out the lower part exit a small lava flow. The North lava flow has stopped.

A regular summit explosive activity, occasionaly of Vulcanian type, is accompanied by projections of around 500-1000 meters
.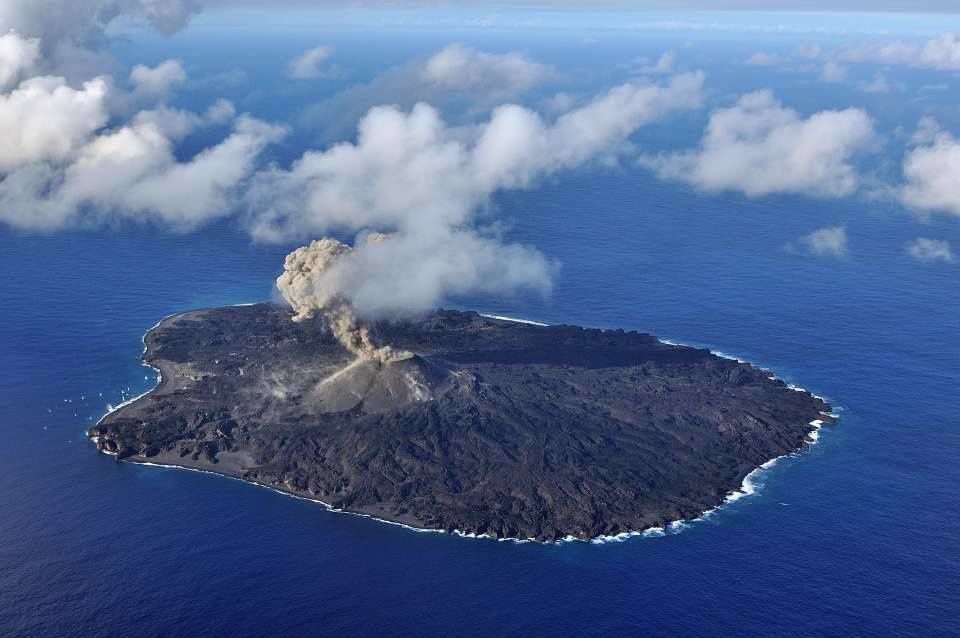 Nishinoshima - overview of 11/17/2015 - on this general view of the island-volcano, one can see on the left traces projections at sea - open the photo with one click - photo Japan Coast Guards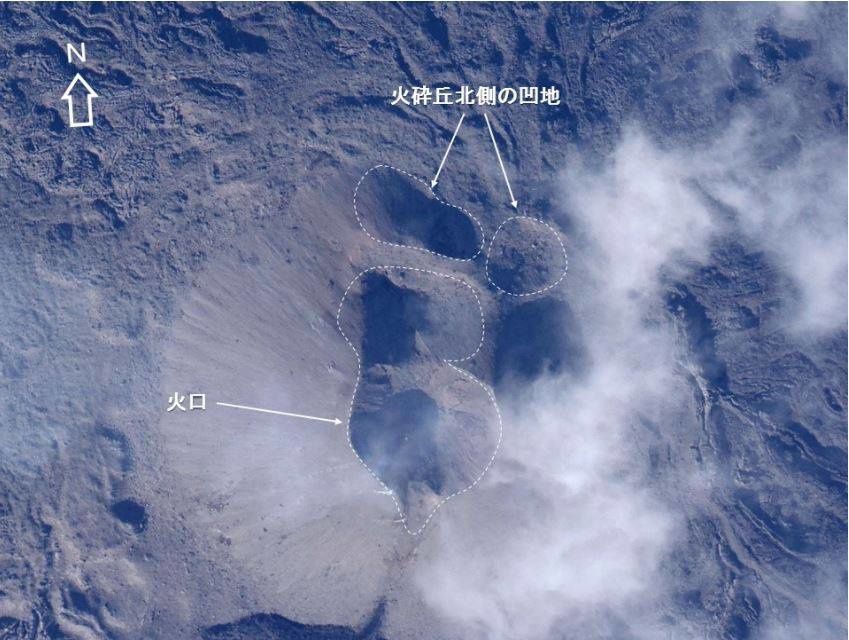 Discoloration of seawater in greenish-yellow is confined within a wide strip of 200-300 meters around the island.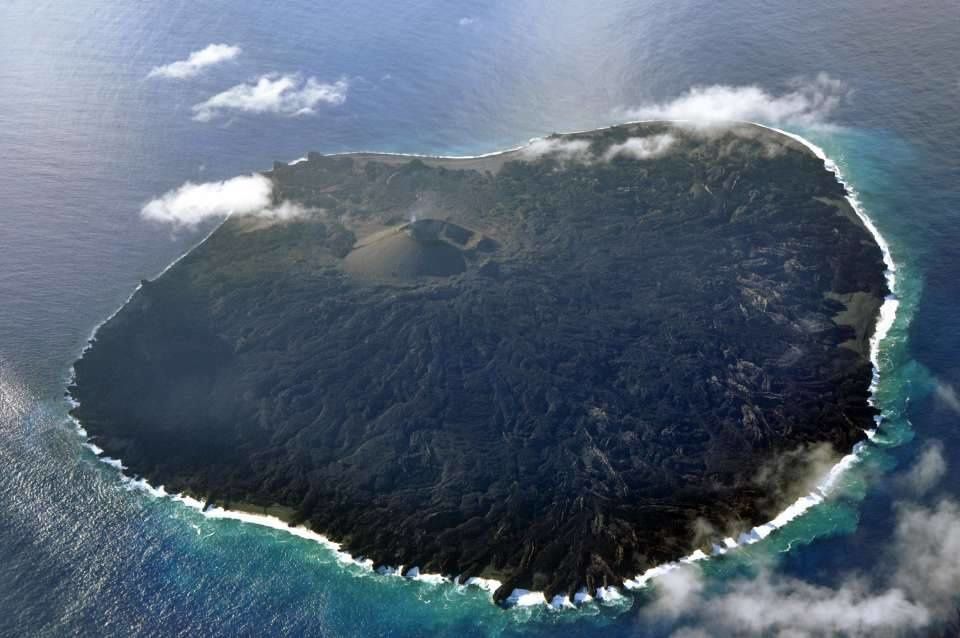 Nishinoshima - overview of 11/17/2015 - Water discoloration is confined within 200-300 m. on the periphery of 3/4 of the island - photo Japan Coast Guards
Changes mark the coastline, eroded by the waves.
The report of the Japan Coast Guard on 16 September mentioned an area of ​​2.67 km², that of November 17 mentions no more than 2.63 km².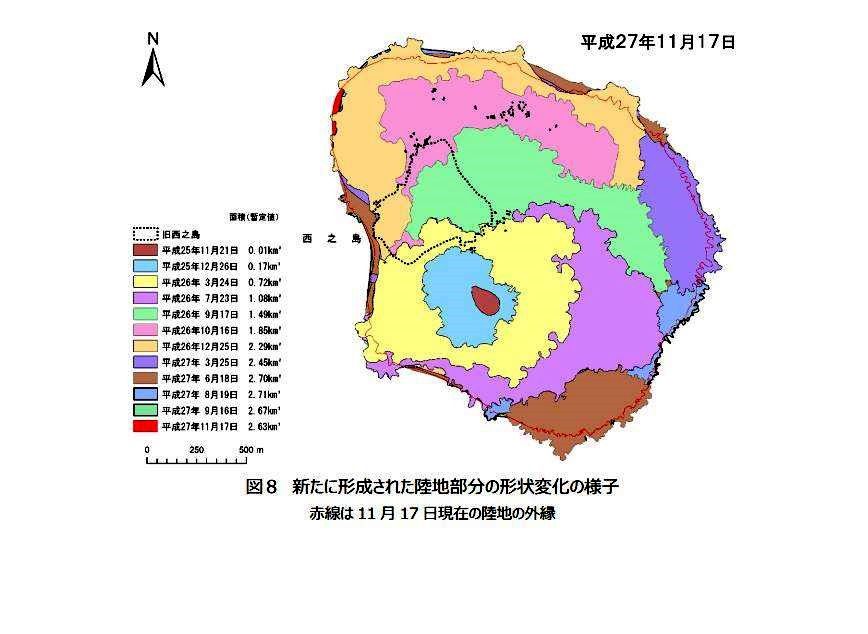 Evolution of Nishinoshima, at 11/17/2015 - Dotted black, the island before the start of the eruption 2013-2015 - red-brown, in the center, the island formed in November 2013 - the red line marks the periphery of the island compared to the previous observation - Doc Japan Coast Guards
Source : Japan Coast guards - link