Publié le par Bernard Duyck
"Journey to the Center of the Earth" ... this is the last volcanic canvas of Jocelyn Lardy, which this time was inspired by the movie of the same name from Olivier Grunewald.

In June 2010, a team of scientists and enthusiasts approached the bank of the bubbling lava lake in Nyiragongo's crater.
Jocelyn was inspired by photos and the film made by the photographer Olivier Grunewald, who climbed the wall surrounding the lava to approach the molten material. His will was to have a new and original angle for this canvas, " as if a drone was flying at his side during the event "
The painter and photographer exchanged photos and information during the making of the work, and the photographer found the painting very successful ... " you'd be there " , he said!

Here are several stages of the realization of this oil on canvas, of 120 by 60 cm.: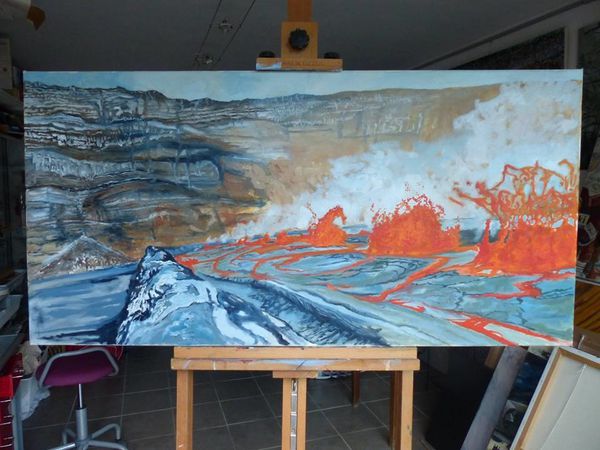 Stages of the realization of "Journey to the Center of the Earth" - oil on canvas from Jocelyn Lardy - Photo © J.Lardy
Below is an extract from Bernadette Gilbertas narrative recounting this journey into the crater of Nyiragongo, in the Figaro Magazine of the time.

"... After a quiet day to photograph from above while sipping a cocktail a few gulps of sulfuric and hydrofluoric acids embellished with heavy metals and radioactive gas, Olivier is again ready. Everyone warned: "Do not let yourself be taken by the photo. Remains in alert and aware. " He crossed the slope on all fours like the others, guided step by step by short orders of the radio of Franck (Pothé). Here it is face to face with the hot blood of the earth. "My memories are confused. I was focused to the extreme, balance in this unstable ground. Tending my well caulked camera over the waves, I have referred to trial. Again and again. I could have continued for hours. "But suddenly the voice of Jacques Barthélemy resonates in his radio and draws from his stupor. Sprung from the lake bottom, lava fountains move in waves towards the photographer. A disturbing chop in the corner of his gold visor: "I suddenly realized that despite my suit, the heat became unbearable. "The photographer flows into the slope and let it slide to the foot of the cone. When the lake propels its incandescent banderillas over the black shore, Olivier and Franck are already far ..."
Olivier Grunewald preparing its equipment and its progress towards the lava lake of Nyiragongo - a click on the pictures to enlarge - Doc. "Journey to the Center of the World" / O.Grunewald
Some details of the canvas of Jocelyn Lardy :
Sources :
Documents et photos de Jocelyn Lardy – http://sjlardy.free.fr/
Boston – The big picture - Photos d'Olivier Grunewald – Journey to the center of the world – 02.2011 – link
Figaro Magazine – Au cœur du Nyiragongo, rendez-vous avec le diable – article de Bernadette Gilbertas – 07.08.2010 – link