Publié le par Bernard Duyck
The Kanlaon does not seem to respect the winter break ... ... The earthquakes of Phivolcs recorded seven volcanic earthquakes in 24 hours, and on December 23 to 2:57 p.m., an explosion of ash accompanied by an earthquake and a roar that was perceived to Barangay Cabagnaan, Las Castellana and La Carlota City.
Due to cloud cover, no visual observations were possible; ash falls were reported on Guintubnan, Barangay Ara-al, and La Carlota City.
The alert level 1 remains in effect, along with a permanent danger zone of 4 km forbidden due to possible sudden phreatic eruptions type; avoidance opinion of the zone has been communicated to civil aviation.

Source: Phivolcs

In Mexico, Colima continues its regular explosions. The SEGOB inform of an "exhalacion" on 23 December at 8:14 p.m.; the ash plume, traveled lightning, climbed to 1,800 meters before spreading to the south-west.

A team of VolcanoDiscovery could make a direct observation of the Pacaya / Guatemala on the morning of December 22, after five days of bad weather.
From the rim of the crater Mackenney, they have seen a continuous and violent spattering in the central vent of a cinder cone, a height of about fifteen meters, built in the crater. Regular activity is marked by different intensity cycles of 10 to 20 minutes; in the strongest phases, lava bombs were ejected at a height of 150-200 meters, falling inside the crater deep of a hundred meters.
A second vent, located in the eastern part of the cone has also spattering during the most intense phases of activity of the main vent. The floor of the crater is Mackenney is partially covered with lava flows that seem new.

Source: VolcanoDiscovery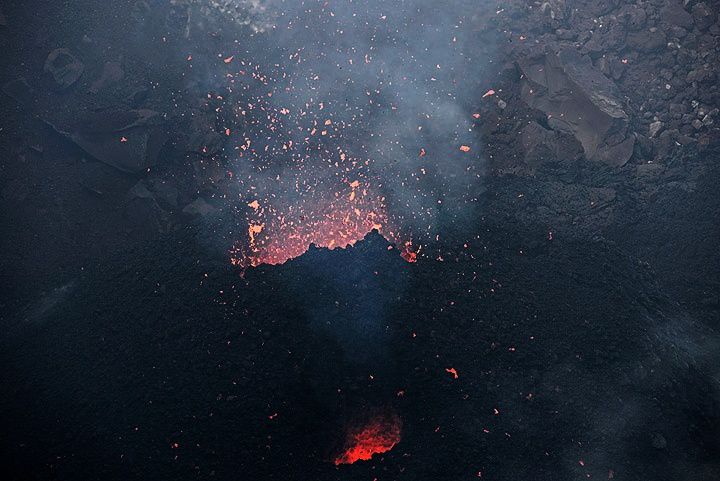 Pacaya - 12.22.2015 - spattering at the cinder cone in the Mackenney crater - photo VolcanoDiscovery