Publié le par Bernard Duyck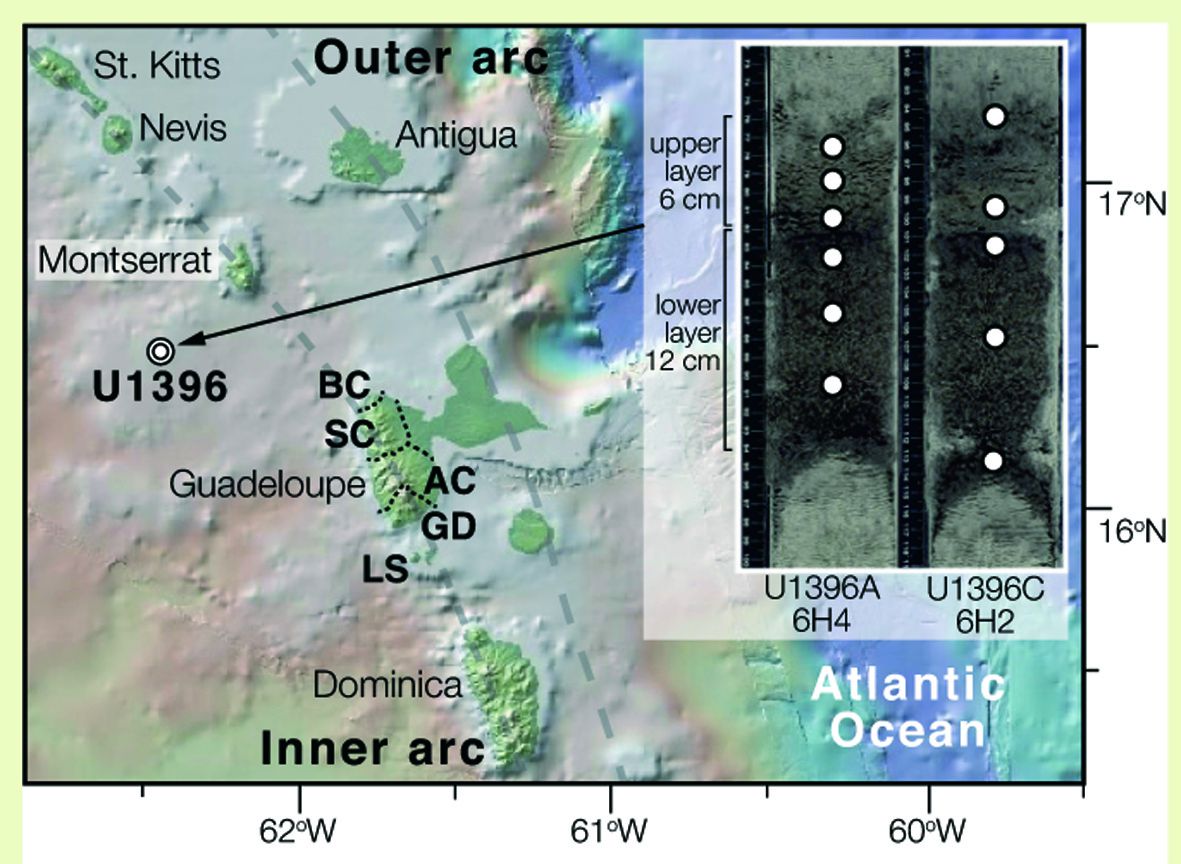 Map of the Lesser Antilles and the drilling site U1396 - in the insert, the tephra layers of the eruption - The volcanic centers of Guadeloupe: BC / basal Complex - SC / Chain Holland - AC / axial chain - GD / Grande Discovery - LS / Les Saintes - Doc. According Samper et al 2007-2009 / in Discovery of a large 2.4 Plinian eruption of My Basse-Terre, Guadeloupe, from the marine sediment record / Martin R. Palmer et al.
Very close to the volcanic arc of the Lesser Antilles in the Caribbean Sea, a team of researchers of IODP / Integrated Ocean Drilling Program, discovered the traces of a major Plinian eruption in marine sediments.

The core drilling was carried out in 2012 in a thick layer of ash 18 cm. and 140 meters long, which was deposited here 2.4 million years between the islands of Montserrat and La Guadeloupe. The U-1396 site is located on a height, under 780 meters of water, approximately 30 km southwest of Montserrat and 75 km west of La Guadeloupe.

With lead isotopes, trace elements, the morphological analysis of predominantly andesitic tephra, compared with volcanological model, the eruption has been linked to Basse-Terre, Guadeloupe, and qualified of Plinian and a VEI 6, or one of the strongest eruptions ever recorded in the Lesser Antilles.

The four volcanic massifs of Basse-Terre are the basal Complex / 2.79 to 2.68 Ma, the Northern Chain / 1.81 to 1.15 Ma, the Axial Chain / 1.02 to 0.44 Ma, and the complex Great Discovery / 314,000 years - present.
This powerful eruption, unknown until then, is hypothetically associated to the final stage of the evolution of a single volcanic center ... the recovery of the magnitude of past volcanic eruptions may provide important information regarding the risks of future breakouts. Although a similar size eruption can have a major impact on many current populations of the region, such events are rare in the Lesser Antilles, and there are currently no signs of imminent major eruption.

The case is interesting because finding traces of ancient eruptions on Earth is difficult; they are either eroded or covered by vegetation and a more recent soil.
In the Caribbean arc, volcanoes are close to the ocean and expelled materials may have accumulated on the ocean floor.

Sources :
- Discovery of a large 2.4 Ma Plinian eruption of Basse-Terre, Guadeloupe, from the marine sediment record - by Martin R. Palmer1, Stuart J. Hatter1, Thomas M. Gernon1, Rex N. Taylor1, Michael Cassidy2, Peter Johnson1, Anne Le Friant3, and Osamu Ishizuka4 – link
1 : School of Ocean and Earth Science, University of Southampton, European Way, Southampton SO14 3ZH, UK - 2 : Institute for Geosciences, Johannes Gutenberg University Mainz, J.-J.-Becher-Weg 21, D-55128 Mainz, Germany - 3 : Institut de Physique du Globe de Paris, UMR 7154, CNRS, Paris, France - 4 : Institute of Geology and Geoinformation, Geological Survey of Japan, AIST, Central 7, 1-1-1, Higashi, Ibaraki, Tsukuba 305-8567, Japan
Manuscript received 24 July 2015 Revised manuscript received 4 December 2015 Manuscript accepted 7 December 2015
- LGMT - Etude géochronologique du volcanisme de la Basse Terre de Guadeloupe et des structures liées aux déstabilisations de flancs aux Petites Antilles
Julia Ricci , Xavier Quidelleur, Pierre Lahitte et Agnès Samper - link
- IPGP – Le volcanisme de Basse-Terre - link