Publié le par Bernard Duyck
The Fuego in Guatemala sees an increasing of his activity level. A new eruptive phase began in the early hours of December 16, 2015. The eruption column rose to 6,000. - 7,000 meters asl, before moving to the west-southwest over 30 km. It is accompanied by ash fall on Escuinta, Santa Lucia Cotzumalguapa, Morelia, Santa Sofia and Panimache, as well as sounds similar to those emitted by a locomotive. Three lava flows are fed into the ravines Santa Teresa, Trinidad and Las Lajas, long respectively of 1.200m, 2,000 m and 1,500 m.

Sources:
- Insivumeh
- Conred
The PVMBG has raised the level of Gunung Egon, situated on the Indonesian island of Flores, to II / Waspada on December 15, 2015, at 21h, together with a forbidden zone of 1.5 km around the crater.

The Egon is part of the dozen volcanoes dotting Flores; located across a narrowing of the island, its summit crater is 350 meters wide and 200 meters deep, and occupied by a lake depending on the season. A lava dome forms the summit at 1671 meters south. A solfatarian activity marks the crater wall and south upper flank.

A phreatic eruption on April 15, 2008 forced the evacuation of 600 people, and the ashes thrown several hundred meters and a radius of 20 km around the crater.

Sources:
- PVMBG
- Global Volcanism Program – Egon
Ascent to Gunung Egon - Video Lukas Rick 2013
A presentation at the AGU December 15, 2015 by William Kochtitzky, a student at Dickinson College, found that ice cover of the highest volcano of Peru, the Coropuna, is melting slower than suggested by previous analyzes; the ice cap has decreased from 58 km² to 44.1 km² between 1980 and 2014, or 0.41 km² per year ... instead of 1.4 km² announced.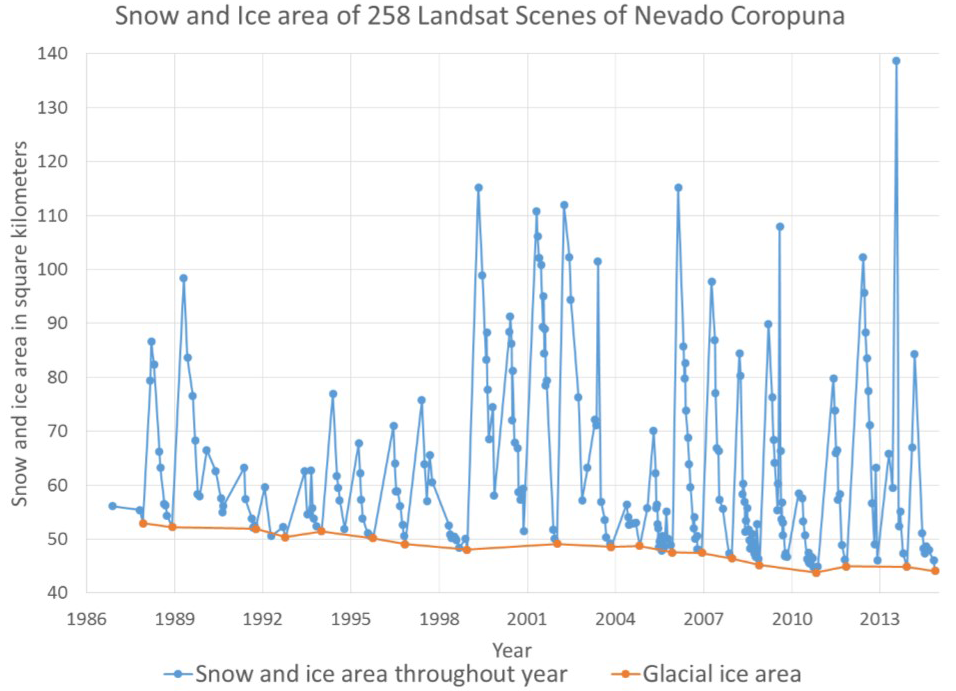 Coropuna --snow and ice coverage between 1988 and 2013 - Image Kochtitzky William & al. 2015 / NASA Landsat Science
The Coropuna is located in an arid tropical environment and less obscured by cloud cover, allowing a bi-monthly study of his glaciers by satellites Landsat since 1988. The ice of Coropuna therefore will not completely disappear in the decades to come and will continue to contribute to the water supply in the region.

The massive Coropuna covers an area of ​​12 by 20 km., and is characterized by at least a half-dozen summital cones. The top of this andesito-dacitic complex culminates at 6377 meters to the northwest end of the massif. The age of its last eruption is not known, but the solfatarian activity is reported.
Sources :
- Nasa Landsat Science - Survival of a tropical glacier - link
- Global Volcanism Program – Coropuna