Publié le par Bernard Duyck
Thanks to EU funds, in partnership with the Italian authorities since 2012, six new exceptionnal restored houses just reopened to the public ... marking a "renaissance" of the Pompeian site, an UNESCO World Heritage Site.

After being buried under the ashes of the eruption of Vesuvius in the year 79, and thus preserved for centuries, they have almost disappeared, victims of the lack of maintenance, water leaks, ungramed tourist overgrazing , and mafia practices.


Among them, the Fullonica of Stephanus, rediscovered in 1911.
It was not a patrician house, but a house converted into a workshop where wool and other cloths, were trampled to degrease. After pressing, the cloths were softened with a clay, called "Fuller's Earth", then washed and rinsed before being allowed to dry.
We find the traditional atrium and the tablinum but also five large tanks, basins and large flakes on the floor.
One of the necessary ingredients in a fulling was urine, used for its ammonia content, and collected in pots which are placed near the door on the street. Other "urinals" existed in the city, at the corner of certain streets; they were subject, as their content, to a tax by the Emperor Vespasian (69-79) ... who gave his name to these lavatories.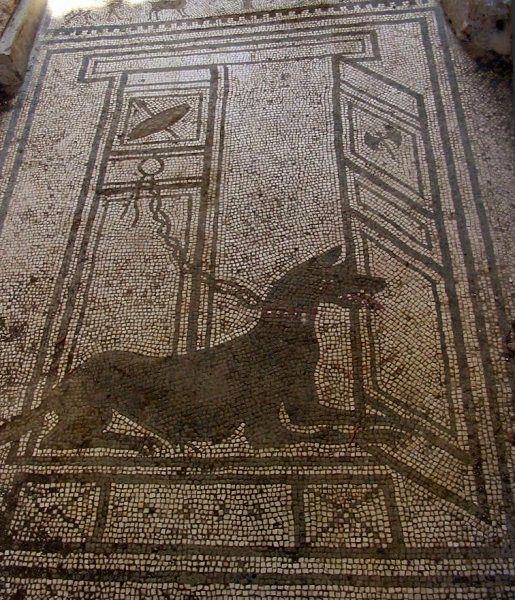 Pompeii - mosaic at the entrance of the house of Proculus Paquius - photo http://locipompeiani.free.fr/
The other houses saved are the house of the Cryptoportique, the house of the Ephebe, the house of Fabius Amandius, the home of chaste lovers and the home of Paquius Proculus.

The latter is one of the most richly decorated home. Located in the street of abundance, one enters by a vestibule paved with a mosaic of a guard dog unchained ... "Cave Canem".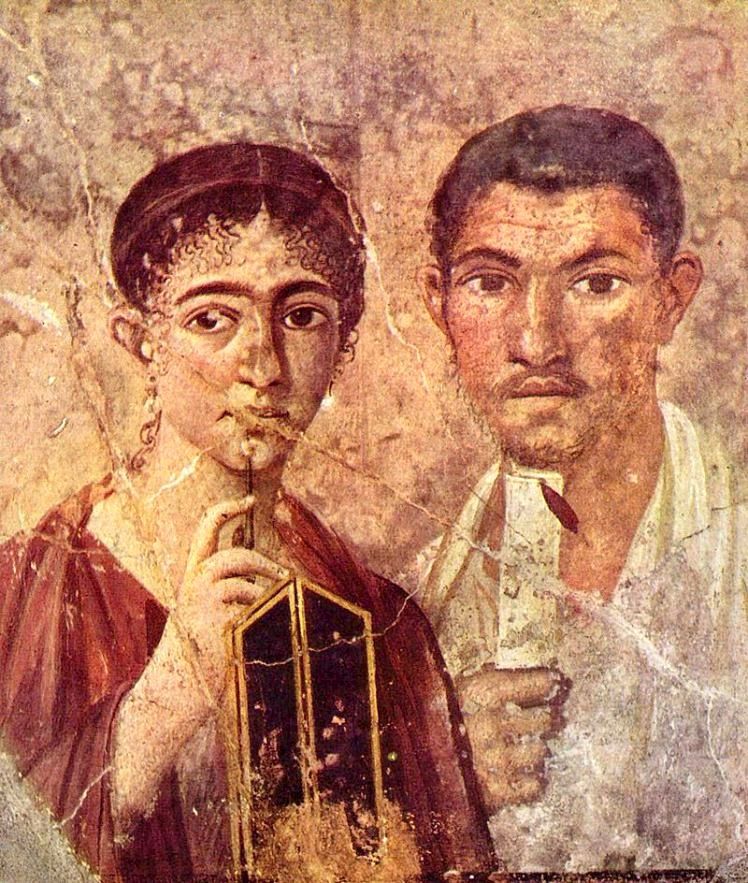 Pompeii - House of Paquius Proculus - portrait of Paquius Proculus and his wife now kept in the collections of the Archaeological Museum of Naples.
The atrium has a mosaic floor imitating a coffered ceiling , where each box is wearing a different pattern.
The house belonged to Paquius Proculus, a leading politician. A fresco representative with his wife is kept at the Archaeological Museum of Naples.

Hopefully this time, these restored works will be protected and conserved for many years.
Sources :
- Roma Aeterna – Réouverture au public de six maisons à Popméi. - link
- Live Newcast - WVTM 13 news - Ancient city of Pompei unveils a facelift - link
- Libération – Pompéi, l'histoire tombe en ruines - link