Publié le par Bernard Duyck
The mid-ocean ridges are characterized by a high temperature hydrothermal activity, vents rich in metals generated by magmatic activity. At other places, fields of hydrothermal vents characterized by ultramafic fireplaces are found associated with moderate to slow propagation ridge.

The tectonic exposure of the upper mantle and lower crustal rocks generates a more heterogeneous underbody than in rapid expansion ridge, and faultss open access roads improving an hydrothermal circulation.
Thus following the analysis of the vent field Von Damm / VDVF ​​ in 2010 in the Caribbean, it was discovered an unusual mineralogy and a new type of hydrothermal vent.

The Von Damm vent field / VDVF ​​is located 13 km west of the axial rift on the slopes of the Mid-Cayman expansion center ; this center of ultra-slow expansion is the deepest listed, at a depth of 2,280 meters below sea level, and located on the upper slopes of Mt Dent, a complex formed by oceanic detachment faults. The basement consists of meta-gabbro, dolerite dykes and serpentinized peridotites, partially covered with calcareous marine sediments ; it is dated 1 to 2 Ma.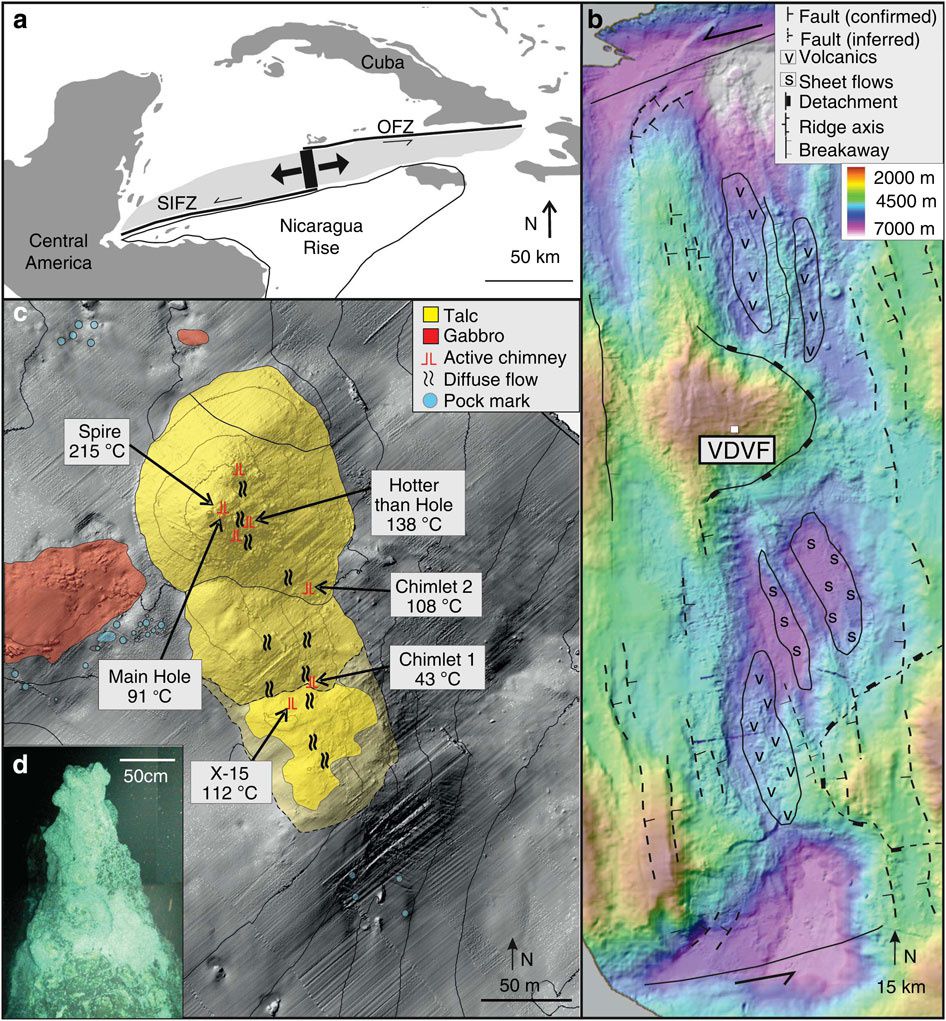 VDVF in the Caribbean - (a) map of the Caribbean showing the location of the Mid-Cayman Rise and the black rectangle represents the area of b; the lightly shaded area is the area occupied of the Cayman Trough; OFZ, Oriente Fracture Zone; SIFZ, Swan Island Fracture Zone. (b) Bathymetry and interpretative geology of the Mid-Cayman Rise showing regional tectonic structures. (c) Bathymetry of the active VDVF showing the location of hydrothermal activity across the vent field. Contours are at 20-m intervals. (d) Photomosaic of The Spire at the top of the main VDVF cone obtained from high-definition video. - Doc. Talc-Dominated seafloor deposits reveal a new class of hydrothermal system - Matthew Hodgkinson RS, et al
Unlike other hydrothermal fields, hydrothermal precipitates of VDVF ​​comprise 85 to 90 vol% of a magnesium silicate, talc.

Hydrothermal fluids from vents, 3 m in height and 1 m in diameter, and other outlets, are characterized by an intermediate pH 5.8, low metal concentrations, and high concentrations of chlorides compared to seawater. The study shows that the hydrothermal fluids of VDVF are generated by the interaction of seawater with an mafic or ultramafic basement, which precipitates talc.

Heat flow of VDVFest comparable to that of the most powerful hydrothermal systems related to the magma, or 487 ± 101 MW; it can represent a significant cooling mode of oceanic crust off-axis, not recognized or considered in the current global models.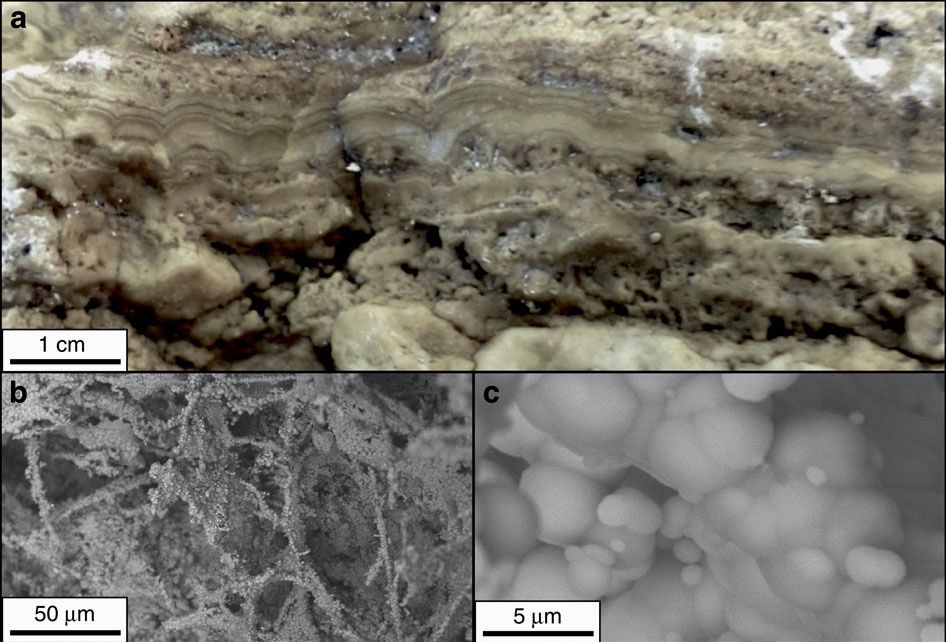 VDVF - (a) Collapsed chimney wall showing bands of massive talc. (b) and (c) SEM images of dendritic and botryoidal talc networks.- Doc. Talc-Dominated seafloor deposits reveal a new class of hydrothermal system - Matthew Hodgkinson RS, et al.
The process leading to the formation of VDVF ​​could be widespread in the mid-ocean ridges of moderate to slow expansion, although such talc deposits on the seabed has been discovered in only two other places, St. Paul (00 ° 37'S-25 ° 34'W, equatorial Atlantic) and Conrad fractures zones (55 ° 29'S-02 ° 05'W, American-Antarctic Ridge). This kind of vent field could play a significant role in cooling and chemical exchanges between the oceanic crust and seawater.
Sources :
- Hodgkinson, M. R. S. et al. Talc-dominated seafloor deposits reveal a new class of hydrothermal system. Nat. Commun. 6:10150 doi: 10.1038/ncomms10150 (2015). - link
- Mineral.net - Talc - link
- European Journal of Mineralogy - Talc-rich hydrothermal rocks from the St. Paul and Conrad fracture zones in the Atlantic Ocean – link