Publié le par Bernard Duyck
The Fuego, in Guatemala, known since yesterday January 20 to 6am local an important activity increase: a new strombolian phase effusive, characterized by glowing emissions at 400-500 m above the crater, accompanied by loud explosions, and which feed lava flows in the ravines Trinidad, Santa Teresa and Las Lajas.


During the day, the ash column, gray, is mounted up to 6,000 meters asl. before moving towards north northeast over 25 km. Lava flows reached a length of 2,400 meters.

Pyroclastic flows went down the ravines Las Lajas and El Jute, generating an ash cloud in a southeasterly direction and falls of ash on the south and southeast flanks of the volcano.

La Aurora International Airport was closed from 20h.

Sources:
Insivumeh & Conred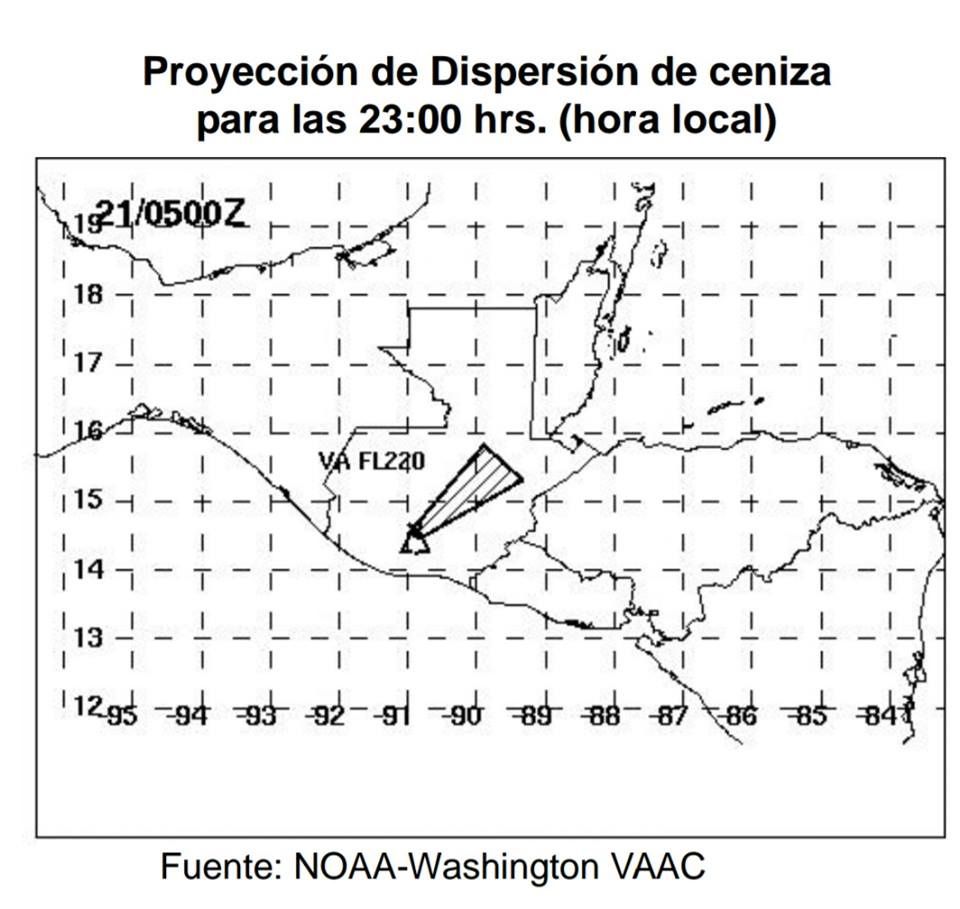 Fuego - forecast map of dispersion of ash from the eruption of 01/20/2016 to 23 h loc. - Doc. NOAA - VAAC Washington
In Colombia, the alert level of the volcano Puracé was raised to amarillo, following an increase in seismic activity.
Earthquakes of magnitude 2.0 to 4.5 on the richter scale in relation to telluric movements were recorded at Puracé et Sotara y Huila volcanoes.
The Puracé is also called the volcano with seven heads; It is located at the northwest tip of a volcanic massif comprising a series of seven cones and craters, aligned on the NW-SE ridge Coconucos. This andesitic stratovolcano, which is built on a dacitic shield includes a large crater 500 meters. His most important eruptions occurred in 1849, 1869 and 1885; the last date of March 1977.

Sources:
- Twitter
- Proclaimed del Cauca.com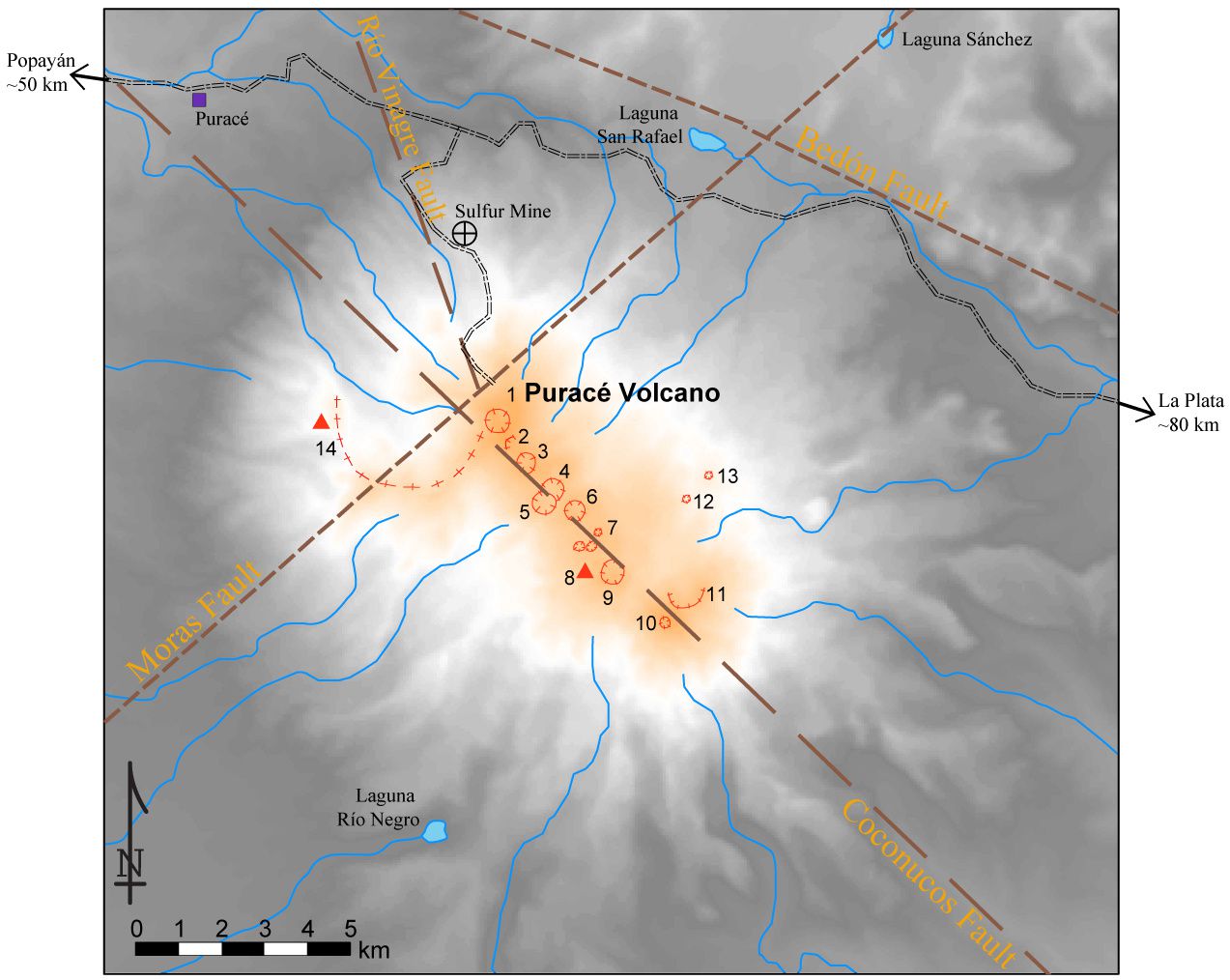 Puracé is the most active and northernmost volcano along the NW-SE trending Coconucos ridge. Numbers correspond to cones with craters (red hashed circles) and major peaks (red triangles): 1 Puracé volcano, 2 Piocollo, 3 Curiquinga, 4 Calambas, 5 Paletará, 6 Quintin, 7 Shaka (a cluster of craters with ponded water), 8 Killa, 9 Machangara (contains a small pond), 10 Pan de Azúcar (a prominent peak with a small summit crater), 11 Pukará, 12 Piki, 13 Amancay, 14 Chagartón (a large crater and peak has been attributed to this structure). Major regional faults are short dashed lines (brown); the local Coconucos fault and Río Vinagre fault zones are long-dashed lines (brown). The shaded terrain was derived from a 90 m SRTM (Shuttle Radar Topography Mission) digital elevation model. Highest elevations (greater than 4,000 m) are indicated by orange shading and reach a maximum of ~4,650 m; lowest elevations (gray shading) begin at 2,500 m. This map was compiled by GVP based on INGEOMINAS Popayán reports, maps, and aerial photos. Place names are from Arcila (1996), Cardona (1998), Kelsey (2001), and Monsalve and Pulgarín (1999).
In Indonesia, the alert level of the Rinjani was reduced at 1 / normal operation. More no activity or lava flows are observed at Barujari cone. Remote sensing shows no hot spots..
The activity of Sinabung remains constant, punctuated by issuing of plumes of ash and pyroclastic flows.

That of Bromo seems stalled, with the issuance of clearer beautiful plume lightly loaded into ashes. To be continued.