Publié le par Bernard Duyck
Revival of

Misti volcano

, located near Arequipa in Peru, a very populated area.
The OVS reports that the volcano crater images, taken four weeks ago, shows the existence of fumaroles, indicating a possible next eruption. Scientists confirm that the gases released by the Misti are" magmatic and contain sulfuric acid, carbon and calcium."

The gases are dissipated by winds and do not affect the people.

Source: IGP / OVS
Hazard-zone map for El Misti based on the VEI 4 Plinian eruption that took place about 2030 years ago. Note that the entire city of Arequipa is vulnerable to pyroclastic surges, and areas closest to the volcano would be at high risk even for small- and medium-sized events. Courtesy of Cobeñasa and others (2012).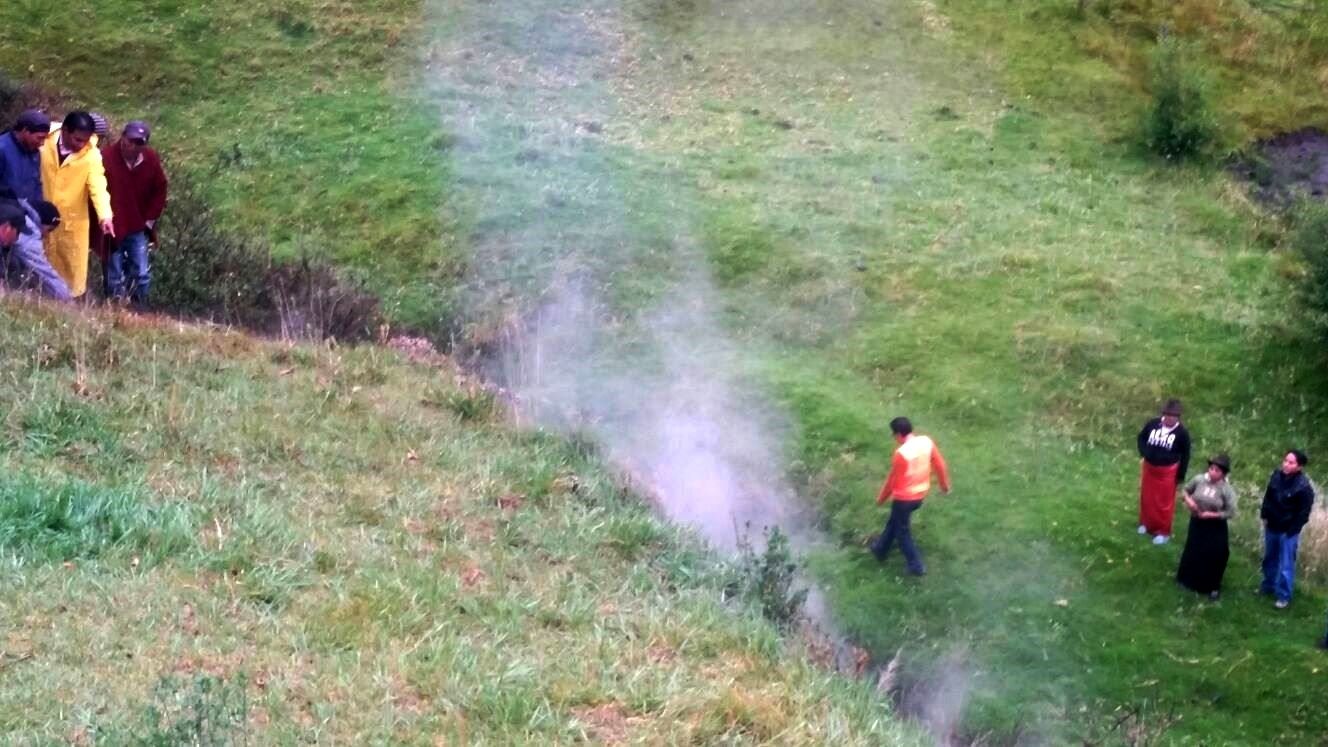 Technicians of SNGR Z3 during their inspection of the crack in the community of Miraflores Cachipata - photo Nuevo Diario de Riobamba
In the region of Chimborazo, Ecuador, the inhabitants of the Miraflores Cachipata community warned the authorities of an inexplicable phenomenon for them ... after an heavy rain, and the fall of a rock, cracks began to emit gases and let see a glow in the slope.

The phenomenon is under investigation; authorities recommend not to approach the fumes, they can be toxic.

Source: Nuevo Diario Riobamba
Details of IG :
In recent days, communities have observed discharges of gas with glow in the vicinity of Cerro de Columbe, Miraflores sector - San José (near the river gaushi) In the province of chimborazo. Right now, the Geophysical Institute of the National Polytechnic sent two technical groups to the site to perform several measurements and investigate the cause of this phenomenon. It should be noted that the area where there has been the release of gas and filament is located about 45 km from the volcano Chimborazo

A recent survey of Nishinoshima on January 19 by the teams of the Japan Coast Guard no longer show any volcanic eruption ... the eruption can be considered complete.

The battle between erosion and power may turn quickly in favor of the first.

Sources: Japan Coast Guards - link - link 2