Publié le par Bernard Duyck
After an emission of brown ash, visible on the seismic station webcam El Cardon on January 2, 2016 to 6h47-49, the Momotombo presented according to La Prensa, relaying the INETER, two explosions at 2:28 p.m. local respectively (8:28 p.m. GMT) and 2:35 p.m. local (8:35 p.m. GMT) accompanied by emission of ash and gas.

January 3 at 4:22 local, a loud explosion covered the upper flanks of the volcano with glowing fragments; these high temperature fallout set fire to the vegetation partially covering the upper flanks (distinct light spots visible on the last two pictures).

In the absence of a report from SINAPRED and INETER, we can rely only on the webcam pictures and comments in the local press.
Sources :
- La Prensa – link
- Tn8 tv – link
- Nacion – link
Momotombo - explosion of Jan. 03, respectively, 4:22, 4:25, 4:27 and 4:43 a.m. local - webcam seismic station El Cardon / INETER - a click to open each photo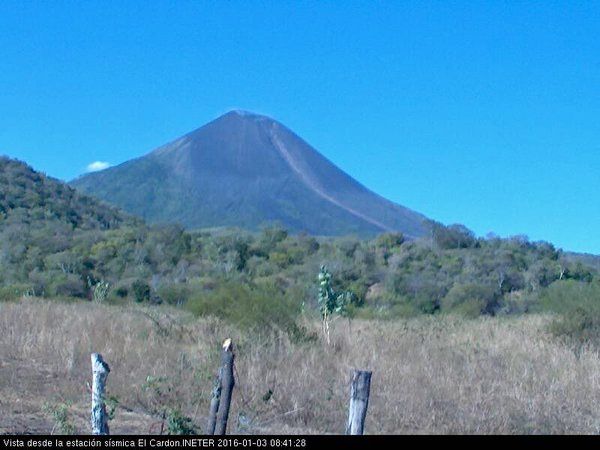 Fuego - 03.01.2016 / 08:41 a.m.loc.- traces of a probable pyroclastic flow - webcam seismic station El Cardon / INETER
The Fuego, in Guatemala, which maintained an important activity in recent days, has entered a new phase effusive this January 3 from 5am local, according Insivumeh.

Moderate to heavy explosions are accompanied by ash plumes amount between 4,800 and 7,300 meters asl, before spreading to the west and south-west, 14 km. Ash fallout are reported up to 12 km from the volcano, to Panimaché, Morelia, Santa Sofia, La Rochela and Osuna.

Lava flows mark the east and south sides towards Las Lajas and Trinidad ravines; this activity is likely to increase in the coming hours, with risk of pyroclastic flows.

Sources: Insivumeh & Conred

In Bromo, on Java island, ash emissions continued. They cover nearby agricultural areas and homes forcing residents to clear roofs and around houses.

Øystein Lund Andersen information about the occurrence of lahars in the Tengger caldera, in his beautiful photo report (link below).

Source: Øystein Lund Andersen - link