Publié le par Bernard Duyck
The monitoring system of Momotombo, Nicaragua, recorded on January 28 at 3:52, an earthquake of 1.7 M southeast of the volcano, associated to magmatic movements according to INETER.

This type of micro-seismic activity continued in January 29th, mainly characterized by small high-frequency events. From the Momotombo, emanate gases, accompanied by tremor.

On January 30th, an explosion, at 3:45, expelled gases and incandescent materials that have fallen on the slopes of Momotombo.

Momotombo - Explosion of 01.30.2016 / 3:45 and incandescent points - no other better pictures of RSNN
In Masaya, between 5:20 ET 5:52 on January 28, a series of low-magnitude micro earthquakes was recorded. A decrease in gas outlet suggests a partial obstruction of the main conduit of the volcano, and therefore a potentially explosive activity. The lava lake is observed in a mouth located southeast of the floor of the crater Santiago.

To 10:40 p.m., a 3.0 M earthquake shook the caldera of Masaya; it was perceived by the communities surrounding the volcano. A mouth is newly opened in the northeastern part of the crater, probably in relation with this nocturnal earthquake.

On January 30, 13 earthquakes of low magnitude (between 1.6 and 2.8 M), some perceived by the inhabitants close the epicentres, appear to be associated with volcanic activity, ... what motivated the closing of Masaya National Park.

Sources:
- INETER
- Red sismologica Nicaragua
- Elnuevodiario.com.ni

An overview of the new crater of Nevados de Chillan by SERNAGEOMIN allowed to found its dimensions, with a diameter of 25 to 30 meters, and gas and ash emissions. Emanations of gas, and sporadic ash emissions, are found in various parts of the eastern flank of the crater Arrau, and at the active craters.

Thermal imaging records a temperature of max. 125 ° C, indicating the activity of deep hydrothermal system, without the presence in surface of an higher temperature magmatic phase.

The level of technical alert is maintained in Amarillo, together with a high-risk area with a radius of two kilometers around the active craters, and a restricted access.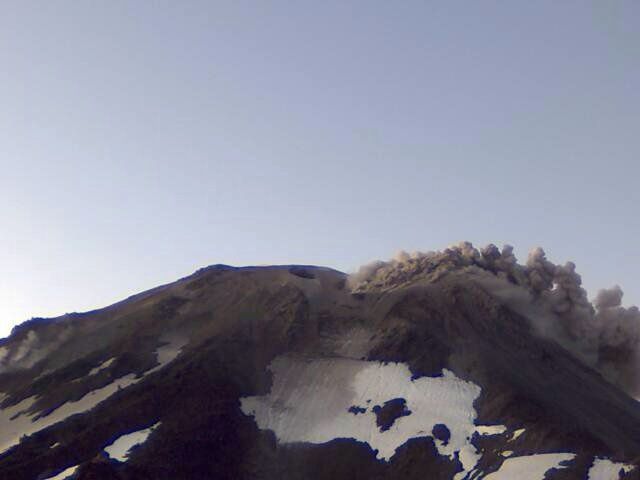 Little plume of ashes to the new active crater of Nevados de Chillan, the 01.30.2016 / 9:53 GMT - photo SERNAGEOMIN