Publié le par Bernard Duyck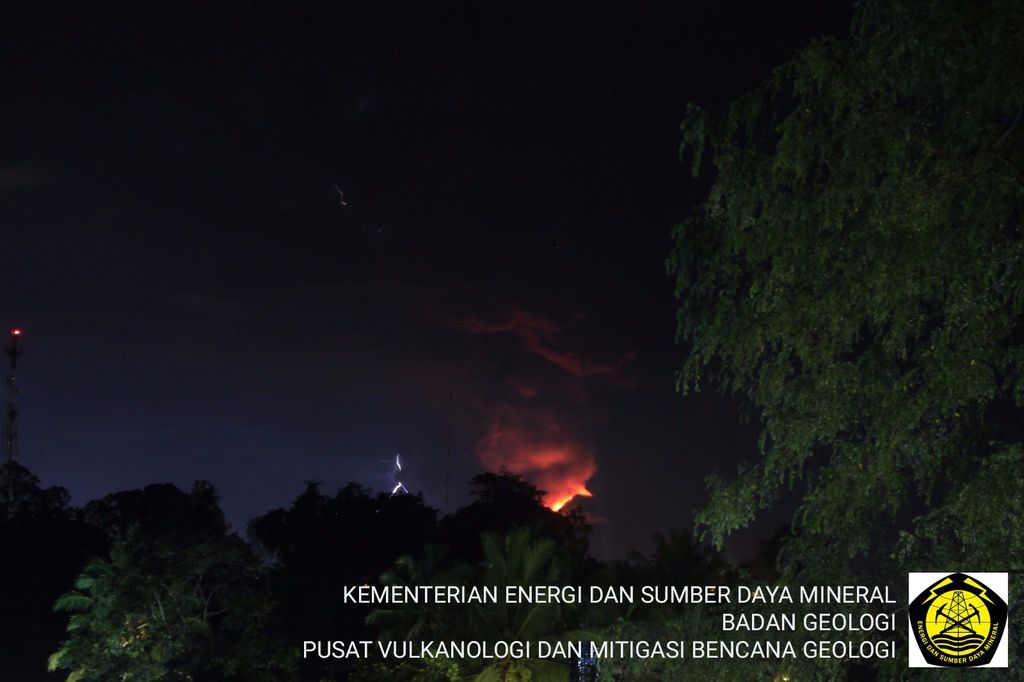 Soputan - eruption of 01.04.2016 / 20:53 WITA - note the lava flow from the top of the cone to the left, and lightning on the left of the plume in 2 places - photo PVMBG on Twitter / Devy syahbana
The spokesman of the PVMBG, Sutopo Purwo Nugrobo, reported to Xinhua the eruption of the Soputan on 01/04/2016 at 8:53 p.m. local.
Following the explosion, the ash plume rose to an altitude of 6,000 meters (average, given the conflicting data between PVMBG and Darwin VAAC), traversed by lightning, before heading to the southeast. Lava was emitted on the eastern flank of the volcano, while thunderous sounds were perceived. Ash fallout are reported on Langowan, Minahasa
Authorities raised the alert level to 3, together with a closed area of ​​4 km radius, increased to 6.5 km west and north side.

On the morning of January 5, the PVMBG pictures show a new explosion at 6:38, accompanied by a rising ash plume up to 6500 meters vertically.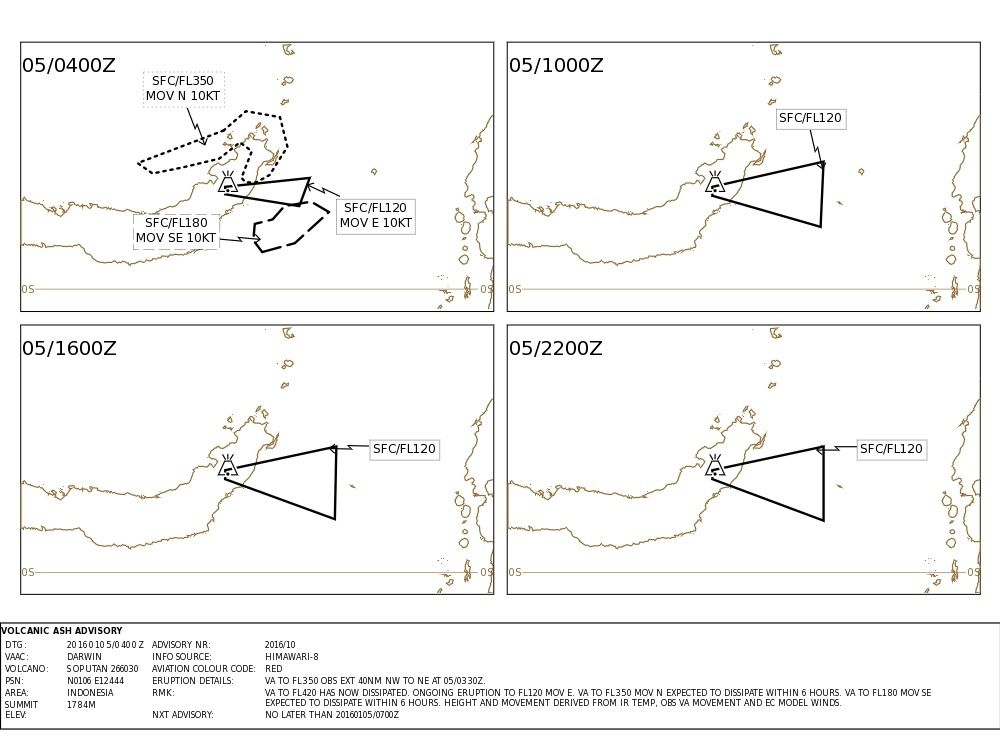 Soputan - the ash cloud moving forecasts by the VAAC Darwin for January 5 raises fears of disruptions of commercial flights.
With Soputan, Indonesia apply the alert level 3 / Siaga to three other volcanoes, Bromo, Karangetang and Lokon. The Sinabung remains at 4 / Awas.

According Øystein Lund Andersen, the plume emitted by the Bromo would have a lower ash content than in previous days, and go up to 1,000 meters before drifting.

Sources:
- Soputan: Xinhua - TribunManado - Devy Syahbana on Twitter
- Bromo: Øystein Lund Andersen - link
The effusive eruption of Fuego / Guatemala maintains a high energy, characterized by a rising ash plume to 7,000 meters asl, before moving to a large west and south sector over 40 km., and generating sounds of explosions and shock waves that stir roofs and windows within a radius of 25-30 km.
Ash falls were reported on between other on Panimache I y II, Morelia, Santa Sofía, El Porvenir, La Rochela, and Osuna.
Incandescent projections, amount to 400-500 m above the crater, feed three lava flows in the ravines Santa Teresa, Trinidad and Las Lajas about 2,500 meters long. Pyroclastic flows related to the collapse of block of lava can mark these gullies, and generate co-pyroclastic plumes.

In the late afternoon of January 4, the Insivumeh announced a decrease in activity with a plume reported between 4,600 and 4,700 meters asl, on the road to the south-southeast over 15 km., and smaller explosions and moderate shocks waves.

Sources: Reports of the Insivumeh and Conred