Publié le par Bernard Duyck
A study published in the Journal of Volcanology and Geothermal Research in January 2016 led to an unprecedented method for dating the geysers of Yellowstone.

So far, carbon-14 dating was performed on samples of coal, from trees buried under lava or ashes.

In the case of Yellowstone, most hot springs and geysers of the caldera have saturated waters of amorphous silica dioxide (silica sinter); new layers of the silicon dioxide is deposited over time covering the former and enclosing the portion of the carbon traces from the plants, pollen, ash forest fires or thermophilic particles living in or near hot springs.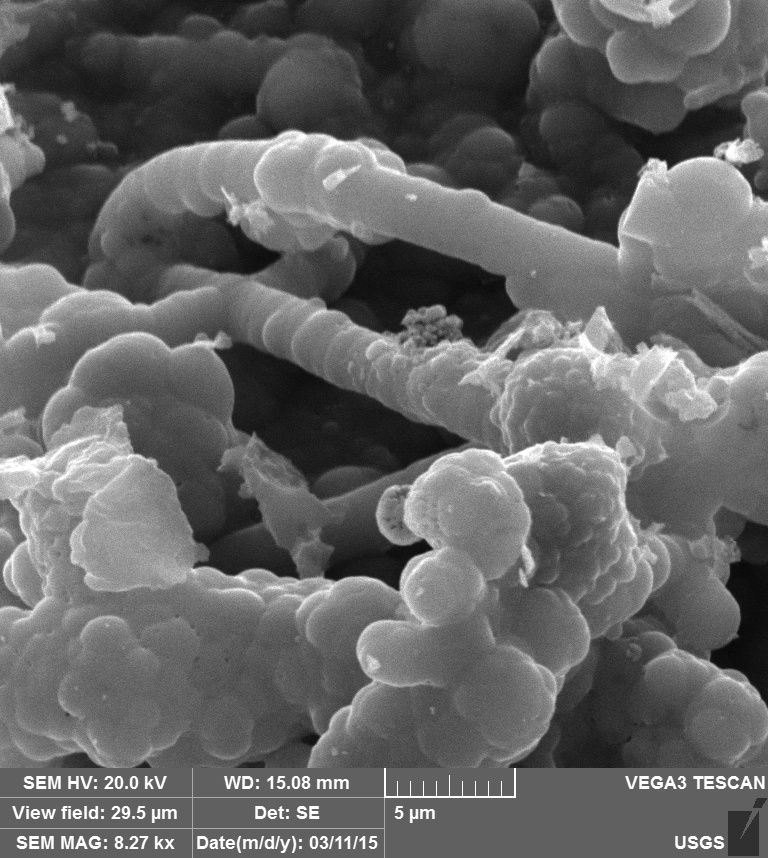 Yellowstone Nat. Park - Secondary electron image of carbon-bearing sinter from Yellowstone hot spring; unidentified filaments of thermophilic (heat-loving) organisms with silica spherules that precipitate out of hot water.- photo J.Lowenstern YVO / USGS
Scientists in charge of the study collected samples from shallow coring performed by the USGS in 1967 in the Black Sand and Biscuit basins, and after dissolving silica, carried out the dating of organic carbon by new mass spectrometers accelerators - AMS - (*). The technique is effective on silica samples weighing only 15 to 25 grams.

(*): Accelerator mass spectrometry (AMS) is distinguished from other forms of mass spectrometry in that it accelerates the ions at extraordinarily high kinetic energies before mass analysis. The special strength of the AMS among the mass spectrometry methods is its ability to separation a rare isotope of a neighbor abundant mass (among other 14C from 12C)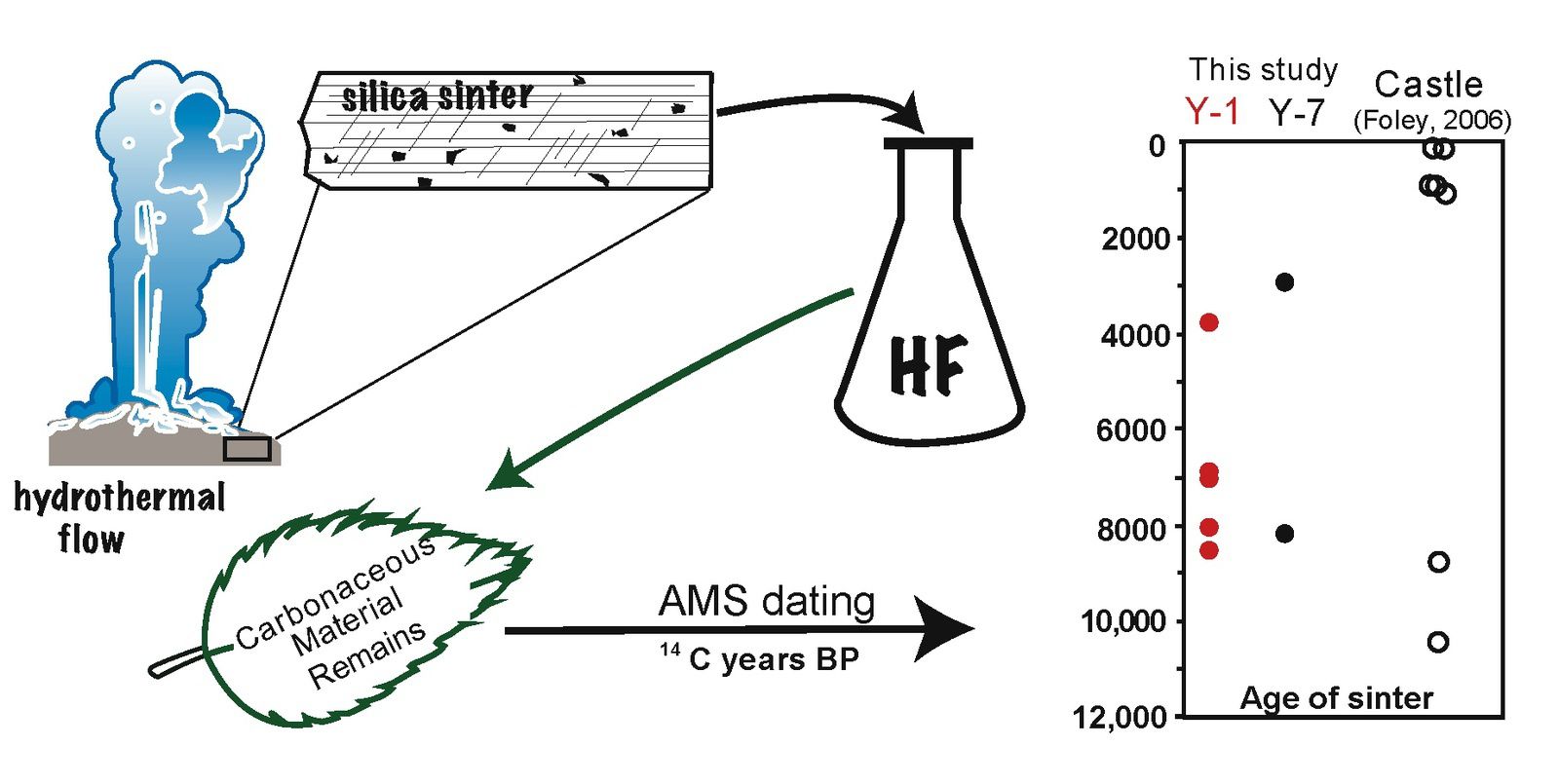 Yellowstone sinter research article graphic representing sample collection from rocks near hot springs. Small amounts are dissolved in acid leaving organic carbon behind, which are dated using C-14.- – doc. YVO / USGS
They obtained a C14 dating variant between 3775 ± 25 and 2910 ± 30 years ago at the top of the core and from about 8,000 years ago for the bottom thereof. These dates are consistent with the formation of various ratios of silica agglomerates in the Upper Geyser Basin during the Holocene, and also indicate that hydrothermal activity in the Upper Geyser Basin appears to have been continuous during the last 10,000 years (no gap in hydrothermal discharge during the Holocene).
Sources :
- YVO - Finding the Age of Yellowstone's Geysers and Hot Springs (2016) - link
- Radiocarbon dating of silica sinter deposits in shallow drill cores from the Upper Geyser Basin, Yellowstone National Park - Jacob B. Lowenstern, Shaul Hurwitz, John P. McGeehin - link