Publié le par Bernard Duyck
A 7.1-magnitude earthquake occurred on January 24 at 1:30 local, southwest of Anchorage, Alaska, up to the Cook Inlet and the Kenai Peninsula.

According to the USGS, it result of strike-slip faulting at intermediate depths, within the subducted lithosphere of the Pacific plate. In the region of the earthquake, the Pacific plate moves northwestward with respect to North America at a rate of 60 mm/yr, and begins its decent into the mantle at the Alaska-Aleutian Trench almost 400 km to the southeast of this earthquake.

These earthquakes are characterized by a hypocenter between 70 and 300 km, and classified as intermediate depth earthquakes. They represent strains in the subducting plate, rather than to the interface of plates. They cause less damage above the focal point that earthquakes of same magnitude near the surface.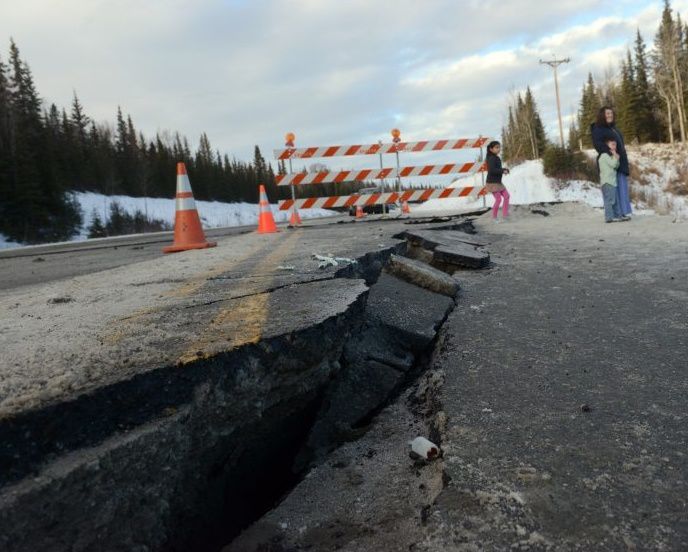 Earthquake 24/1/2016 - damage to the road to Kalifornsky beach, south of Kenai - Alaska Dispatch Photo news
Southern Alaska is a seismic region in relation to the boundary between the Pacific and North American plates. Other major earthquakes struck the region at the end of the last century: on March 27, 1964, an earthquake of magnitude 9.3 was recorded; Another of magnitude 6.8 occurred in July 2001, 120 km south -West of it on Sunday.

No impact is reported by the AVO / Alaska Volcano Observatory for volcanoes located on the edge of Cook Inlet.
Sources :
- USGS Earthquake Hazards Program
- EMSC
- AVO