Publié le par Bernard Duyck
The Juan Fernandez Islands, located on the ridge of the same name, are of volcanic origin.

Formed by a mantle plume above which moved the Nazca tectonic plate, their age, determined by potassium argon dating, is growing from west to east : for the main islands, Santa Clara is the oldest, dated 3.8 to 5.8 Ma (. Steussy et al, 1984), then follows Robinson Crusoe Island, with 3.8 to 4.2 Ma, and finally Alejandro Selkirk Island, dated to between 1.0 and 2.4 Ma.

Robinson Crusoe is the largest with 93 km², and culminates in El Yunque peak to 916 meters; The Robinson Island, or Mas-a-Tierra, is composed of four overlapping basaltic shield volcanoes (olivinifères) with calderas open towards the northeast. The southwest of the island is made up of small altered cones. Recent activity would be marked by an eruption in El Yunque, in 1743, and another eruption underwater this time, in 1835, to 1.5 km. north of the Robinson island.

Los Innocent marks the highest point of the island Selkirk (Mas-a-Fuera) with 1.319 meters, while Santa Clara, with its 2.2 km², reaches at most 350 meters.

A multitude of peripheral islands complete the archipelago; the most important are the Juanango, Verdugo, Vinillo and Los Chamelos islets.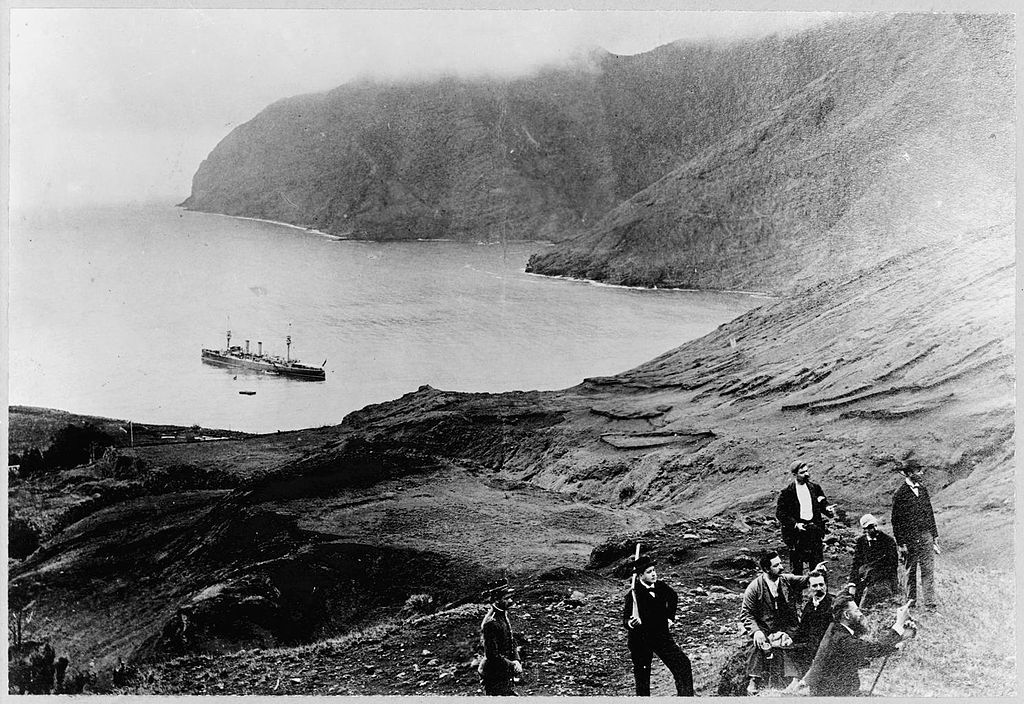 Robinson Crusoe Island at the end of 19th / beginning of the 20th century, with the cruiser Esmeralda in Cumberland bay - Doc. Carpenter Archive fr. & Fr.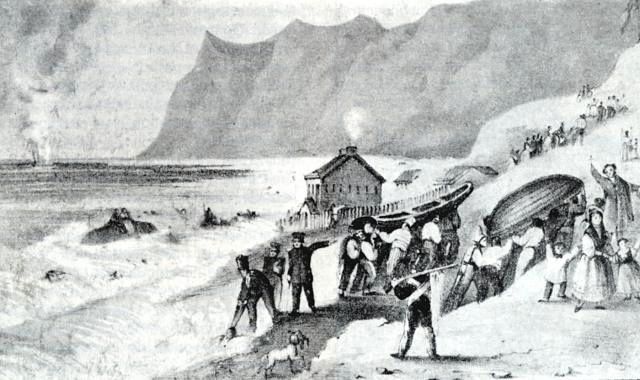 Robinson Crusoe - the eruption in 1835 - Doc. Sutcliff - Oscar Gonzalez-Ferran / Univ.of Chile / GVP
History and legend merge to:

The archipelago was discovered in November 1574 by the Spanish navigator Juan Fernandez, sailing between Peru and Valparaiso, which had deviated from its course; He called these islands Más Afuera, Más a Tierra, and Islote Santa Clara.

A pirate expedition to the Pacific in 1703 includes the ship's Captain Thomas Stradling. He stopped to Fernandez Islands to supply the boat in wood and water before returning to England.

The boat has undergone major damage in battle, a Scottish officer named Alexander Selkrik (or Selcraig) considers that it must undergo a refit, before crossing Cape Horn. Captain stubbornly refuses and Selkirk refuses then to continuing on, demanding to be let on the island Mas-a-Tierra. Selkrik lived alone for four years and twelve days on the island. He was rescued in 1709 by an expedition led by Captain Rogers, whom he saved the crew from scurvy, and with it participates in raids on Chilean and Peruvian coasts. He finally returned to England in 1711 where his story will be published in the newspaper "The Englishman".

Daniel Defoe wrote and published a novel in 1719 entitled "The Life and strange and surprising adventures of Robinson Crusoe." The story is based very loosely on the life of Alexander Selkrik. Written in the first person, the main plot of the novel takes place on a deserted island where Robinson survives for 28 years. During his forced stay, he met a native, named it Friday, and the two live together for several years before leaving the island.
These Chilean islands were renamed in 1966 in honor of Alexander Selkrik spouse and novel inspired his adventure.
On the left, first of "Life and adventures of Alexander Selkrik, the real Robinson Crusoe" - right, 1865 Illustration by Alexander Frank Lydon (Groombridge and Sons edition). Robinson Crusoe finds a refuge cave. - a click on the images to open them.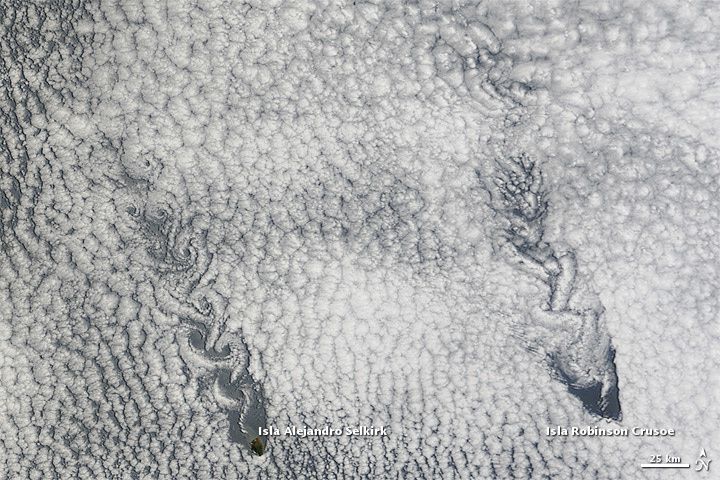 Photo Landsat 7 showing the islands Robinson Crusoe and Selkrik, highlighted by a cloud formation known as "von Karman vortex ", caused by the interaction between the winds and the relief of the islands.
These islands have a subtropical climate influenced by the cold Humboldt current, flowing northwards along the South American coast, and winds from the southeast.

The temperature can fluctuate between 3 and 34 ° C, with an average of 15.4 ° C; the coldest peaks may become coated with frost. Rainfall is most important in winter and variable, depending on exposure and altitude, between 318 and 1698 mm per year, dependent on the oscillation El Nino-Southern.

Because of their isolation and their volcanic origin, the flora and fauna of these islands is relatively poor, having reached this land by the sea. This little known archipelago is also a haven for many species of endemic plants and animals. The Conaf - administration of Parque Nacional Archipelago - largely financed by European funds, provides a natural protection.
The flora is diverse and has 101 endemic varieties with a range of giant ferns. In the animal kingdom, the Robinson hummingbird or Picaflor rojo, Sephanoides fernandensis, distinguished: a brick red body, black beak with the end like a needle, green and silky wings. It has declined from 798 (1987-1988) to 179 (2002) in 15 years.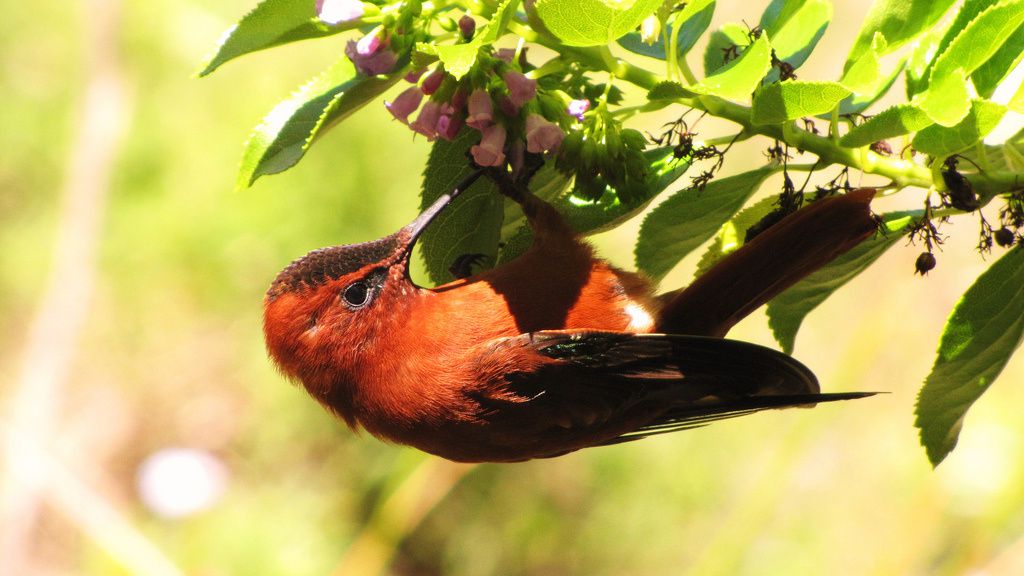 Sephanoides fernandensis - the Picaflor of Juan Fernandez feeding on Cuminia eriantha flowers - photo Hector Guzman Gutierrez / Flickr CC BY 2.0
Sources :
- Global Volcanism Program - Juan Fernandez
- Architectures des plantes de l'île Robinson Crusoe - par F.Hallé - lien
- Menaces et perspective pour la préservation de la biodiversité de l'archipel Juan Fernandez - ULB - Lien
Bonus for volcano-philatelists: Chileans stamps commemorating the 4th centenary of Juan Fernandez islands (1574 to 1974) and representing respectively the two largest islands, Robinson Crusoe and Selkrik, and flora and fauna.