Publié le par Bernard Duyck
The Atacama Desert is a, hyperarid desert located in Chile, stuck between the ocean trench of Atacama and the Andes. It is bordered by a line of volcanoes about the 6,000 meters, surrounded by lagoons, geysers and deep valleys.

The combined presence of the anticyclone of Easter Island (South Pacific anticyclone), characterized by a dry air downing, the Humboldt current, which prevents sea air to rise and form of precipitation, and reliefs of the Andes, ensures a dry and sunny weather ... some places in the Atacama Desert have not received rainfall since the first weather data.
But life is still possible given the presence of some marine low stratocumulus, and the formation of fog.
Plants, of the family of Tillandsia, Bromeliads, have adapted to these extreme conditions.
These plants, or epiphytes or lithophytes, with silvery leaves, are covered with specialized cells - generically called trichomes - in the rapid absorption of ambient moisture and nutrients necessary for life.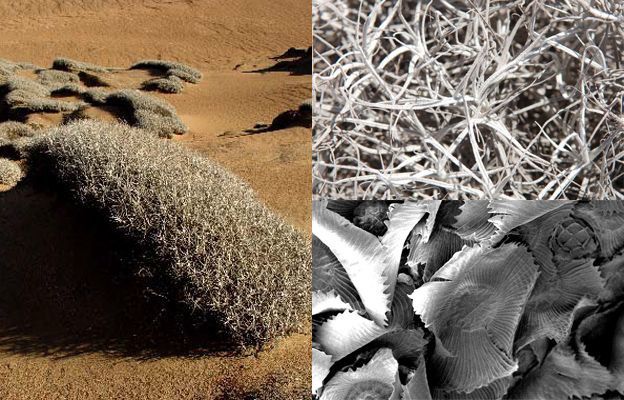 Atacama desert - the structure of Tillandsia maximizes the capture of fog - the mesh and appendices (trichomes) allow the capture of water - photo Claudio Hidalgo Lattore / BBC Article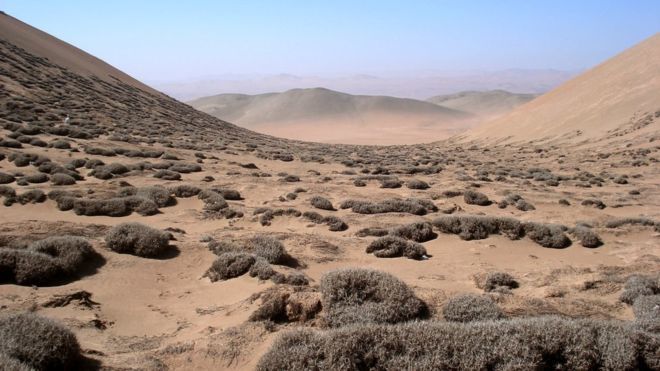 Atacama desert - the tillandsia form a part of this special ecosystem - photo Angelica Gonzalez / Article BBC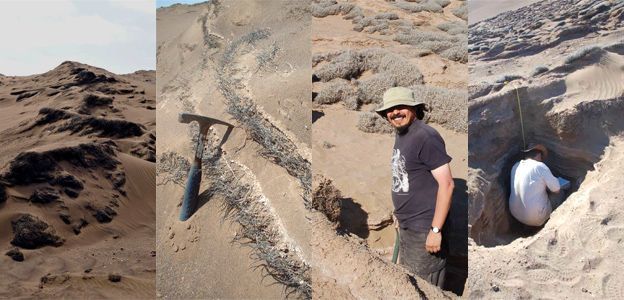 Atacama desert - the researchers excavated the dunes in search of tillandsia - photo Claudio Hidalgo Lattore / BBC Article
Scientists from the Catholic University of Chile have dug deep the desert dunes to reveal a succession of Tillandsia aged of several thousand years.
Paleo climatologists have been able to reconstruct the history of Atacama mist over a period of 3,500 years and the evolution of the ecosystem due to the fog; they describe an increase of fog in time and a trend: the more the plants are young, the more a slight nitrogen kind (isotope) is integrated in their tissues. The nitrogen present in the fog, or molecular form or under nitrous oxide form, is of marine origin; there are indeed, off the northern coast of Chile, a zone with a minimal oxygen content, to liaise with the low water temperatures, a phenomenon where denitrification takes place.

The success of these plants in the trapping and use of fog anchor an entire ecosystem, that sustains creatures as diverse as beetles, scorpions, spiders and even lizards.

Operating fog for crops, or nature as a model :

Different systems, first archaic nets, have been developed by local people to capture water from the mists of the desert.

In recent decades, water intake decreasing at the level of rivers subject to less alimentation, farmers have had to adapt and have developed more efficient capture methods.

In the Huasco River valley, condensation towers, highof 400 meters, have been devised : each tower, with a vertical surface of 10,000 m², could produce daily at least 20,000 liters of water, which would start and / or maintain crops.