Publié le par Bernard Duyck

The laminates lake sediments are ideal as archives for dating past volcanic eruptions that to restore the natural variations of the climate over the centuries.

An international team sponsored by the GFZ / German Research Center for Geosciences studied the sedimentary deposits of the Tiefer See, a lake located in the Nossentiner Heide-Schwinzer natural park in Mecklenburg-Vorpommern, and Lake Czechowskie, 500 km. further east Poland.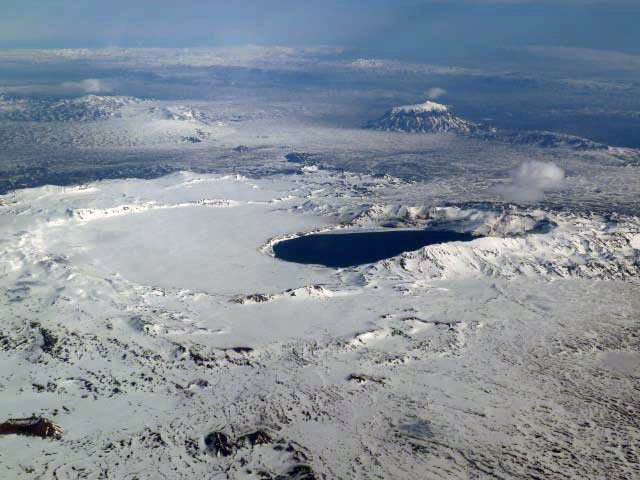 Askja - Internal caldera of Askja, formed by subsidence following the fissure eruption of 1875 is occupied by a lake, Öskjuvatn (in the distance, the familiar silhouette of Herðubreið) - Doc. Hreinn Skagfjord
The challenge this time was daunting: the volcanic ash have not filed visible layers as usual, but in the form of very small volcanic glass particles dispersed among the sediments. A total of thirty tephra and cryptotephras were detected.

The sample size is less than 50 micrometers, and they had to be separated by a combination of microscopic and chemical methods. Then geochemical analysis of each fragment and comparison with samples of ash from the suspected source region made possible to establish a correspondence.
This approach also makes it possible to reconstruct the distribution of the volcanic ash cloud from the eruption source over large areas, and opens new perspectives on knowledge of wind conditions in the past.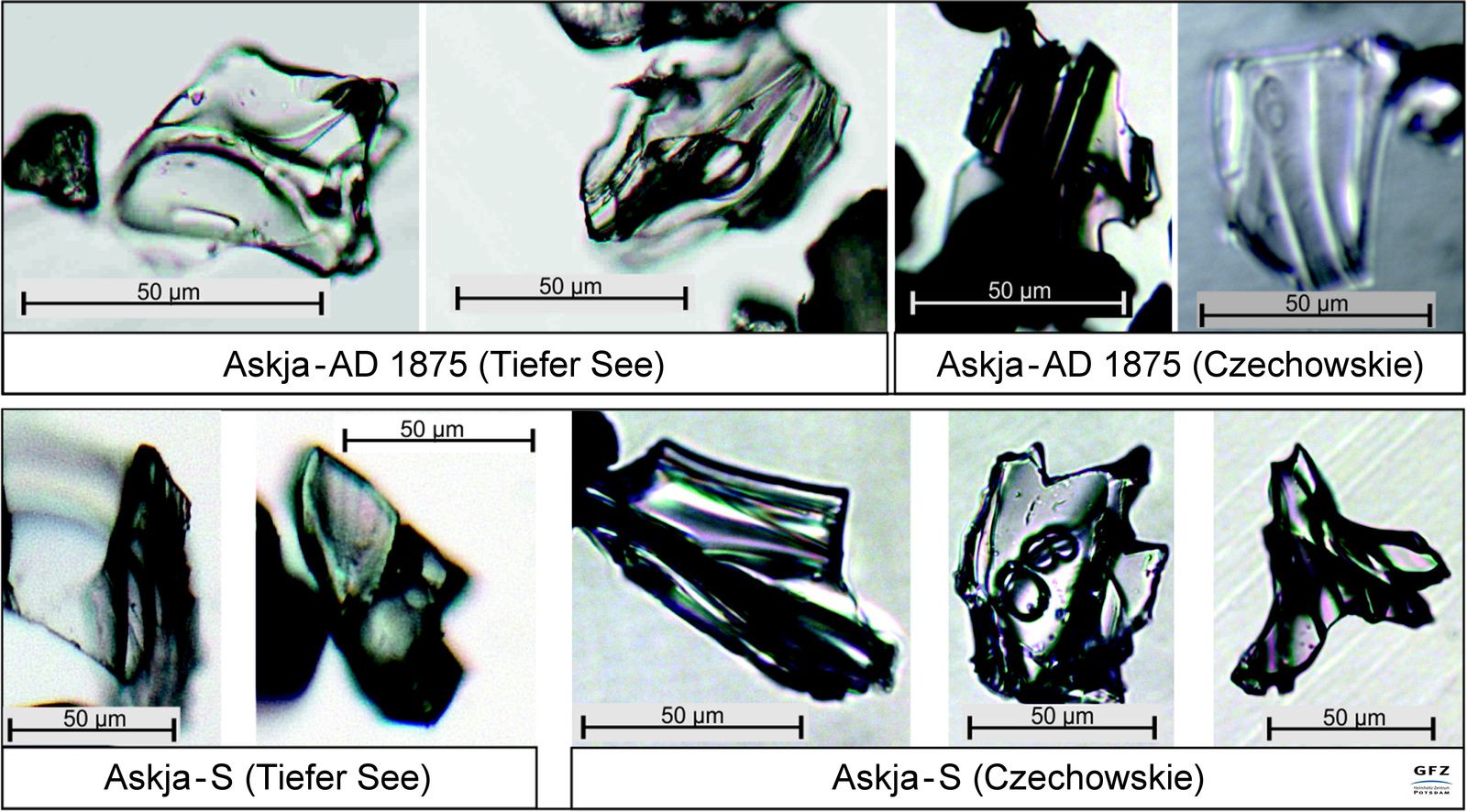 Photo of microscopic particles of volcanic glass from two Icelandic volcano eruptions from the Dyngjufjöll center found in the sediments of Tiefer see and Czechowskie lake - Doc Sabine Wulf / GFZ
They identified traces of a total of eight Icelandic volcanic eruptions, six recognized accurately. They range from 11,400 years ago to the year 1875.

Three cryptotephras called Askja 1875, Askja-S and Hässeldalen, are linked to the Icelandic volcano eruptions respectively in the year 1875 about 10,000 years and 11,350 years before today. The last two references have been found also in Sweden, and assigned to the volcanic system Veidivötn-Bárðarbunga, and for that of the Askja-Dyngjufjöll.

The tephra Saksunarvatn, about 8300 BC, Lairg-B-4, and Hekla dated from2310 BC, all dated from mid-Holocene, are also important anchors for paleoclimatic comparisons.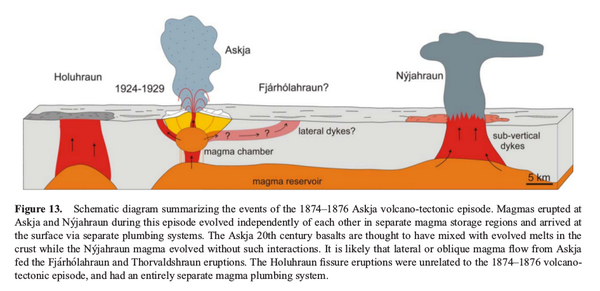 Diagram summarizing the successive events of the volcano-tectonic episode of the Askja 1874-1876. - Doc in The volcano-tectonic 1874-1876 episode at Askja, North Iceland: lateral flow revisited - by MEHartley & Th.Thordarson
Note on the eruption of Askja 1875 :

The volcanic system of Askja experienced, between 1874 and 1876, a volcano-tectonic episode whose climax was a rhyolitic phreaoplinian to plinian eruption dated of 28 and 29 March 1875. Fissure eruptions were also held in 1875, producing Nyjahraun lava at 45-65 km north of Askja.
All of these lavas are natives of a shallow magma chamber under Askja, the eruptions Nyjahraun being fed by dykes.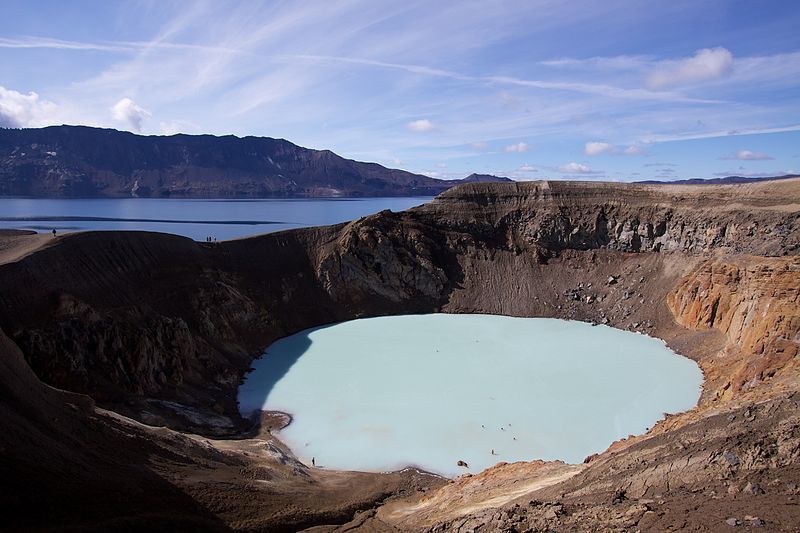 The small crater Viti, filled by a lake of turquoise color, is a maar formed by phreatic explosion after the major Plinian eruption in March 1875 - Doc. Boaworm
Sources :
- Traces of islandic volcanoes in a northeastern German lake / Precise reconstruction of regional climate changes in the past - GFZ GeoForschungsZentrum Potsdam, Helmholtz Centre / in EurekAlert / AAS - link
- Holocene tephrostratigraphy of varved sediment records from Lakes Tiefer See (NE Germany) and Czechowskie (N Poland) – Sabine Wulf & al. - link
- Tephra horizons contemporary with short early Holocene climate fluctuations : New results from the Faroe Islands - Ewa M. Lind & al.
- G3 – The 1874-1876 volcano-tectonic episode at Askja, North Iceland : lateral flow revisited – by M.E.Hartley & Th.Thordarson – link
- Global Volcanism Program - Askja